McMaster joins Premier Wynne in India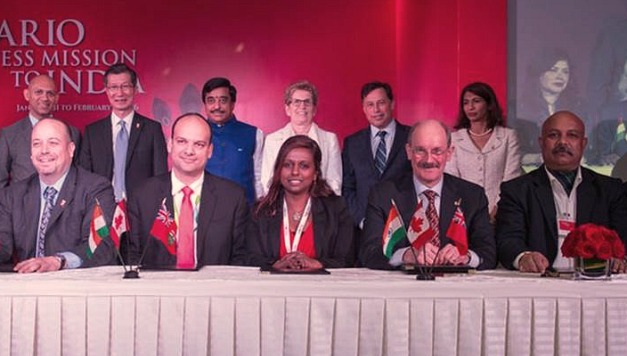 McMaster AVP, International, Peter Mascher (bottom row, second from the right), is currently in India as part of Premier Kathleen Wynne's official delegation. To Mascher's left is Sandeep Singh, Dean of International Relations at the IIT Roorkee, one of the research institutions with which McMaster signed an MOU earlier this week.
---
McMaster University's Associate Vice-President, International Affairs Peter Mascher is among a select number of delegates currently travelling with Ontario premier Kathleen Wynne on a week-long business and higher education mission to India.
During the first stop in New Delhi, McMaster signed Memoranda of Understanding (MOU) with two of India's top research institutions: the Indian Institute of Technology (IIT) Kanpur, and the IIT Roorkee.
Over the remainder of the trip, Mascher will sign three more MOUs with some of the country's premier research institutes including the IITs, Mandi, Bombay and Hyderabad.
These MOUs are aimed at providing a framework for future research and development partnerships, student and faculty exchanges, the development of academic and research programs, as well as research internships including the development of co-supervision, or Co-Tutelle, opportunities for Ph.D. candidates.
While the principal focus areas are advanced manufacturing, biotechnology, nanotechnology, and water, there is growing interest among the IITs in strengthening their activities in Social Sciences and the Humanities.
During his stay in India, Mascher will also participate in higher education round tables and meet with industry leaders both from India and Ontario to strengthen existing partnerships and explore new tech transfer and commercialization opportunities for McMaster.
The Premier's mission, aimed at promoting Ontario's business advantage and creating opportunities for new partnerships, includes a delegation of representatives from Ontario's post-secondary institutions, as well as members of the sustainable development, urban infrastructure and transportation, and general business sectors.
The delegation is making stops in New Delhi, Chandigarh, Hyderabad and Mumbai.