McMaster integrated science graduate follows love of ecology to Princeton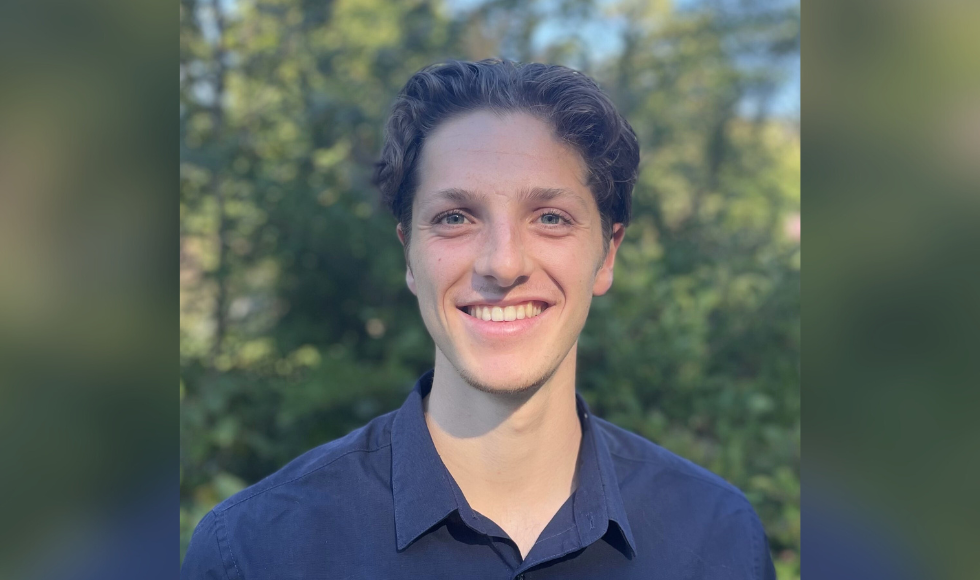 Henry Gage, a recent graduate of McMaster's renowned Integrated Science Program, will start a direct-entry PhD in ecology at Princeton University this summer.
---
When Henry Gage was very young, he could often be found in his footed pyjamas watching PBS.
His favourite program was Zoboomafoo, an educational children's show about wild animals.
It wasn't long after that Gage asked for a subscription to National Geographic Magazine. Family mealtimes were opportune for him to share countless facts about nature. Car rides were prime time for playing a game with his brother to see who could name the most shark species.
"I think every kid has that dream of being a marine biologist or someone who explores the world to discover animals," said Gage with a smile during an interview in a sun-soaked office in the Burke Science Building at McMaster University. "Looking back, science has always been on my mind along with my inherent fascination with nature."
Fast forward to summer 2023 and 21-year-old Gage has come full circle. He is a recent graduate of McMaster's renowned Integrated Science Program, and while he was initially unsure about the focus of his studies, his interest in the world around him has continued. This summer, he starts a direct-entry PhD in ecology at Princeton University.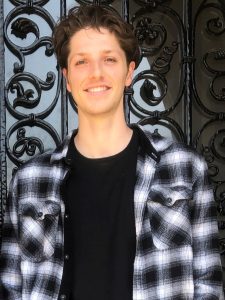 He's joining the Pringle Lab which focuses on experimentation and observation — primarily in Africa — to better understand how conservation, predation, and cooperation and competition among animals support biodiversity and ecosystem health.
"I've dreamed of going to an institution like Princeton for a long time where you can work alongside some of the world's best researchers," said Gage.
"There are so many brilliant scientists across Canada and the United States, and Princeton picked me. I feel grateful but at the same time, I still can't believe it!"
During his time at McMaster, Gage was a Schulich Leader Scholarship winner, a Rhodes Scholarship finalist and the recipient of more than $20,000 in external grants to fund his research. He received 10 McMaster scholarships, was a teaching assistant for three courses, and the list of achievements continues.
Gage pinpoints Mike Waddington as a key role model who inspired him at McMaster, and the faculty member who motivated him to consider a direct-entry PhD program at a major academic institution. He noted Waddington also got him involved in research early on during his undergraduate degree and encouraged him to push beyond what he thought was possible.
Waddington is a giant in the field of ecohydrology. He holds a holds a Canada Research Chair in Ecohydrology, and is a professor in the School of Earth, Environment & Society at McMaster.
"The most enjoyable part of my job is seeing former students, postdocs, and technicians go on to bigger things," said Waddington over the phone during a break at a conference in Quebec. "I'm really excited about Henry going to Princeton and I look forward to following his career. He's going to go on and do great things."
Waddington says the focus of the Pringle Lab closely aligns with Gage's strengths, and that it will be a good fit for him.
"As I look out the window here in Quebec where the air is thick with smoke from forest fires, I am reminded the world needs to be changed," Waddington said.
"I think Henry's going to literally change the world."
Gage credits the mentorship he received outside of the classroom from Paula Schnurr, a two-time Olympian and McMaster's cross country and track head coach. Gage was an up-and-coming athlete in the sport, but a series of injuries sidelined his hopes. He says Schnurr continued to coach him around his course schedule, teaching him more than just good running form.
"I struggled with injuries, but she coached me individually even if I wasn't able to compete, and her constant support helped me in all aspects of my life," he said. "This gave me the perspective that I didn't have to be the best to be successful, whether in sports or in academics. It reminded me that as long as I took joy from something I was doing, that is what mattered."
Gage also attributes his success to the unwavering love of his Toronto-based family, including parents Danielle Miller and Jamey Gage, as well as younger siblings, Charlie and Audrey.
It was his parents who Gage called first to share the news about Princeton.
"We knew how excited he was about Princeton, so when he told me that he had been accepted, I almost cried with joy for him," Miller said.
"This was his dream and he went out there and achieved it."
Miller says she always knew Henry was destined for a career in science, thanks to the lifelong interest in animals and the world around him, but also due to an inspiring work ethic. Whether it was piano, Model UN or track and field, she says he applied himself to everything he tried.
"The thing about Henry is that he is very bright, but he also has tenacity and determination and it's in every aspect of his life," she said. "He gives everything 110 per cent, so all of his success is well-earned."
As for the future, Gage says he hopes to become a professor-scientist, with one foot in teaching and the other in research. It was a formula for success at McMaster, and one he hopes to continue.
"I would love to be doing work in conservation and ecology anywhere in the world," Gage said. "I can't wait for the opportunity to teach people what I'm passionate about."
When it comes to the more immediate future at Princeton, Gage anticipates that he'll be heading to Mozambique to conduct research with large herbivore mammals and the impact that environmental disasters like drought and flood have on these species.
And as for that little boy watching Zoboomafoo in his pyjamas, what would he think about where life would take him?
"He would be over the moon," Gage said with a laugh.