McMaster Innovation Park expansion plans now include Hamilton Spectator Building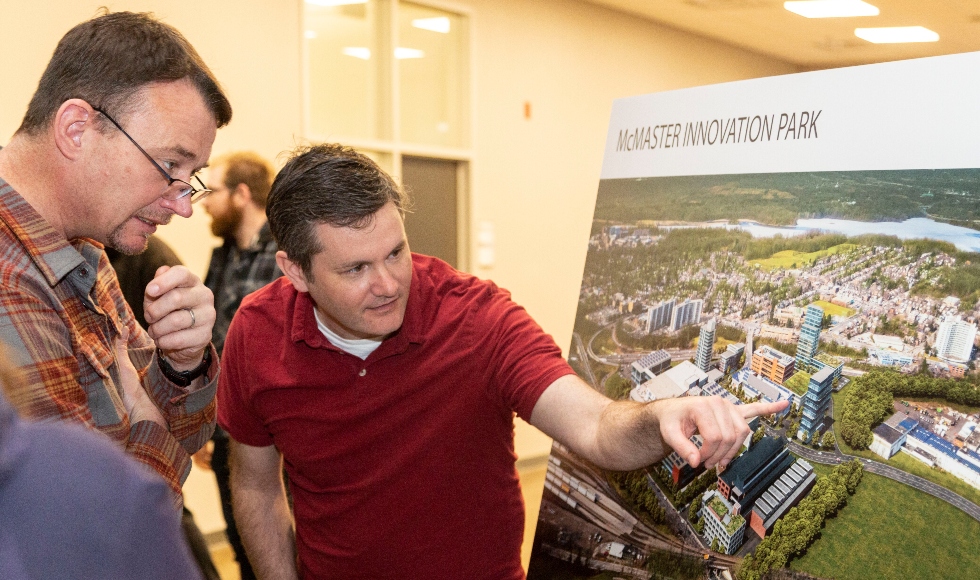 Attendees check out plans for the Hamilton Spectator building on Frid ST.
---
More than 100 business and community leaders converged at McMaster Innovation Park (MIP) to learn about its expansion plans – plans which now include the 44-year old Spectator Building.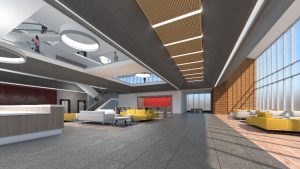 Ty Shattuck, the Park's CEO, confirmed the acquisition and redevelopment of TorStar's 44 Frid Street property and detailed how it will be transformed into a state-of-the-art facility to support MIP's growing life sciences cluster.
Shattuck said entrepreneurs and leading global companies and investors see the GTA-Buffalo nexus as a global-calibre hub, with MIP at the epicentre.
"The larger context for MIP's Life Sciences Megahub is the convergence of this capital markets focus, and the concentration of leading life sciences research, in which MIP has already established itself as a global leader," he said.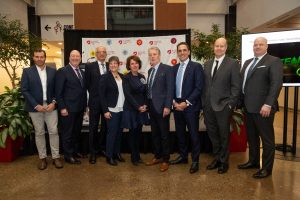 Shattuck was joined by Karen Mossman, McMaster's acting vice-president of research; Paul Berton, editor-in-chief of The Hamilton Spectator; and representatives from all levels of government including Bob Bratina, MP for Hamilton East-Stoney Creek, Jane McKenna, MPP for Burlington and Hamilton Mayor Fred Eisenberger, who collectively applauded the progress of MIP and its role in developing the national, provincial and local economies.
Mossman, who also serves as chair of MIP's board of directors, said the Park has proven to be highly effective as a bridge between research and industry.
"We're realizing the true social and economic value of our research and helping to grow the region's life sciences cluster. Our researchers are spinning out companies, creating jobs, and attracting investment and industry to the Park."
She acknowledged a number of McMaster researchers who have spun out companies in the life sciences sector, including John Valliant with Fusion Pharmaceuticals, Jonathan Bramson with Triumvira Immunologics, Sheila Singh and Empirica Therapeutics and Nathan Magarvey with Adaypsyn Bioscience.
Magarvey was on hand to speak to the importance of the ecosystem that has allowed him to advance his research into commercial opportunities, with a promise of more to come.
Calling it a "quantum expansion," Shattuck said the Park, which at full build-out will encompass 2.5 million square feet of purpose-built facilities dedicated to innovation, commercialization and entrepreneurship.
A lease-back agreement means the Spectator staff will continue to operate out of its current space until a new location is found.