McMaster Industry Liaison Office presents Innovation Showcase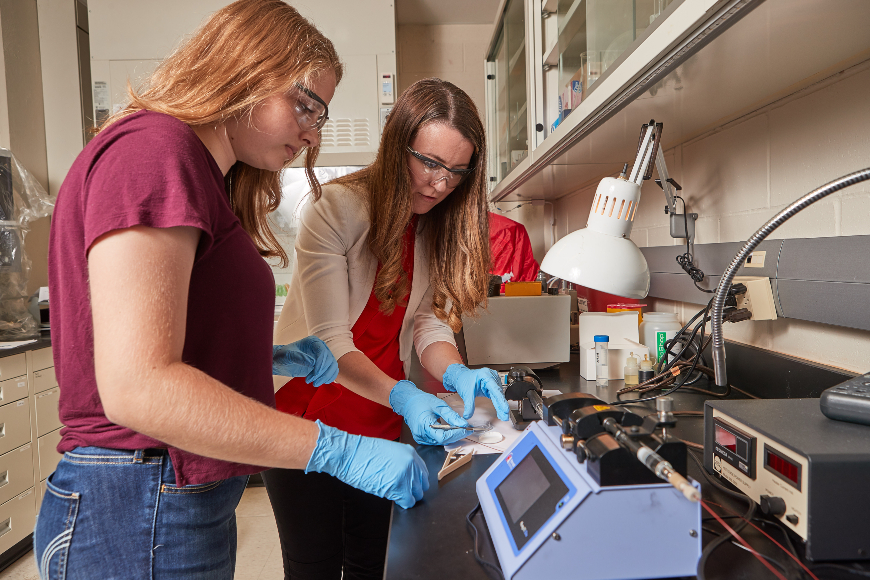 Researcher Kathryn Grandfield (right) will be presenting her work at the 2018 Innovation Showcase/Photo by Kevin Patrick Robbins
---
The McMaster Industry Liaison Office will be hosting the university's ninth Innovation Showcase on November 7, 2018 at McMaster Innovation Park.
The day-long event highlights McMaster's role in helping local businesses and economies grow, connecting researchers with industry and entrepreneurs who may be interested in turning research into commercial products and services.
This year's showcase will focus on biomedical research and features a keynote speech by Heather Chalmers, president and CEO of GE Healthcare Canada, a panel on personalized medicine, a poster competition, and research presentations by key biomedical researchers at McMaster.
As well, researchers who have achieved success in commercializing their research will be recognized at an awards ceremony at the end of the event.
"This event is all about relationship building," says Gay Yuyitung, the executive director of MILO. "We do such great research and we need to be sure we're sharing it to benefit others. Innovation Showcase is a great opportunity to connect the innovative ideas of our researchers – faculty and students – with the people who are passionate about transforming their ideas into products and services."