McMaster has been named one of Canada's Best Diversity Employers for a second consecutive year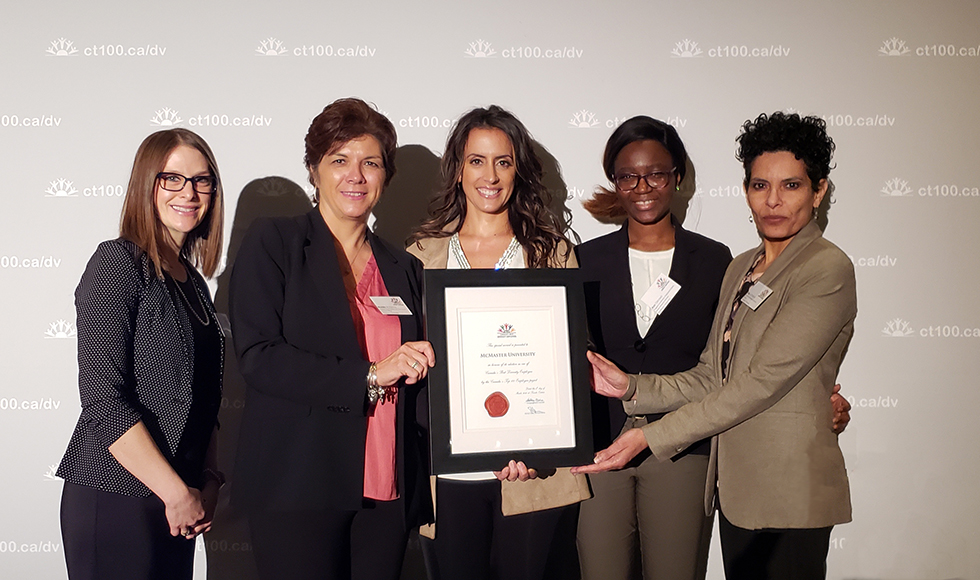 From left to right: Pamela Elmhirst, Wanda McKenna, Melanie Garaffa, Ayokunnumi Osinowo, Arig al Shaibah.
---
McMaster has been named one of Canada's Best Diversity Employers for a second consecutive year, in recognition of the university's ongoing work to advance diversity and inclusion in the McMaster community.
"We are pleased to be recognized once again for this award," says Wanda McKenna, assistant vice-president and Chief Human Resources Officer. "Our progress in this area relies on a thoughtful approach and intentional efforts to ensure we are collectively building an inclusive community, where everyone feels valued, respected and is treated with dignity."
Canada's Best Diversity Employers is an annual competition that recognizes employers across Canada that have exceptional workplace diversity and inclusiveness programs. McMaster has also been recognized as one of Hamilton-Niagara's Top Employers five years in a row.
"It is critically important that we attend to issues of equity, diversity and inclusion to ensure McMaster an exceptional environment to work, study and learn," says Arig al Shaibah, associate vice-president, Equity and Inclusion.
She pointed to how the McMaster community has embraced the university's new Equity, Diversity and Inclusion Strategy: "It is inspiring conversation and action on numerous important initiatives that will continue to support transformative change as we work to advance inclusive excellence."
McMaster maintains a President's Advisory Committee on Building an Inclusive Community, which continues to engage community stakeholders and identifies EDI priorities for institutional attention.
The university introduced a smudging protocol, affirming the right of Indigenous peoples to engage in smudging on campus, and also has an outdoor Indigenous Circle, which honours Indigenous knowledge and contributions.
An Employee Accessibility Network was established to provide peer support, consultation and strategies for workplace accommodation, employment equity, career advancement and accessibility.
A range of measures to help meet ongoing commitments to employment equity include:
   Broadening recruitment strategy through institutional partnerships with diverse job boards;
Mitigating unconscious bias and systemic barriers in hiring practices through robust systematic training to search committees;
Increasing capacity to improve hiring practices through the Employment Equity Facilitator Program, which empowers trained staff and faculty to support search committees
Supporting Equity, Diversity and Inclusion Committees to promote employee engagement.
The university continually collects and updates workforce demographic data through a voluntary, confidential Employment Equity Census in order to support the planning and implementation of evidence-based employment equity strategies.
Further information about the 2019 census report will be unveiled at the Employment Equity Forum on March 30th.