McMaster graduates and friends remember Andrew Kinsman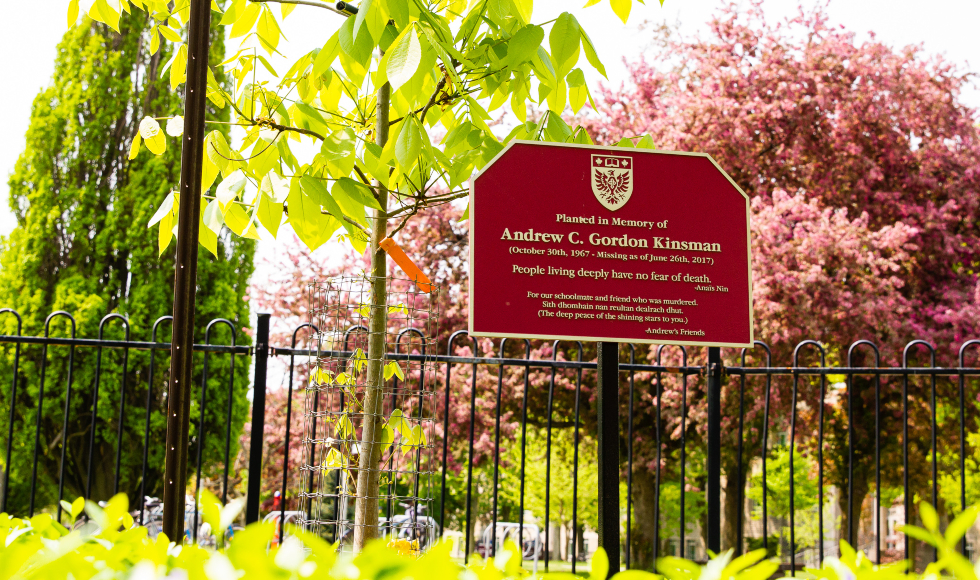 Photo by Anna Verdillo
---
"People living deeply have no fear of death."
The quote from Anaïs Nin sums up Andrew Kinsman's life – so it's only fitting that his friends chose to include it on the plaque that celebrates his memory.
Kinsman, a McMaster graduate and long-time community activist, went missing in 2017 at age 49. His disappearance was later linked to Toronto serial killer Bruce McArthur, who pleaded guilty to eight murders – including Kinsman's – in January 2019.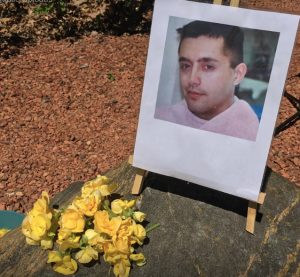 Last weekend, Kinsman's family and friends gathered in McMaster's Nina de Villiers memorial garden to remember the philosophy major whose dream job, according to fellow Mac grad and friend Rui Pires, had been co-ordinating the food bank for the Toronto People with AIDS Foundation.
Thanks to individual donors from as far away as Singapore, as well as contributions from the Canadian Union of Public Employees national and Ontario offices, Kinsman will be remembered on the McMaster campus with a tree, a bench and a memorial plaque.
Pires and fellow Mac grad Jim Stewart arranged a ceremony filled with punk music, bagpipes and reflections about their friend's life and legacy. The McMaster Alumni Association, the university's equity and office advised the planning, and Lyla Miklos, a local activist and lay chaplain with First Unitarian Church of Hamilton, officiated at the gathering.
"When we lost Andrew Kinsman, we met with a loss that is beyond what we might have expected to experience in the course of our lives," Pires said in his eulogy. "Andrew pushed us, delighted us and challenged us – often all at the same time. He expected things of us. He demanded our attention, and our thoughts, and our actions."
A cancer survivor, Kinsman regularly talked about his experience to people living with AIDS.
Pires says Kinsman was "quirky and unconventional" – the kind of man who would book a punk band called Pansy Division to play at a local Hamilton gay bar, then spend the night plastering that bar with stickers calling out its homophobia. At one point, he had encouraged friends to paint Toronto Sun newspaper boxes with pink triangles and the word "LIES" following anti-gay editorials.
Because he was so community focused, says Pires, it would have been important to Kinsman to acknowledge the other men who were killed by McArthur – many of whom were immigrants or refugees, or otherwise marginalized.
"None of these men, including Andrew, deserved to leave this world with so little dignity," said Pires at the gathering. "Today we are here because we are trying to right that wrong – to remember Andrew, in a way that he deserved. Andrew was one of us. He was our friend in this city of Hamilton and here at this university."