McMaster grad knows life is what you bake of it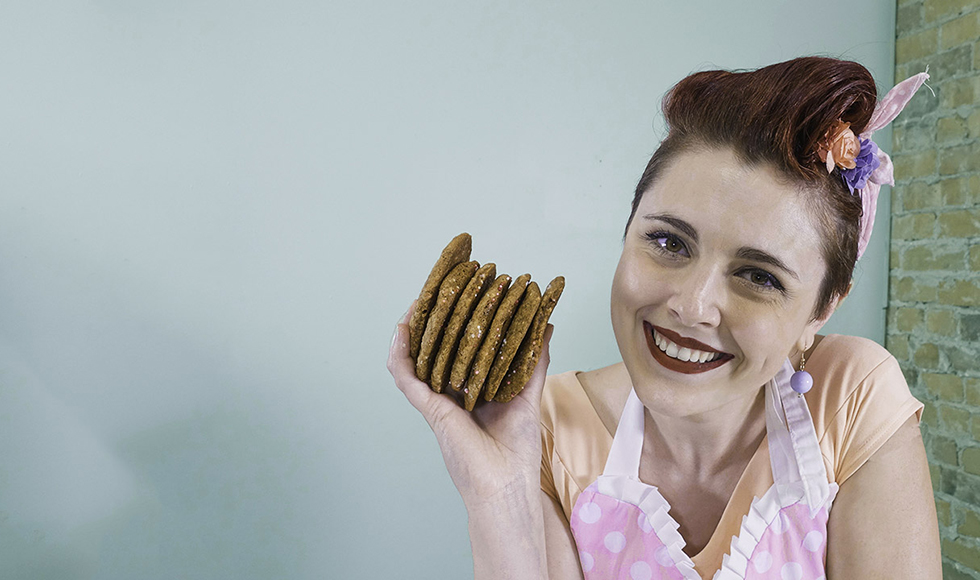 ---
On March 22, Katarina Poletto, business owner of Dolled Up Desserts, challenged her followers to join her in baking vegan aquafaba meringue cookies. Every two weeks customers can join a bake-along of their choosing from a schedule on the website. The full baking kits are also available for purchase ahead of time. This Sunday, April 19 the self-proclaimed Modern Betty Crocker will be leading a triple chocolate brownie bake-along on Zoom.
When Mac grad Katarina Poletto started Dolled Up Desserts three years ago, her goal for the gluten-free and vegan bakery was to create an inclusive environment for people with food intolerances.
With the COVID-19 pandemic disrupting businesses everywhere, Poletto remains adaptable and as committed to inclusion as ever, offering contactless delivery and setting up the bake-alongs for her followers.
Poletto grew up knowing the joy of baking.
"My family is made up of matriarchal bakers who are pastry chefs," she says.
Her family believed in quality treats and desserts made from scratch. When Poletto started her undergraduate degree in health sciences at McMaster, baking became her stress-reliever.
However, she soon developed intolerances to gluten, dairy, eggs and other common ingredients. That's when she discovered the struggle, and the value, of enjoying desserts on her own terms.
Rather than give up her passion, she started adapting her family recipes into versions she could enjoy.
"I took a very health-sci approach," says Poletto. "Learning about replacement ingredients, formulating a hypothesis, setting up and conducting experiments were all health sciences skills I was able to apply."
It was a slow, two-year process, filled with a lot of trial and error.
When Poletto graduated in 2016 with a specialization in Child Health, she was offered a scholarship to the University of Chicago for a Master's degree in Social Services Administration.
But she wanted to defer her studies for one year.
Poletto saw a gap in the types of desserts offered in coffee shops and grocery stores, so she applied for a start-up grant through Summer Company to start a company that would fill that gap.
Her vision was simple: Create an inclusive product that allowed people with dietary restrictions to experience the joy of desserts.
"You have cake at a party, or cookies during a coffee date, or muffins during a morning business meeting," says Poletto. "Dessert is one of the most positive forms of language that exists."
She called it Dolled Up Desserts, inspired by her own personal aesthetic for 1920s vintage.
Poletto started with reaching out to cafés willing to sell her gluten-free and vegan treats. After a month, she had three regular clients. After a year, her baking mixes were stocked in local grocery stores. That soon expanded to 45 stores across southern Ontario and she now ships orders across North America.
In 2017, Dolled Up Desserts was a finalist for the Innovation Factory Lion's Lair pitch competition for businesses that influence the Hamilton ecosystem. In 2018 she received a FirstOntario Credit Union award for small businesses making an impact in the community.
Poletto credits her McMaster education for her success as an entrepreneur.
"The health sciences program provides the skills to be a continuous learner," she says. "Professional communication, giving and receiving feedback, conducting research, personal awareness and leading a team — these were all instrumental in my journey."
The Toronto native says she chose to study at McMaster for the unique teaching environment, but soon realized that McMaster, as well as the city of Hamilton, also offer a strong sense of community.
"As an entrepreneur, there are a lot of opportunities in Hamilton to have an impact, grow as a business and leave a mark. It's been a rewarding experience to start my business here." 
The business has not been without its challenges. Poletto says 2017 was a year of significant growth, but 2018 brought stagnation and a sense of imposter syndrome as a female entrepreneur.
"Women need to realize they have the grit, skills and passion to match, if not exceed, what male entrepreneurs do," Poletto says. "I turned my passion into a business —  it came from the heart and I've had an impact on the community by being authentically myself."
So what keeps her going?
"The people," she says. "Whether it's my employees, other small businesses who carry my products, or a mom out west who uses my mixes to bake a special cake for her daughter's wedding. At the end of the day, it's about inclusivity."