McMaster grad first to receive national Indigenous Health Award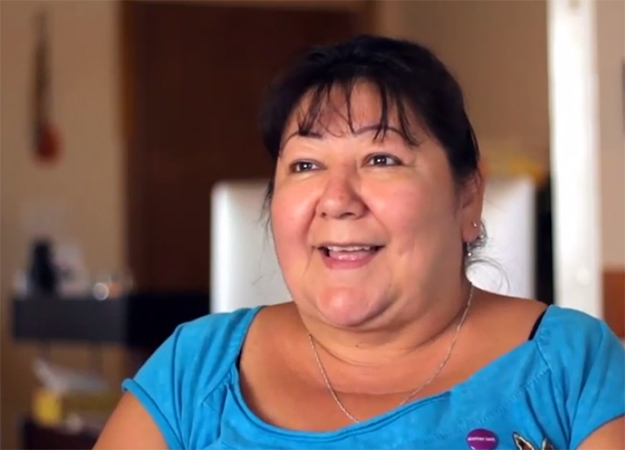 'Receiving this award means something very personal to me,' said Hill. 'It acknowledges the value of a 'healing approach' to Indigenous peoples' health that includes traditional indigenous knowledge and medicine practices as part of that approach.'
---
Dr. Karen Hill has received the inaugural Royal College Dr. Thomas Dignan Indigenous Health Award for her dedication to bridging the gap between Indigenous health values and the practice of western medicine.
The Mohawk Nation physician graduated from the Michael G. DeGroote School of Medicine in 2003, and she has been the faculty lead in Aboriginal peoples health for the Department of Family Medicine since 2007. In this position she advises on the integration of cultural safety and competence in the education and clinical training of residents.
Hill is also a family physician who works at Juddah's Place, a clinic she co-founded in 2013 with colleague Elva Jamieson in Ohsweken, Ont., on the Six Nations of the Grand River First Nation reserve.
Juddah's Place is where Hill has achieved her dream of practising medicine in a model of collaborative care that incorporates traditional Indigenous healing alongside primary care. The practice also trains family medicine residents and apprentices of traditional medicine.
The Royal College of Physicians and Surgeons of Canada created the Royal College Dr. Thomas Dignan Indigenous Health Award last year in honour of the McMaster alumnus. The award is for Canadian physicians, residents and medical students committed to Canadian indigenous rights and the pursuit of justice for Canada's Indigenous people.
"Dr. Hill's devotion to ensuring that Indigenous people can enjoy health, well-being and a full expression of their identity embodies the spirit of our Thomas Dignan award," said Royal College CEO Andrew Padmos. "Her dedication to eradicate the disparities and inequities in health outcomes and quality of care make her a source of pride for the Royal College and Canadian medicine."
Hill said: "Receiving this award means something very personal to me. It acknowledges the value of a 'healing approach' to Indigenous peoples' health that includes traditional indigenous knowledge and medicine practices as part of that approach."
Hill is a past director of the McMaster's Aboriginal Students Health Sciences office and she assisted in the medical school's creation of an Aboriginal admissions process.
Dignan was the first graduate of the McMaster medical school from the First Nations. He is a Mohawk from Six Nations of the Grand River Territory, and he is known as an advocate for eradicating disparities in health outcomes and inequities in the quality of health care facing Indigenous people.
He is chair of the Royal College's Indigenous Health Advisory Committee; co-founder of the Native Physicians Association of Canada; a founding member and first president of the Native Nurses Association of Canada; and a member of the Order of Ontario.