McMaster Global annual showcase of engagement activities takes place Nov. 11-22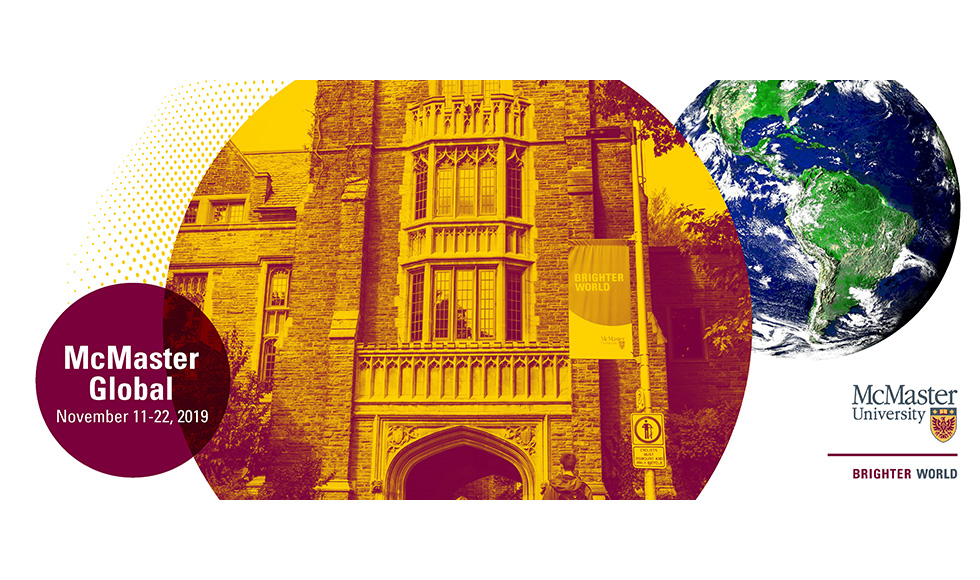 ---
How are McMaster researchers and students making a difference in communities around the world?  What are faculties and units doing to connect students to global learning experiences, both abroad and on campus? What opportunities are available to students who want to study internationally?
From November 11–22, faculties, departments, student organizations, research centres, and administrative units are hosting a myriad of events that focus on these questions and more as part of McMaster Global, two weeks of international programming aimed at showcasing and celebrating McMaster's commitment to global engagement.
McMaster Global features a wide range of lectures, workshops, panel discussions, research posters, seminars, presentations, information fairs, and more that showcase one or more of the United Nations Sustainable Development Goals (SDGs).
McMaster Global also incorporates McMaster International Education Week, which takes place from November 17-22. Events and activities are specifically student-focused, celebrating the global program, international communities, and shared values of McMaster. 
McMaster GLOBAL HIGHLIGHTS INCLUDE:
Global Engagement Town Hall update – Tuesday, November 19 @ 1:30 p.m., in LIVELab auditorium.

The McMaster Global Town Hall will provide an overview of several key global engagement initiatives at McMaster – activities that support the McMaster Model for Global Engagement, followed by a panel Q&A discussion, reception and networking.

Panel discussion: Peripheral Vision(s)

– Wednesday, November 20 @ 7 p.m..

Please join us at the McMaster Museum of Art for an insightful, critical dialogue on the "Indian" image and how it has shaped and been shaped by artists over time

.

Documentary screening: Bending the Arc

, – Thursday, November 21 @ 6:30 p.m., McMaster Health Sciences Building, HSC 1A5

.

Dr. Paul Farmer, Dr. Jim Yong Kim, activist Ophelia Dahl, Todd McCormack, and investor Thomas White began a movement in the 1980s that changed global health forever.

Water: Why we all need to know – Thursday, November 21 @ 3 p.m.

J

oin us for a panel discussion on public awareness of water issues.

Learn more.
New events will continue to be added to the schedule – check back regularly for updates.
The McMaster Global showcase is in support of McMaster's Global Engagement Strategy as outlined in The McMaster Model for Global Engagement: A Strategy Document released in 2016. The document was the first step in the development of the university's international strategy – a key institutional priority – and continues to provide a framework for the development of international activities at McMaster.