McMaster executive chef wins bronze medal at culinary world cup with Ontario team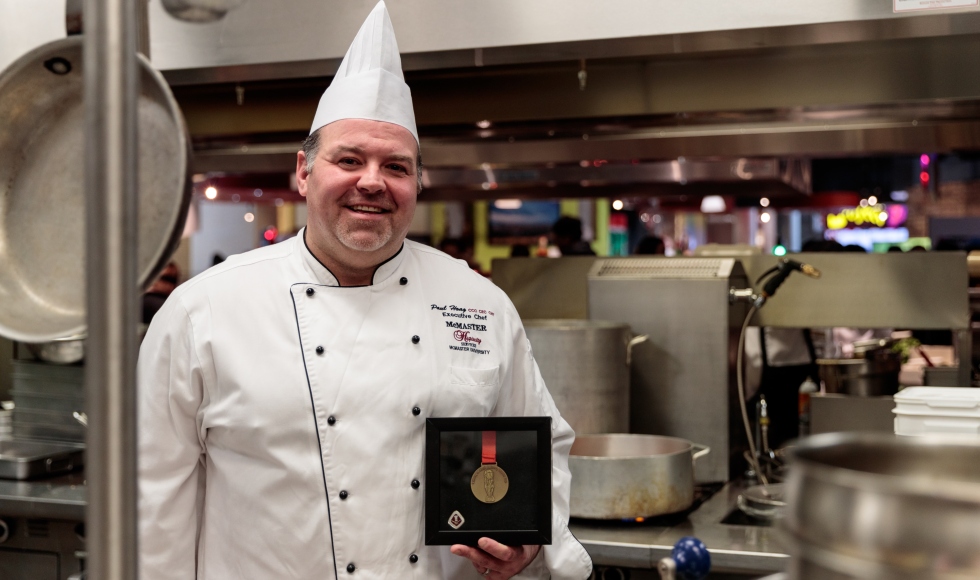 Photo by Sarah Janes
---
On a recent snow day, McMaster executive chef Paul Hoag was chopping onions in the Commons, pitching in to help feed thousands of residence students while some hospitality staff were snowed in at home.
It was a long way from Luxembourg, where, last November, his team won a bronze medal in the Villeroy & Boch Culinary World Cup, one of the largest and most important cooking competitions in the world.
Held every four years, the World Cup is the second-largest international culinary competition globally, with teams from 75 nations competing in several events over five days.
The overall team event consists of many rounds, including buffet, five-course meal, three-course meal, desserts, petit-fours and sculpture.
And it was almost over right before it began.
After 18 months of fundraising, planning and practice, the 12-member team arrived in Europe only to find that their custom glass serving platters had all shattered en route. They had two days to MacGyver some replacements from an old sheet of tempered glass that used to cover a hotel desk.
"We were only half a point away from the silver," says Hoag. "The judges commented on our scratched-up presentation platters, but what can you do? Some of the other teams have enormous budgets — it's essentially their job to prep for these competitions ­— so we're pretty proud to bring home the bronze."
It's nice to win, but Hoag says he has other reasons for competing internationally.
"I look at it as an opportunity for me to learn and see the top of the top," he says. "Looking at leadership angles and how they react in different situations and how they treat people. It keeps my drive going – I'm in chefs' federations, I'm a level-B judge worldwide. My philosophy is to keep your hand going and never stop learning. It's the mindset of always being an apprentice. For me, it's the people you come across, relationships that you've built, the skills that you've learned. It's about the journey, not about the medals."
Hoag has built an esteemed career from the ground up, starting with George Brown culinary school, working as an apprentice at the Royal York Hotel, and then in more senior roles at other high-end Toronto establishments such as Canoe, Liberty Grand and Trump Hotel.
At each competition he attends, Hoag wears his McMaster uniform, representing not only Ontario or Canada, but the university.
"It's about getting Mac's name out wherever I can," he says. "I want to try and push us as a team here. We are not just another university – we are always striving to improve."
Hoag and the Canadian team are now training for the IKA Culinary Olympics, to be held in Germany in early 2020.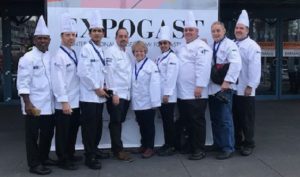 Team Ontario at the Culinary World Cup Expogast in Luxembourg