McMaster EngiQueers take on Toronto Pride Parade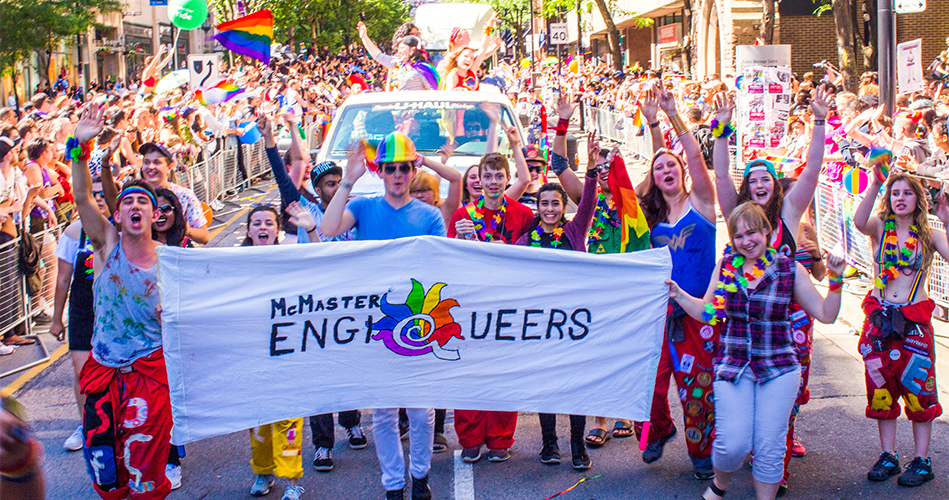 ---
Keep calm and Pride on!
Members of the student club McMaster EngiQueers proudly marched in Toronto's annual Pride Parade on June 25, highlighting Pride month.
"McMaster EngiQueers' mandate is to advocate for inclusion, visibility, and normalization of the presence of LGBTQ persons in the McMaster Engineering community. In essence, our goal is to make LGBTQ persons a visible and noted presence, and to contribute to the profession in a very meaningful way," says Matthew Poloni, President of McMaster EngiQueers.
McMaster students from different faculties and levels joined the EngiQueers to march along with other schools, organizations, groups and hundreds of people at the Toronto Pride Parade.
"Engineering culture can be very male dominated, heteronormative and cisnormative at times. Being able to march as queer engineers is quite the statement, at least in our eyes." says Poloni.
McMaster EngiQueers is open to everyone, whether one is LGBTQ or an ally, students are able to participate in events, volunteer and partake in open session executive meetings.
Happy Pride!
Learn more about McMaster EngiQueers, visit: https://www.facebook.com/engiqueers/.