McMaster Engineering student and his dad creating face shields for healthcare workers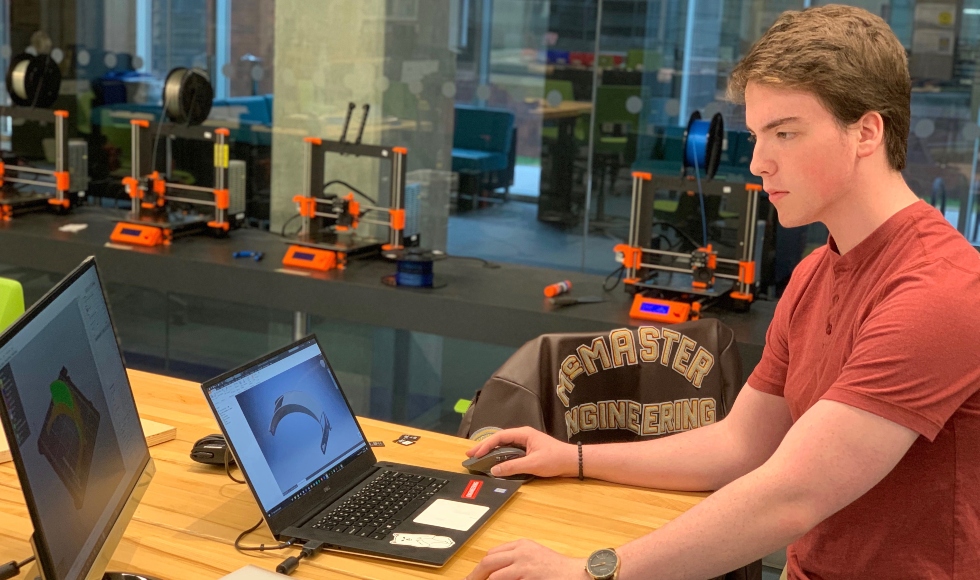 Alex Fernback, an Engineering I student, has been 3-D printing face shields with his dad, professor Mike Noseworthy.
---
Over the years, Alec Fernback would help his dad with projects around the house – making shelves, a new barbeque, "building this, building that." 
When in-person classes were cancelled and social distancing began about a month ago, it was natural for Fernback and his dad, Mike Noseworthy, to team up on a new project. This time, they would build face shields for frontline healthcare workers. 
"This whole project has been a very exciting opportunity for me because I've been able to apply directly what I've learned in the classroom for real-world applications," Fernback says from the iBioMed Design Studio, where he and Noseworthy have carefully been working on face shield designs to 3D print. 
"I'm glad Alec is here, because he's taught me how to use 3D printers, which I'm really happy about. We're teaching each other here and taking advantage of this opportunity to learn more," says Noseworthy, a professor in electrical & computer engineering and co-director of the McMaster School of Biomedical Engineering. 
The idea to repurpose the iBioMed Design Studio into a space to 3D print face shields was initiated by Tim Hillson, an assistant clinical professor of surgery in the faculty of health sciences.  
Hillson reached out to Noseworthy and Colin McDonald, director of Engineering 1, and within days, they were refining their initial prototypes with physicians at Hamilton Health Sciences and St. Joseph's Healthcare.  
"The physicians have been really amazing with the feedback to engineering in general," says Noseworthy, noting the challenges they were faced with from the start.  
"There's lots of little things that need to be considered if the face shields are actually going to be used in a hospital – and assembly of the shields will require cleanliness and the right protocols," he adds. 
The face shields are being made in the first-year Engineering EPIC Lab and the iBoimed Design Studio, where there are 25 printers in total. So far, they have printed about 300 shields which an assembly team will later attach clear plastic and latex-free straps to. 
Discussions with local manufacturers on 3D printing are ongoing, with the goal to increase production capacity.   
This effort is largely supported by the Integrated Biomedical Engineering & Health Sciences program, also known as iBioMed, which is the first Canadian health sciences program to bridge together health, engineering science and entrepreneurship.   
"There's so many people that have stepped up in engineering, science, health sciences – everybody," says Noseworthy. "The outpouring of wanting to help has been absolutely incredible, and the hardest part about it is trying to juggle using people's offers of help, but we also have to maintain physical distancing." 
Fernback says he encourages other students to continue getting involved. 
"Even just donating, volunteering or anything to help goes a long way – they don't necessarily have to do what we're doing," he says.