McMaster engineer uses microwave technology to detect concealed weapons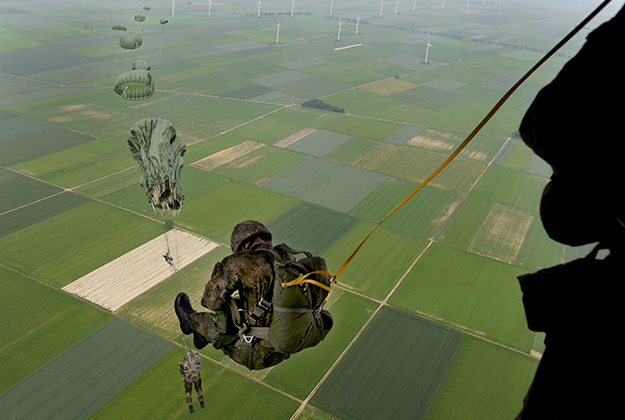 U.S. Soldiers and Airmen, as well as soldiers from five NATO nations, parachute from a C-130J Hercules aircraft in southwestern Germany. McMaster researcher Natalia Nikolova is part of a team of international experts funded by NATO that will be exploring ways to equip soldiers and police officers with new technology that could detect concealed threats. 
---
A McMaster engineer is part of an upcoming project that will use portable radar technology to help military, police and security personnel detect concealed weapons out in the field.
Natalia Nikolova, an electrical and computer engineering professor, is part of a team of researchers in Canada and the Ukraine funded by NATO that will be exploring ways to equip soldiers and law enforcement with gear that could detect concealed threats, such as guns and explosive devices, used by terrorists and security threats.
The three-year project, which launched July 1, will study how microwave radar signals sent from either rigged vests or tripods could detect trouble as far as 15 metres away and send early warning signals of pending danger. These devices could be used anywhere from borders to airports to crowded public events to bars and hotels.
"I believe from an engineering and science point of view that this is doable," says Nikolova, who will be working with research engineer Justin McCombe and Ph.D. student Denys Shumakov on the project along with colleagues from the National Technical University of Ukraine (Kyiv Polytechnic Institute).
Natalia Nikolova
"You can have a radar tool that can sense the presence of weapons concealed under clothing at the range of anywhere between half a metre and 15 metres. Sometimes this is all it takes to have enough time to prevent a major catastrophe."
Just like a radar that detects an airplane at a distance, an antenna radiates a pulse that hits a target and the echo of the radio waves carries information about the target back to the device.
These "smart" radars use algorithms based on neural networks to train the device to differentiate between the normal reflections from a human body and abnormal ones, i.e. those carrying traces of the signals due to weapons concealed under clothing.
Nikolova has worked on similar projects in the past, including a screening device that could be mounted at the entrance of public buildings to detect concealed weapons at a range of two to three metres. Patents have been filed on the technology in both North America and Europe.
That work was done between 2010 and 2013 with the support of an NSERC Strategic Project Grant and the Defence Research and Development Canada.
NATO granted $766,300 to the Canada-Ukraine project. This is the first time in a decade that a McMaster researcher has received NATO funding. Testing of the new devices will be done at several sites, including the Kiev International Airport.