McMaster donates bamboo bounty to Toronto Zoo pandas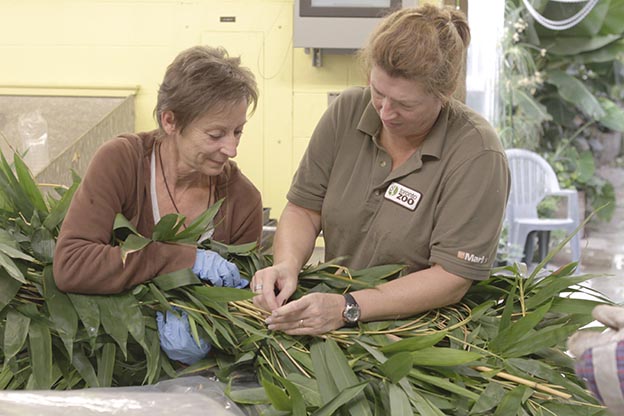 Colleen Bearman, left, and Karen Alexander prepare some of McMaster's golden bamboo for transportation to the Toronto Zoo. The zoo's giant pandas will eat more than 100 pounds of bamboo each day.
---
What to do with the excess bamboo?
That's the question Arthur Yeas, technician at McMaster's Biology Greenhouse, faces about three times a year.
That's how often Yeas has to cut back his collection of golden bamboo, a fast-growing member of the grass family.
"And we typically just toss it in the compost," said Yeas.
But the arrival of Er Shun and Da Mao – two endangered giant pandas – at the Toronto Zoo in March sparked an idea: why not ship the extra bamboo down the QEW?
Zoo representatives readily accepted the offer of a fresh meal for the pandas (their regular supply of bamboo is harvested and sent from Tennessee twice a week) and sent Karen Alexander, lead hand at their Wildlife Nutrition Centre, to collect the bounty.
"It's the freshest meal they'll get," said Yeas.
Alexander agrees, and added that McMaster's bamboo will also feed the zoo's rhinos and elephants.
"The pandas love the leafy greens and shoots, and we can give some of the stalks to the elephants," she said.
Alexander explained that the hollow stalks can be used like a treat-filled dog conch, but filled with elephant treats instead.
Yeas, Alexander and Holland Park Garden Gallery's Colleen Bearman worked for hours in the humid greenhouse Wednesday morning, cutting down and carefully packing up the golden bamboo – also known as "fairyland" and "monk's belly" bamboo.
"We'll take it back to Toronto, keep it cool and then mix it with the panda's regular meals," said Alexander, who added that giant pandas eat approximately 50 kilograms – or 110 pounds – of bamboo each day.
In ideal conditions, golden bamboo can grow to 30 feet and reach three inches in diameter.
This is the largest donation of bamboo the Toronto Zoo has received since the pandas arrived in March. Yeas says that if the zoo will keep taking it, he'll be happy to keep cutting it down.
"Fresh bamboo is worth its weight in gold, when it's for the pandas."