McMaster civil engineering grad students sweep prestigious international competition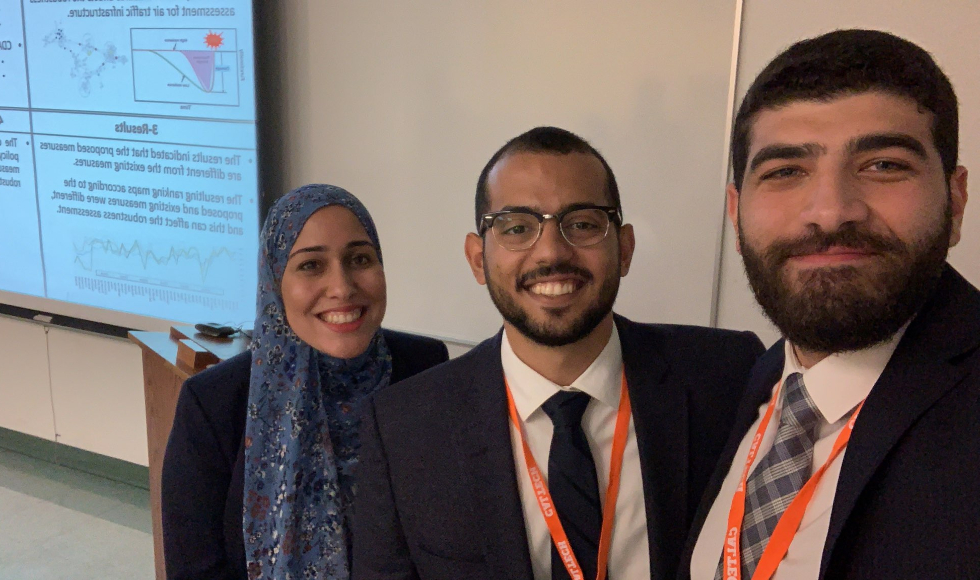 Winners of the American Society of Civil Engineers student paper competition. From left to right: May Haggag, Mostafa Naiem Abdel-Mooty and Ahmed Gondia
---
Ahmad Siam was excited when the American Society of Civil Engineers selected McMaster students' work for its international student paper competition.
He was thrilled when he realized that, eight of the 11 finalists were from McMaster.
And he was completely floored when three of those papers took first, second and third place in the Objective Resilience student paper competition, announced at the Engineering Mechanics Institute Conference 2019 (EMI 2019) which was co-organized by Caltech in Pasadena, California.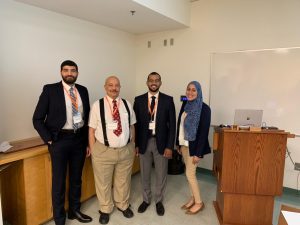 "This is an international competition, so it was exciting to know just that we had eight students qualify," explains the postdoctoral fellow, who, along with professor Wael El-Dakhakhni, works with the students at McMaster's Interface Institute.
"To have the top three winners is incredible."
The winning papers were all about resilience – specifically, the ability of infrastructure, buildings or communities to respond to, absorb, adapt to and recover from disruptive events such as natural disasters. The students' papers covered topics that ranged from climate change to floods to mega-infrastructure construction projects.
The winning students were:
First place: May Haggag
Second place: Mostafa Naiem
Third place: Ahmed Gondia
The Interface Institute is an interdisciplinary research body that studies risk assessment, analysis and management in the built and natural environment. Its team aims to enhance the resilience of complex systems – such as transportation networks, or energy plants – through research and the development of risk management tools.