McMaster Children's Centre now resides in the heart of campus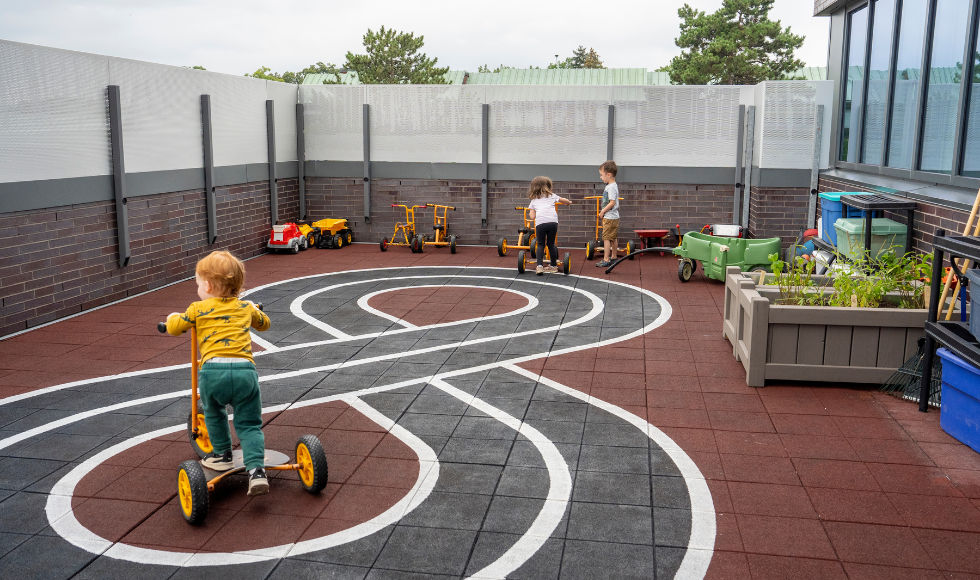 The McMaster Children's Centre on-campus daycare has officially moved from the west side of campus to the second floor of the Peter George Centre for Living and Learning. (Photos by Georgia Kirkos/McMaster University)
---
Starting this week, you may hear the pitter-patter of little feet at the Peter George Centre for Living and Learning (PGCLL). The McMaster Children's Centre (MCC) on-campus daycare has officially moved from the west side of campus to a new state-of-the-art facility on the second floor of PGCLL.  
The new facility was constructed specifically for the centre and features more space for increased capacity, larger and brighter rooms, and playgrounds on the terrace. There are 10 reserved parking spots for parents to use at drop-off and pick-up, as well as a private entrance into PGCLL with an elevator and stairs. 
"McMaster is proud to offer on-campus daycare services so McMaster faculty, staff and students can have high-quality child care close to their workplace," says Saher Fazilat, vice-president (Operations and Finance). "I want to thank the board of directors and all the incredible educators at the MCC for their patience and hard work in moving the centre to this new location."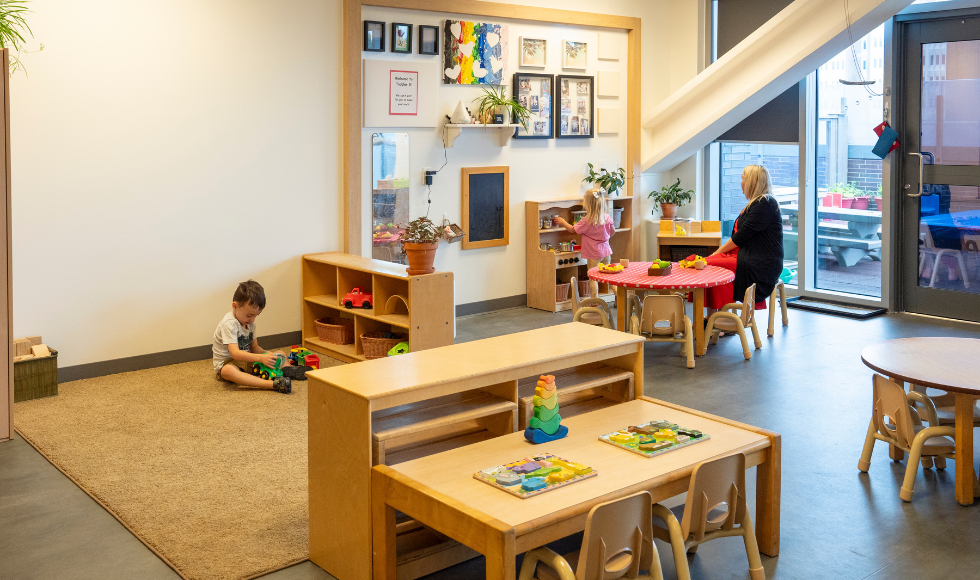 The new centralized location will allow the children to explore and enjoy McMaster's green spaces and other amenities. It also provides the chance for the centre to build partnerships across campus and to "feel like we are more a part of the campus community," says Linda Davis, president of the centre's board of directors. 
"It's really a great step up in location for us, and we're really excited about being in a building closer to the centre of campus," Davis says.
The MCC, a non-profit, self-supporting corporation administered by a director and board of directors, has 15 staff members and the capacity to care for 70 children between the ages of 18 months and five years.  
Currently, 80 per cent of the children in the MCC have a parent employed by or studying at McMaster.  
"Sheila Scott, who was the Dean of Women at McMaster University from 1965 to 1982, established the MCC in 1975 to support families and women at McMaster," says Davis. "We continue to honour her legacy as the centre evolves to become even further established in McMaster's community." 
A grand opening is tentatively planned for the fall once everyone is settled in. 
To learn more about the MCC and this exciting move, please visit their website.