McMaster celebrates seven new Vanier Scholars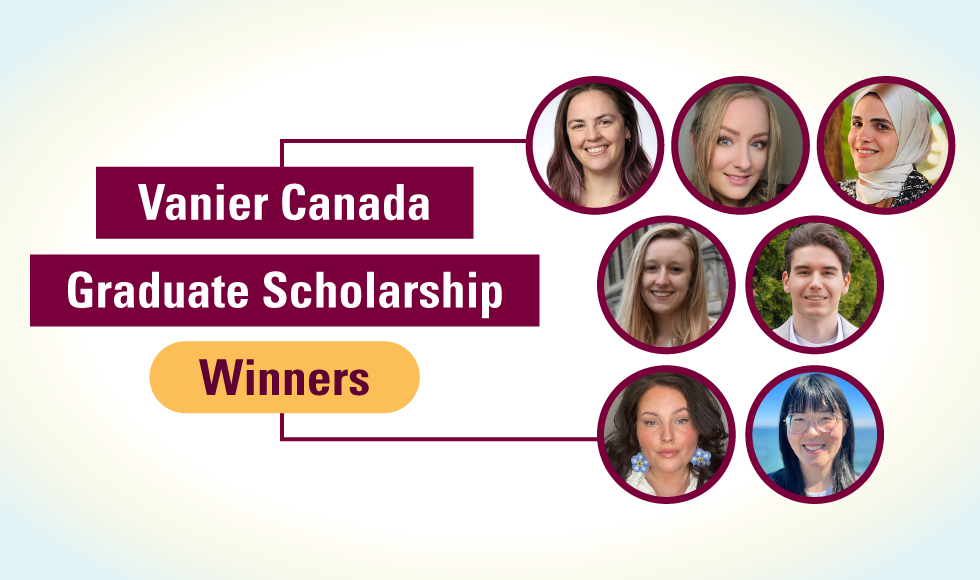 Seven McMaster doctoral students (From top row, left to right: Louise Guolla, Nicole Diakite, Kholoud Abousalem, Alice Kelen Soper, Alexander Sotra, Alexandra Nychuk and Alice Man) have been named 2023 Vanier Canada Graduate Scholarship recipients.
---
McMaster graduate student Louise Guolla has spent a lot of time getting big on the field of play.
As an Ultimate Frisbee player, Guolla has learned to stretch her physical limits, to reach higher and further than she thought possible. Last summer, she competed as a member of ReUnion, one of Canada's Mixed Masters teams at the World Championships in Ireland.
But whatever her success in sport, Guolla's life off the field is where she truly tests – and surpasses – any limits.
Guolla is a recipient of the 2023 Vanier Canada Graduate Scholarship – one of seven McMaster doctoral students to receive the award this year.
The Vanier Scholarship is one of Canada's most prestigious graduate awards and is aimed at attracting and retaining world-class doctoral students. As a Vanier Scholar, Guolla and her peers each will receive $50,000 annually in support of their research, for up to three years.
Leaders in the graduate community
Vice-Provost and Dean of Graduate Studies Steve Hranilovic looks forward to the work that this year's Vanier Scholars will contribute to a broader body of knowledge.
"The Vanier is awarded to graduate students who are true leaders, both in their fields of study and in the community. It will be exciting to see the amazing contributions each brings to our rich and diverse graduate student community at Mac."
For Guolla, the Vanier Scholarship is coming at an ideal time.
She recently completed a fellowship at McMaster – she is a pediatric oncologist specializing in hematologic cancers – and is ready to add another layer to her already busy professional and academic life.
So, when Guolla isn't seeing patients in the clinic, she will immerse herself in a Vanier research project focused on long-term cardiovascular health outcomes in survivors who experienced cancer as adolescents and young adults. Her research will examine health care records going back to 1987, housed at the Institute for Clinical Evaluative Sciences.
As a research-intensive institution, Hranilovic recognizes the importance of bringing top graduate researchers to McMaster.
"This year's Vanier recipients are a testament to the significant role that graduate researchers play in helping to find innovative solutions to real world problems and issues," he says.
"Congratulations to each of you! I look forward to seeing all that you accomplish at McMaster."
---
2023 Vanier Graduate Scholarship recipients
---
Kholoud Abousalem is completing her PhD in Chemical Engineering, under supervisor Drew Higgins.Learn about Abousalem's research and her academic journey.
Nicole Diakite is working on her doctoral degree in Social Work. Her supervisor is Bonnie Freeman.Learn about Diakite's research and her academic journey.
Louise Guolla is completing a doctoral degree in Health Research Methods, Evidence and Impact, under supervisor Lehana Thabane. Learn more about Guolla's research and her academic journey.
Alice Man is completing her PhD in Medical Sciences, under supervisor Guillaume Paré. Learn about Man's research and her academic journey.
Alexandra Nychuk is completing a doctoral degree in Health and Society, under the supervision of Chelsea Gabel. Learn about Nychuk's research and her academic journey.
Alice Kelen Soper is a PhD student in Rehabilitation Science, working under the supervision of Peter Rosenbaum. Learn about Kelen Soper's research and her academic journey.
Alexander Sotra is a PhD student in Biomedical Engineering, under supervisor Boyang Zhang. Learn about Sotra's research and his academic journey.