McMaster celebrates Latin American Heritage Month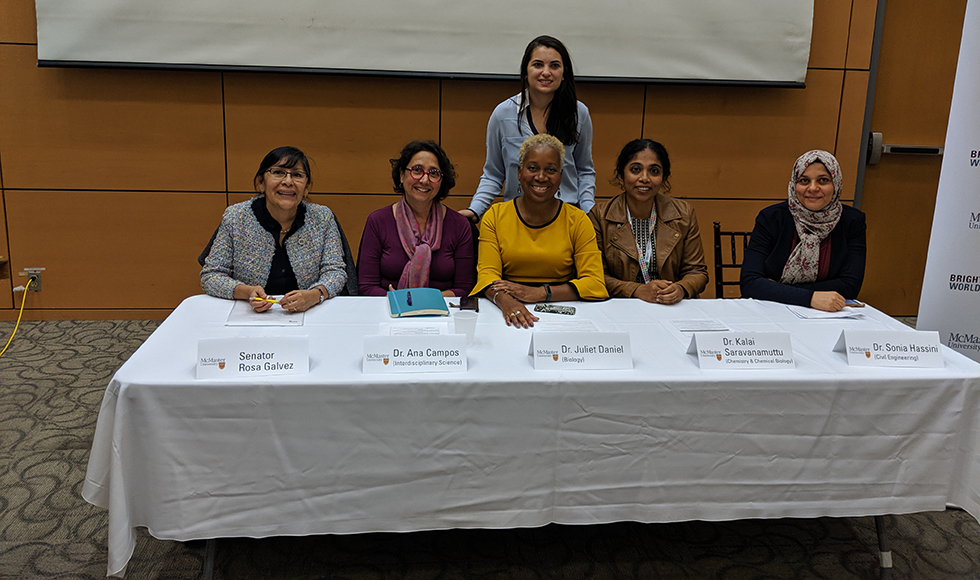 ---
McMaster celebrated Latin American Heritage Month with two events, in partnership with the Organization of Latin American Students, Hamilton's Hispanic Fraternity Association, the Equity and Inclusion Office, the Faculty of Engineering, and the SPICES project – School of Graduate Students.
The university hosted a panel discussion with Latin American members of the McMaster and Hamilton community, which opened with a keynote address by Senator Rosa Galvez, Canada's first and only senator of Latin American heritage.
"I'm always happy to visit McMaster University. There is a vibrant and growing Latin American community in the university and Hamilton and I am glad to have celebrated with them. Connecting the Senate of Canada with universities is something I'm always happy to participate in," Galvez said.
Galvez spoke of the McMaster Access Strategy, which aims to increase access to higher education for students from underrepresented groups in Hamilton.
As part of the Let's Talk about Race! (LTAR) series of discussions for racialized, Black, Indigenous and People of Colour (BIPOC) students, staff and faculty, the university organized an event titled What's in a name? Or; What it Means to be Latin American in North America.
Let's Talk About Race talks are held at the end of every month, organized by the Equity and Inclusion Office and the Race, Racism and Racialization (R3) PACBIC Working Group.
"As an Afro-Latina living in North America having a space like LTAR is invaluable since it opens up the possibility to have conversations with the broader McMaster BIPOC community," said Stacy Creech, a PhD student and teaching fellow in English & Cultural Studies, who led the event.
"These are conversations that need to happen both here and in Latin America, so having a space like this where we can share our experiences, leads to the kinds of discussions that are generative and restorative."