McMaster celebrates its Fellows of the Royal Society of Canada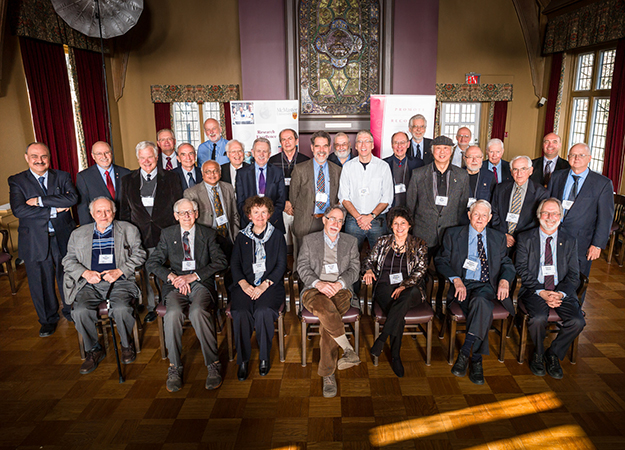 More than 30 of McMaster's 63 Fellows of the Royal Society of Canada attended a reception last week honouring their many achievements.
---
Over the last five decades, 80 members of the University's research community have earned one of the country's highest academic accolades available to leading intellectuals, scholars, researchers and artists – election to a Fellowship in the Royal Society of Canada (RSC).
Founded in 1882, the RSC is a senior national body of distinguished Canadian academics comprised of more than 2,000 Fellows – men and women who are selected by their peers for outstanding contributions to the arts and humanities, social sciences and science.
McMaster's Fellows of the Royal Society of Canada were honoured last week at a reception hosted by University President Patrick Deane and vice-president, Research & International Affairs, Mo Elbestawi.
The RSC's current president, Yolande Grisé, saluted the McMaster Fellows' accomplishments and their commitment to excellence, creativity, interdisciplinarity and innovation.
"This remarkable track record of recognition is evidence of this institution's success in nurturing high-quality, high-performing scholarly, artistic and scientific excellence," she said.
McMaster currently has 63 Fellows within the RSC's three academies: Academy of the Arts and Humanities (four Fellows), the Academy of Social Sciences (11 Fellows) and the Academy of Science (48 Fellows).
"You represent well over a millennium of contribution to research and the academy, collectively sharing your knowledge with several generations in an effort to enhance societies near and far," said Deane, in his tribute to McMaster's Fellows.
Below is a list of McMaster University's current Fellows of the Royal Society of Canada including each Fellow's designated Academy, year of election and their individual discipline.
| | | | |
| --- | --- | --- | --- |
| NAME | ACADEMY | ELECTED |    DISCIPLINE |
| Bernhard Banaschewski | Academy of Science | 1962 |    Mathematics & Computer Sciences |
| John Bandler | Academy of Science | 1986 |    Engineering |
| John Bienenstock | Academy of Science | 1992 |    Medical Sciences |
| Arthur Bourns | Academy of Science | 1964 |    Chemistry |
| John Brash | Academy of Science | 2004 |    Applied Science |
| Gregory Brown | Academy of Science | 2004 |    Microbiology and Biochemistry |
| Clifford Burgess | Academy of Science | 2008 |    Physics |
| Jules Carbotte | Academy of Science | 1974 |    Physics |
| Pierre Conlon | Academy of the Arts and Humanities | 1969 |    Literature |
| Deborah Cook | Academy of Science | 2009 |    Medical Sciences |
| Walter Craig | Academy of Science | 2007 |    Mathematics & Computer Sciences |
| Martin Daly | Academy of Social Sciences | 1998 |    Psychology |
| W. Ross Datars | Academy of Science | 1979 |    Physics |
| John Davies | Academy of Science | 1971 |    Chemistry |
| M. Jamal Deen | Academy of Science | 2006 |    Engineering |
| Frank Denton | Academy of Social Sciences | 1984 |    Economics |
| J. David Embury | Academy of Science | 1991 |    Engineering |
| John Eyles | Academy of Social Sciences | 2001 |    Geography |
| Harvey Feit | Academy of Social Sciences | 2001 |    Anthropology / Archaeology |
| Derek Ford | Academy of Science | 1988 |    Earth Sciences |
| Bennett Galef | Academy of Social Sciences | 2009 |    Psychology |
| Jack Gauldie | Academy of Science | 1997 |    Medical Sciences |
| Bruce Gaulin | Academy of Science | 2010 |    Physics |
| Ronald Gillespie | Academy of Science | 1965 |    Chemistry |
| Gordon Guyatt | Academy of Science | 2012 |    Medical Sciences |
| Alvin Hamielec | Academy of Science | 1987 |    Applied Science |
| Richard Harris | Academy of Social Sciences | 2010 |    Geography |
| William Harris | Academy of Science | 2004 |    Astronomical Sciences |
| Simon Haykin | Academy of Science | 1980 |    Applied Science |
| R. Brian Haynes | Academy of Science | 2007 |    Medical Sciences |
| Jack Hirsh | Academy of Science | 1999 |    Medical Sciences |
| Adam Hitchcock | Academy of Science | 2006 |    Chemistry |
| Gyan Johari | Academy of Science | 1993 |    Applied Science |
| John Kelton | Academy of Science | 2002 |    Medical Sciences |
| Ken Kershaw | Academy of Science | 1980 |    Plant Biology |
| Leslie King | Academy of Social Sciences | 1988 |    Geography |
| James King | Academy of the Arts and Humanities | 1993 |    Literature |
| Jack Kirkaldy | Academy of Science | 1975 |    Applied Science |
| John MacGregor | Academy of Science | 2007 |    Engineering |
| Daphne Maurer | Academy of Social Sciences | 2007 |    Psychology |
| Gerard Middleton | Academy of Science | 1970 |    Earth Sciences |
| Henry (Viv) Nelles | Academy of the Arts &  Humanities | 1985 |    History |
| Geoffrey Norman | Academy of Social Sciences | 2007 |    Education |
| Paul O'Byrne | Academy of Science | 2010 |    Medical Sciences |
| Robert Pelton | Academy of Science | 2011 |    Engineering |
| Melvin Preston | Academy of Science | 1961 |    Physics |
| Gary Purdy | Academy of Science | 1991 |    Engineering |
| Marnie Rice | Academy of Social Sciences | 2003 |    Psychology |
| David Sackett | Academy of Science | 1992 |    Medical Sciences |
| Gary Schrobilgen | Academy of Science | 1999 |    Chemistry |
| Henry Schwarcz | Academy of Science | 1984 |    Earth Sciences |
| Shepard Siegel | Academy of Social Sciences | 1991 |    Psychology |
| Ian Spenser | Academy of Science | 1980 |    Chemistry |
| Donald Sprung | Academy of Science | 1980 |    Physics |
| Thomas Timusk | Academy of Science | 1995 |    Physics |
| Alan Walker | Academy of the Arts and Humanities | 1984 |    Art History |
| Roger Walker | Academy of Science | 1981 |    Earth Sciences |
| David Wilkinson | Academy of Science | 2009 |    Engineering |
| Sandra Witelson | Academy of Science | 1996 |    Medical Sciences |
| Kon (Max) Wong | Academy of Science | 2007 |    Engineering |
| Christopher Wood | Academy of Science | 2003 |    Animal Biology |
| Gerard Wright | Academy of Science | 2012 |    Microbiology and Biochemistry |
| Salim Yusuf | Academy of Science | 2005 |    Medical Sciences |