McMaster celebrates Black History Month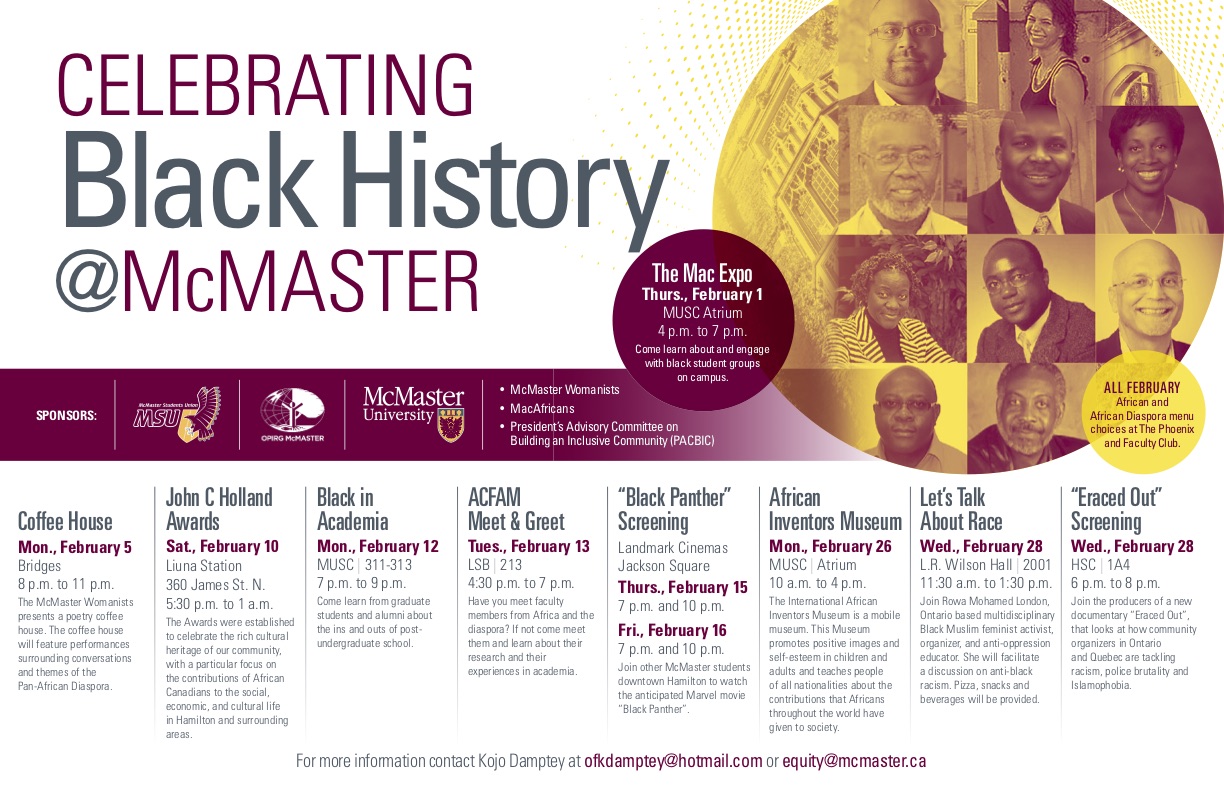 ---
McMaster Womanists, MacAfricans, the President's Advisory Committee on Building an Inclusive Community (PACBIC), McMaster Students Union, and The Ontario Public Interest Research Group (OPIRG) at McMaster have organized a number of events for Black History Month.
February 5:  Coffee House – 8 p.m. – 11 p.m., Bridges Cafe

The McMaster Womanists presents a poetry coffee house. The coffee house will feature performances surrounding conversations and themes of the Pan-African Diaspora.
February 10: John C Holland Awards – 5:30 p.m. – 1 a.m., Liuna Station, 360 James St. N.

The Awards were established to celebrate the rich cultural heritage of our community, with a particular focus on the contributions of African Canadians to the social, economic, and cultural life in Hamilton and surrounding areas.
February 12: Black in Academia – 7 p.m. – 9 p.m., McMaster Student Centre 311-313

Come learn from graduate students and alumni about the ins and outs of post-undergraduate school.
February 13: African Caribbean Faculty Association at McMaster Meet & Greet – 4:30 p.m. – 7 p.m., Life Sciences Building 213

Have you met faculty members from Africa and the diaspora? If not come meet them and learn about their research and their experiences in academia
Screening "Black Panther" Landmark Cinemas, Jackson Square Mall

February 15: 7 p.m. – 10 p.m.
February 16: 7 p.m. – 10 p.m.
February 26: African Inventors Museum – 10 a.m. – 4 p.m., McMaster Student Centre Atrium

The International African Inventors Museum is a mobile museum. This Museum promotes positive images and self-esteem in children and adults and teaches people of all nationalities about the contributions that Africans throughout the world have given to society.
February 28: Let's Talk About Race – 11:30 a.m. – 1:30 p.m., L.R. Wilson Hall Room 2001

Join Rowa Mohamed London, Ontario based multidisciplinary Black Muslim feminist activist, organizer, and anti-oppression educator. She will facilitatea discussion on anti-black racism. Pizza, snacks and beverages will be provided.
February 28: Screening "Erased Out" – 6 p.m. – 8 p.m., Health Science Centre Room 1A4

Join the producers of a new documentary "Erased Out", that looks at how community organizers in Ontario and Quebec are tackling racism, police brutality and Islamophobia.
March 1: Jackson Rising: The struggle for economic democracy and black self-determination in Jackson, Mississippi – 7 p.m. – 9 p.m.

Join Dr. Ajamu Nangwaya, Professor of Caribbean and Reggae Studies at the University of the West Indies. As well, we will have local activist, Kojo Damptey speak on the challenges of community organizing.
All February: African and African Diaspora menu choices at The Phoenix and Faculty Club.
Contact Kojo Damptey with questions or for additional information.