McMaster.ca gets bright new redesign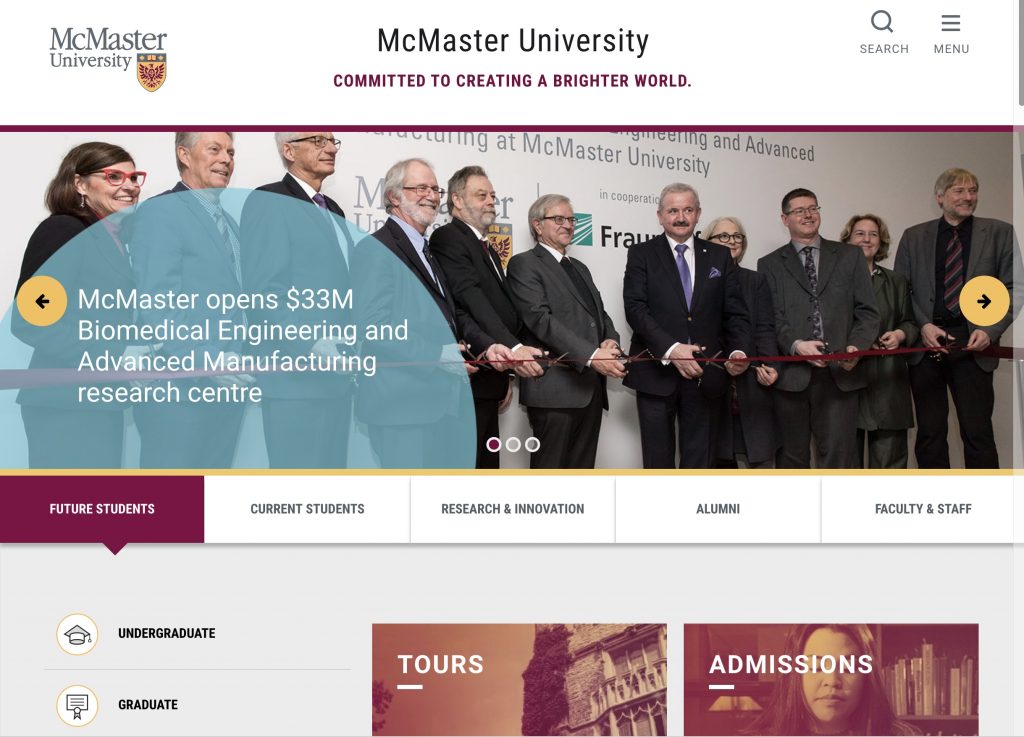 ---
McMaster.ca was re-launched Thursday with a bright new look and a focus on making navigation easier for the more than a million visitors the site receives each year.
The redesign is part of the University's Brighter World brand campaign, which focuses on McMaster's commitment to improving the health and well-being of all. A large portion of the site is dedicated to helping McMaster showcase its world-renowned researchers.
The new site was also designed with an eye to easier, more intuitive navigation.
"We worked with partners from all across campus, who told us that easier site navigation should be a key part of the redesign," says Mike Webber, Executive Advisor, Marketing. "So the new page features navigation based on audience type – for instance, current students and alumni – and will allow future students to more easily get information on admissions and book tours of campus."
A unique new feature of the site will help the University tell its story in photos.
"McMaster's campus is beautiful and its sense of community and family are strong. Photos can be one of the best ways to capture that vibrancy – so a new section with a striking collection of Instagram photos that will continue to change has been added. It's also an opportunity for many people to contribute to the site."
The site will also help the McMaster community stay connected with the University, through a revamped calendar and news section.
A rotating carousel of images will help to promote a variety of campus events, research findings, international recognition and more.
The McMaster.ca redesign follows a similar redesign of McMaster's news site the Daily News, as well as the launch of BrighterWorld.ca, the University's hub for stories of collaborative research and innovation.
Since its launch, BrighterWorld.ca has brought stories of research impact – from work on the future of exercise and diet to nuclear safety and bioengineering – to tens of thousands of readers.