McMaster breast cancer researcher honoured by the University of the West Indies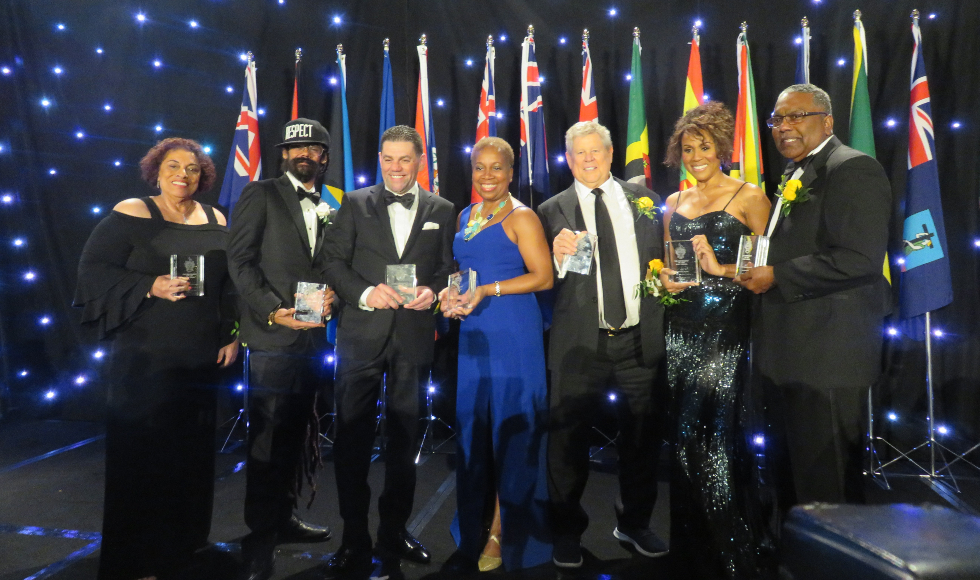 Molecular biologist Juliet Daniel (centre) with the other honourees at the University of the West Indies Gala in Toronto. From left to right: Joy Spence, Damian Gong Marley, Mohamed Fakih, Juliet Daniel, Gordon "Butch" Stewart, Deborah Cox and Gregory Regis
---
Juliet Daniel, a molecular biologist in McMaster's department of biology, has received the Vice-Chancellor's Award from the University of the West Indies in recognition of her ongoing accomplishments in breast cancer research.
Daniel, who received the award at the annual UWI Benefit Gala in Toronto, is leading research into triple negative breast cancers, which are aggressive, hard to treat and prevalent among Hispanic women and women of African ancestry. Since these population groups have lower incidences and lifetime risk of breast cancer overall, Daniel's research focuses on unique DNA mutations or cell markers that may explain that racial disparity.
Daniel's work led to her discovery and naming of a new gene – named "Kaiso" after Caribbean calypso music – which plays a role in the proliferation and survival of TNBC cells.
At the award ceremony, which recognized six other people or organizations, Daniel thanked those who had been influential in her life, closing her remarks with hope for the future of research.
"I hope my receipt of this award will encourage more Caribbean youth to dream big, keep your eye on the prize (Nobel or otherwise) and pursue biomedical research careers so they can address various chronic diseases (diabetes, cardiovascular diseases, prostate cancer) that plague the Caribbean and the African Diaspora, and find cures in our lifetime."