McMaster benefactor, Chancellor Emeritus Red Wilson receives national honour for public service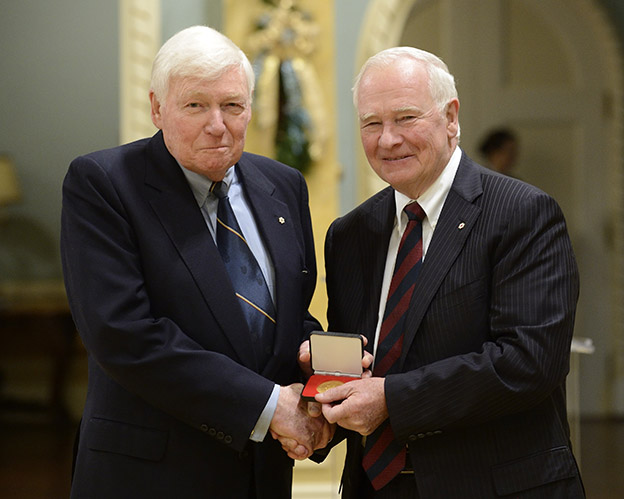 Red Wilson, left, with Canada's Governor General David Johnston, right. Wilson was given the Vanier Medal for public service today at a ceremony at Rideau Hall in Ottawa.
---
His Excellency the Right Honourable David Johnston, Governor General of Canada, awarded McMaster Chancellor Emeritus Lynton "Red" Wilson the Vanier Medal for public service, in a 10 a.m. ceremony Wednesday at Rideau Hall.
"On this occasion, His Excellency will recognize and honour Mr. Wilson for his contributions to Canadian public service, which have had a lasting and positive influence on the lives of many Canadians," says a statement from Rideau Hall. 
Wilson has built a parallel career of private industry success and public service, voluntarism and philanthropy. He worked as President and CEO of Redpath Industries and as President, CEO and Chairman of BCE Inc. He also co-founded the Historica Foundation of Canada.
McMaster president Patrick Deane and vice-president (University Advancement) Mary Williams attended the Ottawa ceremony.
Wilson has been a generous supporter of McMaster, with a focus on investing in the liberal arts. His $10M gift toward the new home of the Faculties of Social Sciences and Humanities was announced in 2007. L.R. Wilson Hall is now under construction on campus.
In 2008 and again this year, he gave $2.5M in support of the Wilson Centre for Canadian History. Other gifts include $1M to establish the L.R. Wilson Professor in Canadian History and a gift of $500,000, matched by BCE, to fund the L.R. Wilson/Bell Canada Chair in Data Communications in the Faculty of Engineering.
He was appointed McMaster's 17th Chancellor at Fall Convocation in 2007 and served in that role until Sept. 2013. More information on the Vanier medal presentation is here, and more information on Red Wilson is here.
Photo courtesy of MCpl Vincent Carbonneau, Rideau Hall
©Her Majesty The Queen in Right of Canada represented by the Office of the Secretary to the Governor General, 2014.