McMaster becomes the first Canadian university to offer digital degrees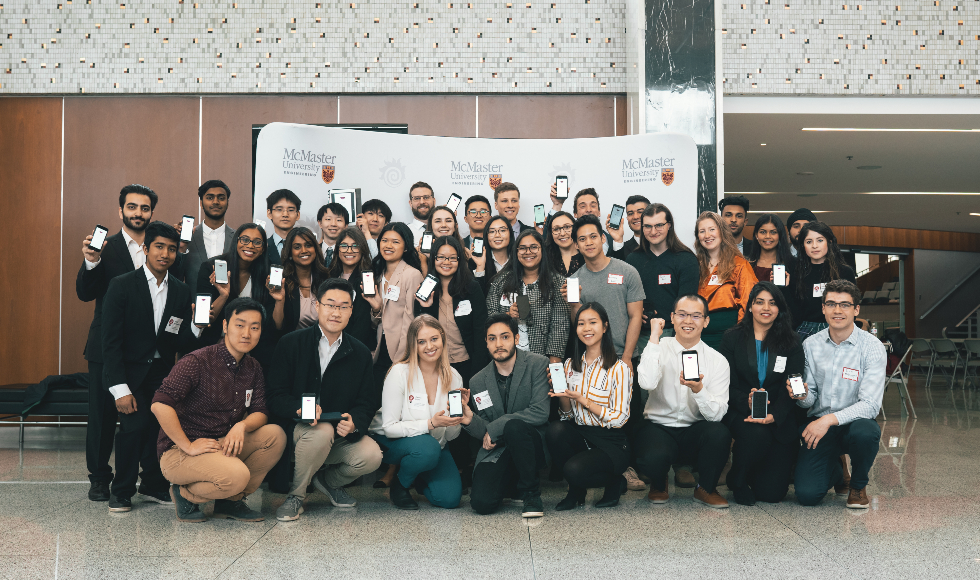 Students in the MacChangers program showing their digital credentials.
---
Graduates from McMaster University's Faculty of Engineering will soon have a degree in their pockets.
More than 940 undergraduate engineering, Bachelor of Technology and computer science students will receive the institution's first-ever digital diplomas the week following the faculty's June 14 convocation ceremonies.
A national first
The pilot project marks a first for any Canadian university and follows in the footsteps of a handful of notable American universities, such as the Massachusetts Institute of Technology (MIT).
"McMaster students come from over 130 countries around the world," said Melissa Pool, the University's Registrar. "Similarly, our alumni network spans the globe. It is incumbent upon the registrar's office to explore portable credentials that will allow our students to be able to take their credentials with them wherever they go."
Investing in innovation
McMaster's dean of engineering Ishwar K. Puri said it was important for the faculty to invest in digital diplomas to stay at the forefront of innovation.
"Just as society is innovating and business is innovating, higher education must also innovate," Puri said.
Using a free app called Blockcerts®, a digital credentialing system built by MIT which is anchored by bitcoin blockchain technology, students who opted in to the pilot project will be able to carry and securely validate their credentials through their phone.
Bitcoin blockchain is a secure ledger in which transactions such as financial transfers are recorded but also includes other types of confidential information.
Blockcerts® uses bitcoin transactions to publish publicly accessible proof that a student's degree was issued by McMaster. The proof is a digitally signed hash, similar to a unique fingerprint, that once published in the bitcoin blockchain can be instantly verified and never changed.
The online version is a digital replica of a printed McMaster diploma, which students will also receive.
Eliminating the need for third-party verification
The technology gives graduates autonomy and authority over their own credential and negates the need to go third parties to verify their degree, saving time and money. In 2018, McMaster reprinted 326 diplomas.
"We believe in the self-sovereign identity of data; that data should belong to the student," Puri said.
"Once we give the credential, students own that credential on the blockchain platform. They can share it or keep it private. When they share it with employers, employers have an immediate link to verify the credential – it takes the middleman out of the equation."
Digital diplomas mark the second time the faculty has used digital credentials. In April, students in its co-curricular student program, MacChangers, which is run in concert with the MacPherson Institute, received the university's first digital micro-credential for participating in an activity outside of class.