McMaster arts community gets first look at Fitzhenry Studios and Atrium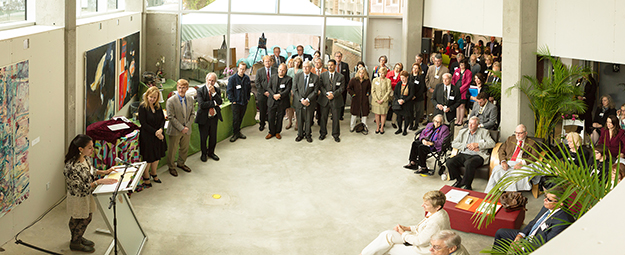 'This space puts the needs of our students first,' said Judy Major-Girardin, associate professor in the School of the Arts. 'You see that in everything from the outdoor space to the way we arrange light, power outlets, equipment, storage and more.'
---
Just a year after ground was broken on the construction site, McMaster has officially opened the Dr. Robert & Andrée Rhéaume Fitzhenry Studios and Atrium.
The studios and atrium will increase existing classroom, studio and display areas by more than 1,700 square feet.
They were made possible thanks to a $3M gift from alumnus Robert Fitzhenry in honour of his late wife Andrée, who was an accomplished painter specializing in landscapes.
The gift is the largest ever donation to the Fine Arts program.
Humanities Dean Ken Cruikshank describes it as "the single most powerful learning tool the School of the Arts has ever had."
The current studios were first built in the 1960s in Togo Salmon Hall and feature an on-site foundry, one of only a handful in the country available to fine arts students.
Originally designed to accommodate 15 artists at a time, the program and demands for the space have grown considerably over time.
"This space puts the needs of our students first," said Judy Major-Girardin, associate professor in the School of the Arts. "You see that in everything from the outdoor space to the way we arrange light, power outlets, equipment, storage and more."
The atrium will function as a reception area with the façade facing Stearn Drive, where campus visitors, students, staff and faculty will be able to see the art-making process in action.
"The new addition to the program can only propel our creative potential even futher as alumni return to marvel at the new facilities, and potential students are inspired by the spaces where works will be crafted," said fourth year Fine Arts student Natalie Richard.
Fitzhenry has been a longtime supporter of the University, investing in priorities which include the Robert Fitzhenry Specialized Rehabilitation and Exercise Lab, the stadium, a dance studio and the McMaster vector lab, which provides the delivery agents used to transport gene therapies or vaccines in patients.
He graduated with an honours BA degree in political economy in 1954 and eventually partnered with Robert Beamish to build the Woodbridge Foam Corporation into a world-class business.