McMaster announces new Deputy Provost and Vice Provost, Teaching and Learning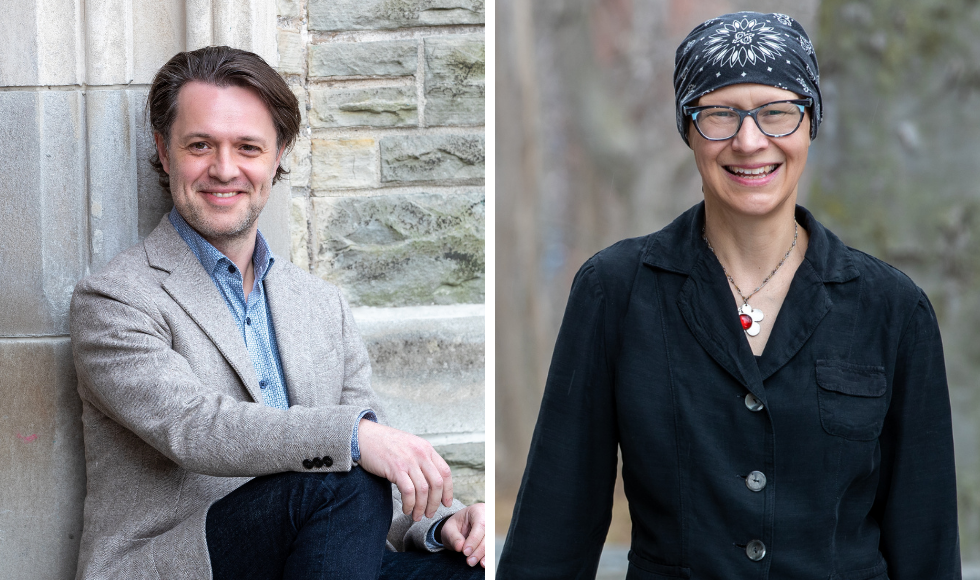 Matheus Grasselli, left, has been appointed McMaster's new deputy provost, and Kim Dej the new vice-provost, Teaching and Learning.
---
McMaster University's pursuit of academic excellence and an outstanding student experience has been strengthened by the introduction of familiar faces in two new roles in the Office of the Provost.
Matheus Grasselli, chair of the department of mathematics and statistics, has been selected as deputy provost.
Kim Dej will have a new role as vice-provost, Teaching and Learning. She is already at University Hall as acting vice-provost, Faculty, a position she has held for three years.
"I'm excited to welcome two strategic leaders who will build on McMaster's global reputation for innovation in teaching and learning and academic and research excellence," says Susan Tighe, provost and vice-president, Academic.
"They bring local, national and international experience to their new roles, as we seek to foster a creative campus community that works collaboratively across disciplines to tackle some of the world's toughest challenges."
The deputy provost is a pioneer position at McMaster in the reorganized provost's office. It was created to help build understanding and cooperation across the university, based on institutional goals and priorities.
"I'm grateful to have been selected," Grasselli says. "Deputy Provost is a position that touches on many important areas at McMaster. My experience working across departments and disciplines will help me better understand different university units' aspirations and resource needs, which will inform the budget process."
Grasselli earned a PhD in mathematics from King's College London in England, and a BSc in physics from the University of São Paulo.
He has been at McMaster since 2001, when he arrived as a postdoctoral fellow. As chair of the department of mathematics and statistics for the past four years, he has been working to make it one of the top three departments of its kind in Canada through a commitment to excellence.
Grasselli's approach has been centred on the recruitment and retention of faculty members and grounded on values of equity, diversity and inclusion.
His experience as an administrator includes serving as acting director of the School of Computational Sciences and Engineering at McMaster and as Deputy Director of the Fields Institute for Research in Mathematical Sciences in Toronto, the premier mathematical sciences institute in Canada.
The vice-provost, Teaching and Learning is tasked with enhancing the quality of teaching both within and beyond instructional spaces, as well as the implementation of McMaster's first teaching and learning strategy, which Dej helped create.
"It is a privilege to continue working with McMaster's world-class faculty members to enhance our teaching as we support our students in engaging with learning inside classrooms, laboratories, virtual spaces and in their communities," Dej says.
"Our strategy is intentionally called Partnered in Teaching and Learning because it aims to facilitate partnerships across campus as we identify opportunities to bring people together and where programs can come together."
Dej earned a PhD in biology from Johns Hopkins University in Maryland and a BSc from the University of Toronto. In her new role, Dej will also oversee the MacPherson Institute for Teaching and Learning, as well as the INSPIRE Office, which includes intersession, INSPIRE courses, micro-credentials, short courses and the Office of Community Engagement.
She arrives in the position with extensive teaching experience, which is critical to understanding curriculum design, faculty teaching development and the academic student experience.
Her background as an associate professor in the School of Interdisciplinary Sciences includes teaching and developing a wide range of courses. Dej also established the Living Systems Lab (an interdisciplinary exploration on aging), the foundational Research Methods course (the first Life Sciences course developed for the program), a core science communication course (with a focus on Sustainable Development goals) among other accomplishments while advocating for accessibility.
"Students want barriers to learning eliminated, not accommodated," she says.
Grasselli and Dej start in their new roles and five-year terms on July 1.