McMaster announces new Dean of Engineering; second term for Dean of Science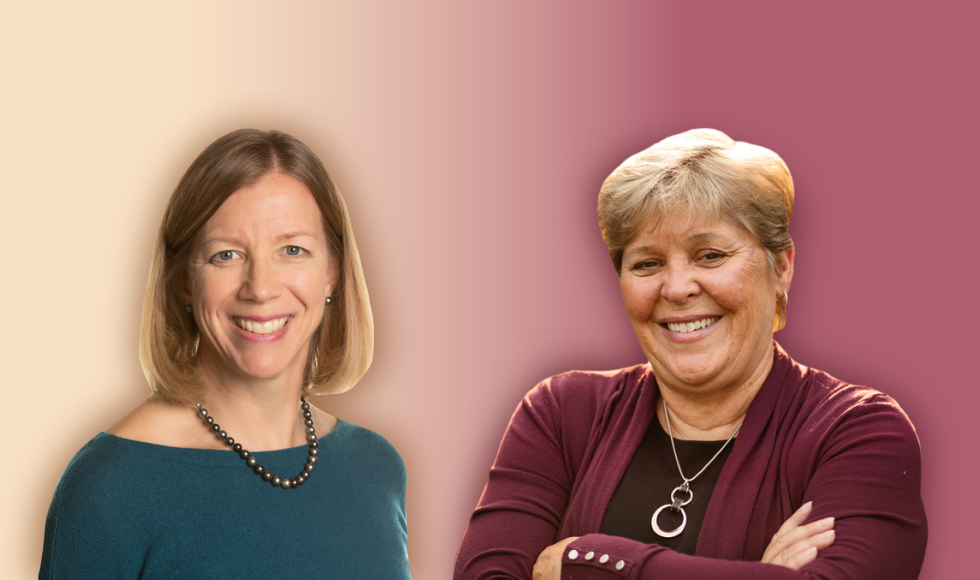 Maureen MacDonald (left) has been re-appointed as dean of the Faculty of Science and Heather Sheardown (right) has been selected as dean of the Faculty of Engineering.
---
McMaster University welcomes two visionary academic leaders to helm the Faculties of Engineering and Science.
Heather Sheardown has been selected as dean of the Faculty of Engineering. It is a position she is familiar with, having spent the past year as acting dean.
Maureen MacDonald has been re-appointed as dean of the Faculty of Science. This will be her second, five-year term.
"It is exciting to welcome two forward-looking leaders who have the ability to inspire a shared vision within their Faculties," said Susan Tighe, provost and vice-president (Academic). "They have shown that they can advance McMaster's commitment to excellence and innovation in education, research, and community engagement. They are both transformative leaders who care deeply about the success of McMaster. I look forward to working with both of these outstanding individuals."
The Dean of Engineering is the academic and administrative leader responsible for growing the Faculty's national and international reach and stature. The dean is also responsible for cultivating connections with the Engineering profession and for leading the accreditation of the Faculty's 19 engineering programs.
Sheardown's appointment came at the successful end of a global search process that began in January 2022. It started with the creation of a selection committee with representation from across the Faculty of Engineering. The criteria for evaluating candidates was determined by a consultation process within the Faculty of Engineering that involved faculty members, students and staff. At the end of this comprehensive process, the selection committee unanimously selected Sheardown.
"I'm thrilled to continue leading this impressive team," Sheardown said. "Great things can be accomplished when you have a common vision and you can bring people together."
She said people work best when they feel a sense of belonging and will work to support underrepresented equity-deserving groups to help make McMaster Engineering feel like the place to be for all students.
Sheardown brings more than 25 years of diverse academic research, administrative and teaching experience to the position. As acting dean of Engineering, she led and supported many key initiatives, including supporting the mental health of students and staff as they returned to campus. She received a B.Eng. in Chemical Engineering from McMaster University in 1989 and a Ph.D. in Chemical Engineering from the University of Toronto in 1995.  She joined McMaster in 1998 as an Assistant Professor in the Department of Chemical Engineering. She was the only female faculty member at McMaster Engineering at the time and will now serve as the first female Dean of the Faculty. Sheardown is currently the Scientific Director for C20/20 Ophthalmic Materials Commercialization (C20/20 Innovation Hub; 2016-present).
At the Faculty of Science, MacDonald led an impressive recruiting effort over her first term as dean, hiring 56 new faculty members across all departments and schools. She also led a renewal of facilities and equipment, supporting new and renovated labs and classrooms. She has also advanced the fiscal health of the Faculty of Science through strategy and innovation.
MacDonald addressed barriers to education by focusing on the Accessibility for Ontarians with Disabilities Act, as well as equity, diversity, inclusion and Indigeneity initiatives. Many of these were led by students, postdoctoral fellows and faculty members to help everyone feel welcomed, valued and heard at the Faculty of Science.
"I am honoured to have been selected for a second term," MacDonald said. "I'm proud of our accomplishments as a Faculty over the past five years and I see the next five as an opportunity to continue advancing scientific discovery and understanding to address local and global challenges through education, research and engagement."
MacDonald will focus on implementing the learning, discovery and engagement initiatives set out in the Faculty of Science's strategic plan introduced in 2020. Developed in consultation with students, faculty, staff and external partners, the plan sets out a clear vision and bold directions for transforming the world through science.
MacDonald joined McMaster in 2000. Prior to becoming Dean of Science in May 2017, she served as the Director of the School of Interdisciplinary Science from July 2015-April 2017. She received a B.Sc. Honours (Chemistry) from Acadia University in 1991, and a MSc and PhD in Kinesiology from the University of Waterloo in 1993 and 1998, respectively.
Sheardown's new role and MacDonald's second term start on July 1.