McMaster and Westdale prepare to 'Open Streets' together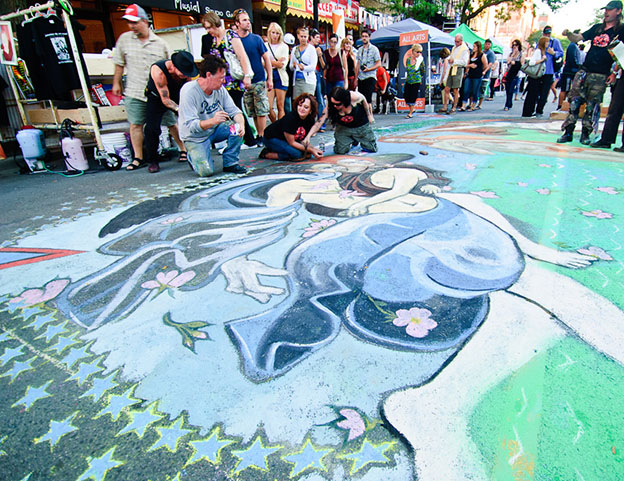 The Hamilton Bomb Squad Art Crew contributed this street mural to last year's Supercrawl. They'll be one of many attractions at Open Streets Hamilton: McMaster Edition on September 23.
---
An urban institution is making its debut on campus next week.
For the first time ever, McMaster will play host to an "Open Streets" event on Sunday, September 23 – inviting the student body and neighbouring community to partake in music, art, vendor displays, campus tours and public lectures in one shared space.
"Our overall goal is to have students and community members interacting on a common level," says Mary Koziol, assistant to the President and co-chair of the event along with Beth Mackay, also in the President's Office and Anne-Marie Middel, associate director of alumni advancement. "The idea is to emphasize the campus as an open space."
Officially billed as "Open Streets Hamilton: McMaster Edition," guests will be able to stroll along a Y-shaped pattern that begins at the corner of Sterling Street and Dalewood Crescent and extends into the middle of campus. Five central themes were used to select vendors and plan activities: sustainability, alternative transportation, health, vibrant communities and accessible education.
As part of the afternoon festivities, McMaster will offer a series of free public lectures in the Burke Science Building (Room 137), featuring physics professor Cliff Burgess and psychology professor Joe Kim.
Kim's lecture is titled "The Science of Instructional Design and University 2.0," and will touch on the need to "reboot the university" to better serve the next generation of learners.
"It's exciting to be part of an event that helps bring people in from the community," says Kim. "It's important for the community to feel that McMaster is not an isolated place. There are so many events on campus that they may be interested in."
The McMaster alumnus helps coordinate the innovative Introductory Psychology program, and also directs the Pedagogy and Applied Cognition Lab, which focuses on teaching, learning and technology. But whether you're a student, a retiree or a community member, Kim is an advocate of lifelong learning and ongoing mental stimulation.
"Above all, lectures should be interesting and make people think," explains Kim. "We need to show them why the information is important."
Burgess will speak at 11:30 a.m., followed by Kim at 1 p.m.
Elsewhere on campus, the Hamilton Bomb Squad Art Crew will be painting a giant street mural to commemorate the 125th anniversary of the University, and an outdoor stage will feature live music from Of Gentleman and Cowards, the McMaster Gospel Choir, William Ross and a number of other performers.
Visitors can also view a display from the McMaster Solar Car team, watch shows every half hour at the W.J. McCallion Planetarium and take guided tours of campus and the David Braley Athletic Centre (including a free swim, kayaking in the pool, wall climbing and other athletic activities). Guests can chat with a number of vendors, student services and community groups, including: MACycle, MACgreen, Hamilton Police Services, the Westdale Village BIA, Bryan Prince Bookseller, the Royal Botanical Gardens, Sweetness Bakery and Smoke's Poutinerie, among dozens of others.
The event is an extension of the popular Open Streets Hamilton, which runs along James Street North through the heart of the city's arts and culture district on the same afternoon. Each year, more than 80 Open Streets events are held in major cities throughout North America.
Ira Rosen, vice-president of the Ainsle Wood/Westdale Community Association and board representative for the event, says the Sunday affair is a perfect fit for the surrounding community.
"The concepts that the Open Street movement has been trying to promote – seeking innovative ways to achieve environmental, social, economic and public health goals – in my opinion are a perfect fit for our community," says Rosen.
Open Streets Hamilton: McMaster Edition will run between 11 a.m. and 4 p.m., rain or shine. A shuttle bus will run between McMaster and James Street North.
Email openstreets@mcmaster.ca for more information on volunteering or setting up a vendor booth.