McMaster and Fusion Pharmaceuticals will build manufacturing facility, boost commercialization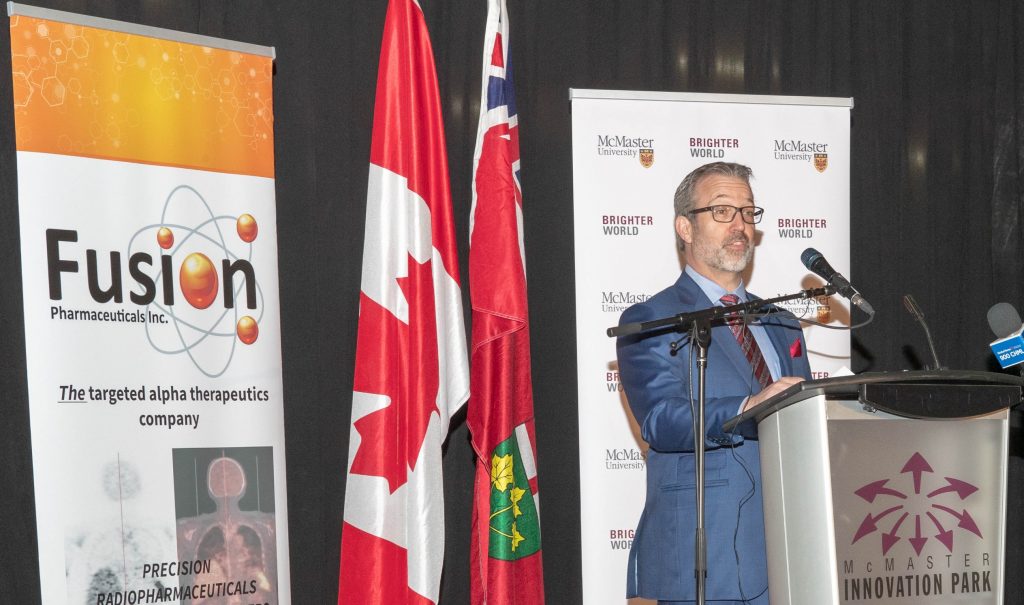 McMaster chemistry professor and Fusion Pharmaceuticals CEO John Valliant says a planned 27,000 square-foot radiopharmaceutical manufacturing facility at McMaster Innovation Park is an important milestone in the company's growth.
---
McMaster University and Fusion Pharmaceuticals are working together to build a radiopharmaceutical manufacturing facility at McMaster Innovation Park (MIP).
Fusion, a clinical-stage oncology company focused on developing next-generation radiopharmaceuticals as precision medicine, spun out of the McMaster-based Centre for Probe Development and Commercialization (CPDC) and is located at MIP.
McMaster chemistry professor John Valliant, who founded CPDC and is now Fusion's CEO, says the facility is an important milestone in the company's growth.
"Manufacturing and supply chain are critical components of radiopharmaceutical development and commercialization, and with Fusion's expertise, we believe we are well-positioned to create a facility to scale production in support of our growing pipeline and development collaborations," Valliant says.
This development is a key component of the university's commercialization strategy, says Karen Mossman, vice-president, research. It builds on McMaster's core strengths in health and life sciences, biomedical engineering, advanced manufacturing and medical isotope research and training.
"This custom-built space for Fusion complements our ongoing activities at the Park," says Mossman, who is also chair of MIP's board of directors.
"Hamilton — based largely on McMaster's research and innovation — is quickly becoming one of Ontario's largest life sciences clusters, and we need to ensure we are prepared to accommodate the commercialization activities, and subsequent job creation, of our researchers and local partners."
---
From McMaster Innovation Park to the Nasdaq: Fusion Pharmaceuticals generates hope for new cancer therapies
---
Fusion's new, 27,000 sq. ft. Good Manufacturing Practice (GMP) radiopharmaceutical facility is expected to be operational by early 2024. It will be located adjacent to the university's commercialization space, which includes the McMaster FlexLabs, allowing researchers immediate access to state-of-the art, fully equipped facilities to develop their research.
The university has committed about $70 million to develop some 75,000 square feet of commercialization space at MIP, building on the established innovation ecosystem and the past successes, Mossman says.
McMaster spinoffs Triumvira Immunologics and Century Therapeutics Canada are also located at MIP.