MCM grad student deployed with CAF to assist with Ukrainian refugee crisis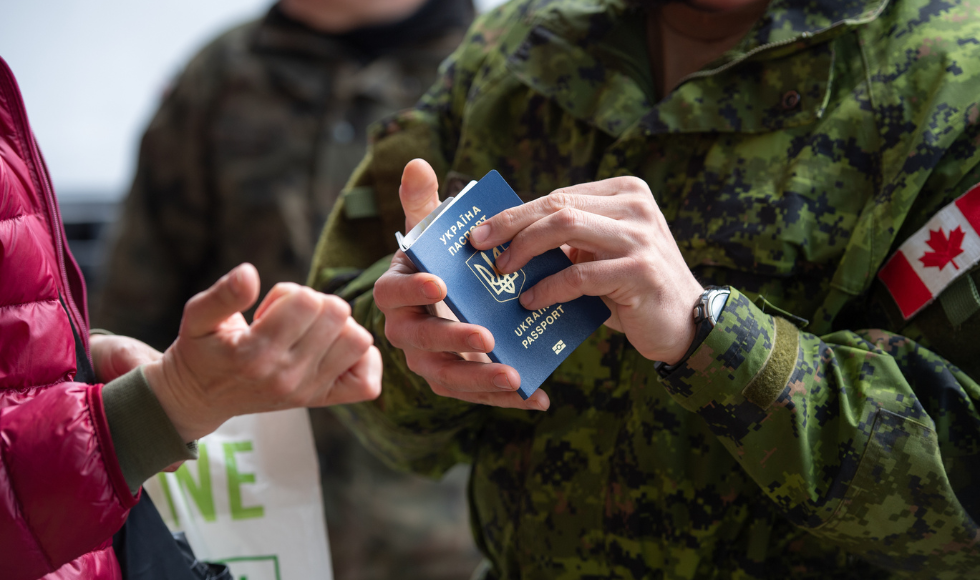 A Canadian Armed Forces member, in collaboration with members of the Polish Forces, assist a Ukrainian refugee at a reception centre in support of Operation REASSURANCE in Warsaw, Poland on April 22, 2022. Credit: MCpl Genevieve Lapointe, Canadian Forces Combat Camera, Canadian Armed Forces Photo
---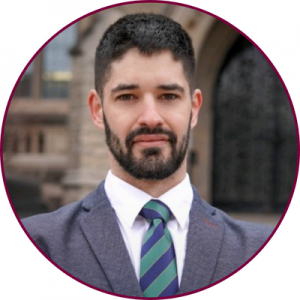 In his first deployment with the Canadian Armed Forces (CAF) in April, Alexander Frid learned how critical civil engagements and coordination is in humanitarian efforts and crisis management.
Frid, an information operations analyst and communications instructor for the CAF and candidate in the McMaster-Syracuse Master of Communications Management program, was deployed to Poland as a civil-military coordination (CIMIC) operator to assist with the Ukrainian refugee crisis from the ongoing Russia-Ukraine conflict.
Frid returned to Canada in mid-July and we connected with him to learn more about his role as a CIMIC operator and the humanitarian efforts in Poland, all while continuing with his studies in the MCM program.
---
What inspired you to join the Canadian Armed Forces and what do you see as the impact of your work as an information operations analyst and communications instructor?
When I was a student at Westdale Secondary School, one of my language teachers was a senior officer in one of the reserve units in Hamilton. He inspired me to join alongside my best friend. That was over 14 years ago. I cannot imagine myself without the forces. It has shaped every facet of my life. The impact of my work as an information operations analyst is that I am part of an increasingly important aspect of warfare and national defense. The information space of social media, disinformation and propaganda means that my role will only increase in value as the years go on.
When you found out you were being deployed to Poland as a civil-military coordination operator, what did you do to prepare for this role? Did you have to learn any new skillsets and how did you adapt?  
I had only one week of warning and only two days to prepare for my deployment, so my preparation was mostly trying to ensure my personal, professional and academic life were safely secured as quickly as possible. Where was I going to leave my car? Who will look after my pets? Is my life insurance up to date? These were mundane yet crucial elements which needed to be done to leave home with confidence.
I cannot say there were any specific new skills I had to learn. Thankfully, the CAF provided excellent, well-rounded training that gave me the tools and skills I needed to succeed. Further to that, my excellent Afghanistan veteran sergeants were able to provide me superb guidance while on the ground.
With this being your first deployment, what has the experience been like for you? What have you and your group been able to accomplish in the last few months in Poland?
As my first deployment, it was a valuable experience. In my role as a CIMIC Operator, I engaged with local stakeholders such as political representatives, non-governmental organizations (NGOs) coordinators, international organizations (IOs) leadership and volunteer coordinators. We also liaised between military and civilian leadership to ensure smooth operations. We also worked closely with the Polish Territorial Defence Forces (TDF) working regularly with on-site commanders to gather atmospherics, population metrics and keep abreast to any developments and changes which could affect the refugees or military personnel.
How have you been able to balance your work in Poland and your MCM studies?
While deployed, I was able to find balance between my academic commitments and my job requirements due to my excellent chain of command. They have always supported my academic efforts and ensured that I had the time required to complete my studies and my duties.
Now that you are in your final term of the MCM program, how has the MCM experience and education helped you in your career in the CAF and with your work in assisting with the Ukrainian refugee crisis?
I would not refer to the MCM as an experience since due to the Covid-19 pandemic and then my deployment to Poland, I have had no experiences with MCM aside from Zoom. However, I would say that the program has been instrumental in expanding my knowledge base and demonstrating what career professionals do as standard operating procedures. While the MCM focuses highly on strategic and operational levels of planning, being deployed was a strictly tactical experience. We would physically meet with people to disseminate strategic messaging.
There was walking into the office of a volunteer and asking them how things were today, which can sometimes be the only method of communication. The MCM program has shown me the rich potential strategic communications have when employed with forethought and empathy.
Is there anything you would like to share with the McMaster community about you (ie. fun fact) or your plans after graduating with the MCM degree?
When I complete the MCM program, my plan is to use my deployment income and travel with my partner across the world as a graduation gift. I also intend on furthering my opportunities both professionally and academically, such as seeking a PhD.