May Cohen documentary to première at the Toronto Jewish Film Festival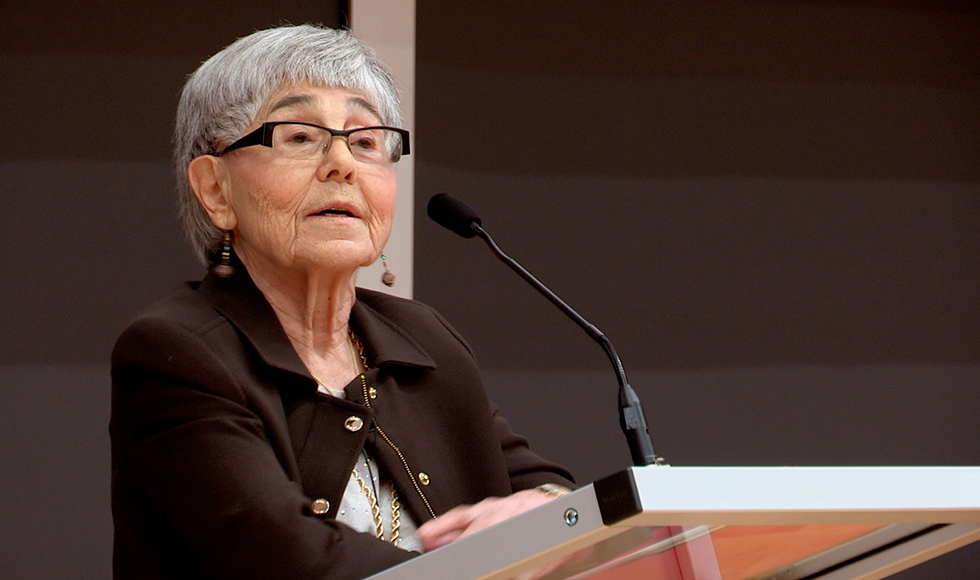 May Cohen speaks at McMaster University in April 2017.
---
The name of May Cohen, a McMaster University professor emerita of family medicine and pioneer for the rights of women, is in lights.
A 50-minute documentary about her career, The Gender Lady: The Fabulous Dr. May Cohen, is making its world première at the 2019 Toronto Jewish Film Festival in May.
The film shares the story of the trailblazer and McMaster faculty member who was a passionate advocate for the pro-choice movement and for the rights of women. She pushed for changes in the inclusion of women's health in medical school curricula, and for the equitable involvement of women doctors throughout the health sector. 
"It's very exciting and a bit overwhelming, especially when it is referred to as a world première," said Cohen, 88. "I am not usually someone who is in the spotlight. Many people put a lot of work into this project and I'm thankful and humbled."
The Gender Lady: The Fabulous Dr. May Cohen will be screened on Wednesday, May 8 at 6 p.m. at the Cineplex Empress Walk Theatre, 5095 Yonge St.  For ticket information, visit https://tjff.com/films/the-gender-lady-the-fabulous-dr-may-cohen/.
Cohen graduated at the top of her class in medical school in 1955, when fewer than seven percent of medical students in Canada were women. After a 20-year career as a family physician in Toronto, Cohen joined McMaster's Department of Family Medicine in 1977. While at McMaster, Cohen was associate dean, health services from 1991 to 1996 and the founding chair of the Women's Health Office in 1991 until her retirement in 1997.
The documentary delves into May as a social advocate who profoundly contributed to advancing women's equity, improving their health care, achieving abortion rights, affirming women's sexuality, and advancing women physicians. 
The documentary film was directed and produced by Cheryl Levitt, a professor in the Department of Family Medicine at McMaster and a family physician, and Barbara Lent, a professor in the Department of Family Medicine at Western University and also a family physician in London, Ont. The film was edited by Mary Kainer, with Zoe Dirse and Sharon Hampson as executive producers.
The project was a labour of love for Levitt who, together with cinematographer Dirse, came up with the idea for the documentary when determining how best to promote Cohen's induction into the Canadian Medical Hall of Fame.    
"When we read the notification, we thought it was fantastic she was being honoured, but that it would be great to explain why she is such a worthy recipient," said Levitt, who has produced a number of short educational documentaries, but nothing before of this scale. "However, when we started learning more about her, we knew there was a larger story to tell and that it should be done through a film."
The process of gathering information and photos, filming and editing took more than two years.
The documentary features interviews with Cohen, along with her family members, friends, colleagues and former patients. Among those sharing the spotlight are her sons, Eric Cohen, a cardiologist, and Russell Cohen, a lawyer; lifelong friend and performer Hampson, of Sharon, Lois and Bram fame; and Allyn Walsh, professor emerita of family medicine at McMaster and a family physician.
"Our interviews with May's friends, families and colleagues enhanced our understanding of this incredible woman," said Levitt. "Her children recall her activism. Colleagues and students describe her as a brilliant physician. Others describe her as a passionate, tough and fun role model, courageously willing to speak truth to power."
Levitt said the timing of the film is apt considering the current political climate and timing of movements like #MeToo.
"I think it is a very important time," said Levitt. "There isn't one silver bullet that is going to make change. A film is something that can be shown over and over again. It is relevant now. It will be relevant in 20 years' time. It has its currency and will be helpful. It's not that when May made these changes that everything was suddenly perfect. I think there continues to be challenges related to her major areas of interest."
Both Cohen and Levitt will be at the world première in Toronto next month, as will Paul O'Byrne, dean and vice-president of McMaster's Faculty of Health Sciences.
"We feel very honoured that this film was selected for the Toronto Jewish Film Festival, which is one of the biggest Jewish film festivals in the world," said Levitt.  "We had hoped we would be part of the festival because May is from Toronto and we felt her story would resonate in Toronto very much." 
Cohen has seen the documentary several times, including a private screening with close family members.
"It has turned out quite nicely," she said. "My family said they were proud of me. I am proud of everything I have accomplished and of the film."
She sees it as another way to tell the story of her life, and more importantly, to inspire the next generation of women leaders in health care and academia.
"I hope people see they can achieve a lot if they choose to, and they can be a role model to other women," Cohen said.
"In addition to that, I want to send the message that physicians have a social responsibility, and that is what I tried to do during my career in promoting women and women's health.  These were all issues of social importance that went beyond what was good for only myself.
"You have to have a fire in your belly if you want to achieve anything."
Besides the May showing, the documentary will also be screened on Thursday, Oct. 24 at McMaster during the 50th anniversary celebration of the Michael G. DeGroote School of Medicine. Further details of the screening will be shared closer to the date at macmed50.mcmaster.ca.
Learn more about the documentary here: https://maycohen.com/.
Watch the documentary trailer here: https://maycohen.com/media/#mc-trailers.