'Mathstronauts' help middle schoolers take on science, engineering challenges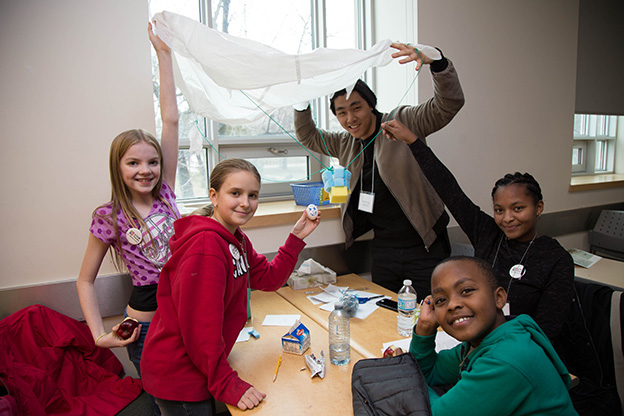 Students show off their parachute-like system designed to keep an egg from breaking when dropped to the ground.
---
Nearly 100 local middle school students and dozens of McMaster undergrads teamed up to take on a pair of science and engineering challenges this weekend at a competition held on campus.
The "Mathstronauts," a McMaster student club dedicated to educating young people about science, engineering and technology, invited the students to form small teams and take on one of two tasks: design and construct an apparatus that could prevent an egg from breaking when dropped from a height of 16 feet, or write the code for a home security system that could detect a flood, fire or break in.
McMaster students served as mentors to the middle schoolers, who came from Hamilton, Burlington, Niagara, Oakville, Mississauga and Toronto.
The event was supported by the Faculties of Engineering and Science, the Forge, McMaster's EcoCar team, OPIRG and the McMaster Students Union.