Math geek turned neuroscientist's new site is the Match.com of research equipment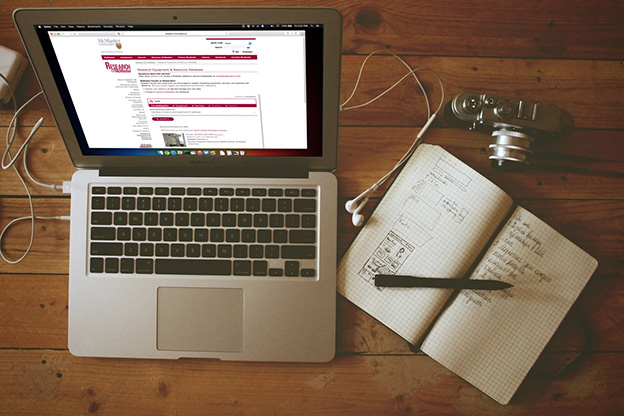 QReserve helps researchers connect based on equipment and expertise needs. The site is expanding across Canada.
---
Brandon Aubie just wanted to connect more researchers with McMaster's Biointerfaces Institute.
He ended up creating a whole new company.
The self-described "math geek turned neuroscientist" has created what might just be the Match.com of research equipment and expertise, and the site is now taking off across the country.
The project started when Aubie and researchers at the Biointerfaces Institute – Canada's first facility for developing unique new surfaces, using high-speed robots and other technology – realized researchers weren't taking full advantage of the resources the facility offers.
"While trying to promote our equipment and services to both McMaster and external users, we realized that it would be incredibly valuable to have a centralized database of resources available on campus, where users could easily search and find what they needed," says Aubie, who earned his PhD from McMaster in 2012. "People from other research institutions were also interested in our facilities so we designed a platform to connect campuses together and help people find equipment nearby or far away."
With this in mind, Aubie created a website that lists equipment and expertise to help researchers find compatible matches – think online dating profiles, but with "energy dispersive x-ray fluorescence spectrometer" in place of "long walks on the beach."
Researchers can then contact each other to use equipment, share expertise or otherwise form mutually beneficial partnerships.
The database platform launched in March as QReserve Inc., a spin-off company founded by Aubie, John Brennan (Scientific Director of the BI) and Fred Capretta (Associate Director of the BI).
In September the company was awarded $24,896 through the Ontario Centres of Excellence (OCE) SmartStart program to introduce its publicly available database platform to universities and colleges across Canada.
QReserve now has labs from eleven institutions across the country – from Simon Fraser University to McGill University – participating in the database.
"QReserve is simply a means of dispersing information and making it easier for people to form mutually beneficial relationships. Whether equipment is shared, samples are submitted for analysis, or collaborations form – it's all up to the individual parties how they want to proceed," explains Aubie. "The benefits include the improved utilization of research equipment and resources to maximize the return on investment from grants, more opportunities for interdisciplinary research and easier access for industry to locate the resources and expertise they need."
McMaster faculty and researchers can participate for free by signing up through McMaster's QReserve page or by contacting mcmaster@qreserve.com. QReserve is currently operating out of The Forge, a cooperative effort between McMaster and the Innovation Factory to provide a business and innovation accelerator for the Hamilton community.
QReserve has implemented a Campus Ambassador program that hires senior undergraduate student or graduate students to assist with data collection and help establish the database on campus.
The company is offering up to six paid positions at 3-4 hours per week for one term (Winter 2015) and are also looking for students to help collect information about interesting equipment, techniques and expertise found in their own labs. For more information, students can go to the Campus Ambassador Program page or email mcmaster@qreserve.com.