Marauders Football Opens 2018 Training Camp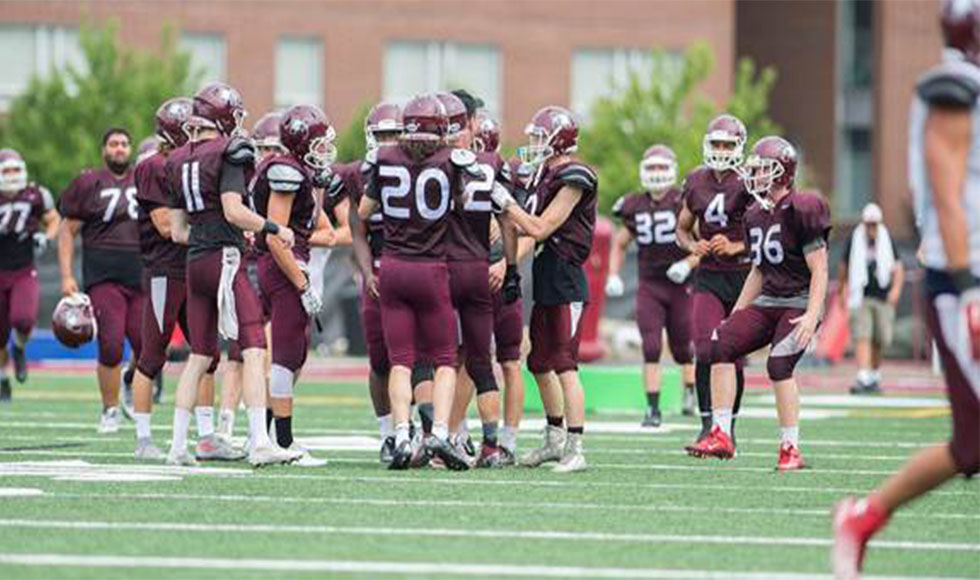 Full practices start August 11 for the Marauders, who open the 2018 season at home against Guelph on Sunday, August 26. (Rick Zazulak/McMaster Athletics)
---
Offseason months spent in the weight room give way to the intensive, two-week grind of camp for McMaster football this weekend, as the Marauders gear up for the kickoff of a new OUA season on August 26.
Rookies report for meetings and testing on Friday, August 11, before the beginning of McMaster's main training camp on Saturday, August 12.
"I'm excited to get our student-athletes, both new and returning, on the field after a rewarding offseason that saw us get bigger, faster and more mature as a group," said coach Greg Knox.
"We've put in the work away from the game to get us to this point, and now it's time to put that effort and attention to detail to the test as we prepare for Guelph at home in week one. I believe that we've assembled an outstanding group of both players and staff that will deliver the qualify of football that Marauders fans have come to expect."
The 2018 edition of the McMaster football training camp will see players and stage take meetings in the morning and after practice, with power practices taking place in the afternoon. A controlled scrimmage in Windsor against the Lancers, who McMaster meets on the final week of the regular season, will cap the first week of training on Saturday, August 18.
Practices conclude on Friday, August 24, before the Marauders play host to the rival Guelph Gryphons at Ron Joyce Stadium on Sunday, August 26.
McMaster season and single game tickets are available now.
Season seats with reserved seating include:
A ticket to a Marauders OUA playoff game (if applicable)
A $5 concession voucher for each game
A season seat holder lanyard and pass
A Marauders gift
A discounted Marauder Nation All-Sports Package (including season tickets to basketball and volleyball)
A campus store coupon
Entrance to the McMaster Football Season Ticket Holder Appreciation Event
For more details, visit marauders.ca/tickets.
2018 Marauders Football Training Camp Practice Schedule
Saturday, August 11 – 4:00-8:00pm
Sunday, August 12 – 4:00-8:00pm
Monday, August 13 – 4:00-8:00pm
Tuesday, August 14 – 3:00-7:00pm
Wednesday, August 15 – 4:00-8:00pm
Thursday, August 16 – 3:00-7:00pm
Friday, August 17 – 4:00-8:00pm
Saturday, August 18 – Scrimmage vs. Lancers @ University of Windsor
Sunday, August 19 – 5:00-7:00pm
Monday, August 20 – 4:00-8:00pm
Tuesday, August 21 – 4:00-8:00pm
Wednesday, August 22 – 4:00-8:00pm
Thursday, August 23 – 4:00-8:00pm
Friday, August 24 – 4:00-8:00pm
Sunday, August 26 – OUA Season Opener vs. Guelph Gryphons @ Ron Joyce Stadium (1:00pm)
*All practices at Ron Joyce Stadium
**Practice schedule subject to change