Marauders at the Olympics: McMaster expert helps keep athletes safe in Tokyo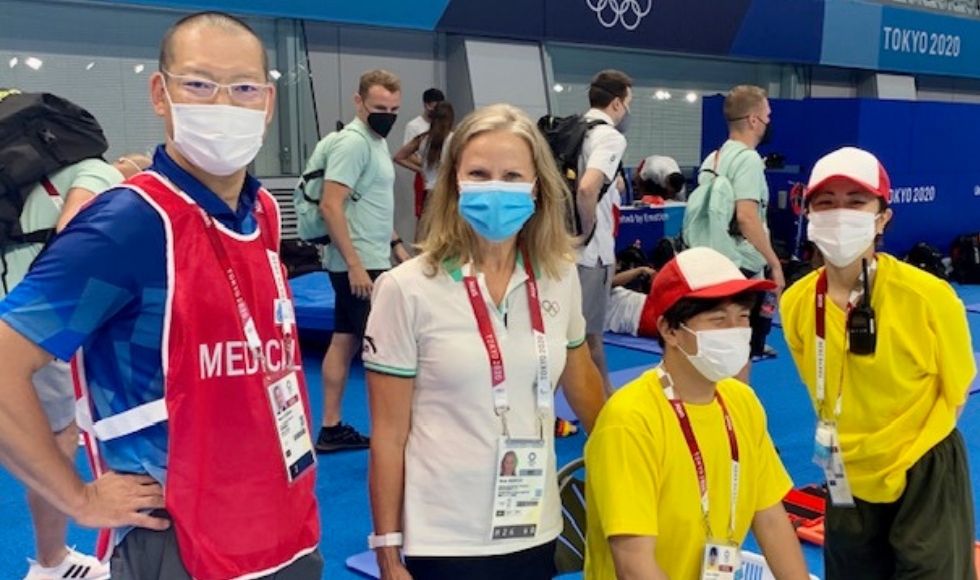 Margo Mountjoy, second left, and colleagues check out the lifeguard and emergency physician equipment and protocols at the Tokyo Aquatic Centre. (Photo courtesy of Margo Mountjoy)
---
Sports medicine expert and former elite athlete Margo Mountjoy has been to the Olympics a jaw-dropping nine times — 12 if you count the Youth Olympic Games.
Mountjoy, an associate clinical professor of family medicine in the Faculty of Health Sciences, and the Assistant Dean of Waterloo Regional Campus, is on the ground in Tokyo as part of a team of International Olympic Committee health professionals leading COVID-19 health efforts at the Games, where they are charged with the care of more than 11,500 athletes from 208 countries.
A professional thrill to be here- despite the controversies, the Games do unite people and bring hope. pic.twitter.com/bnFUZUSPJG

— margo mountjoy (@margomountjoy) July 22, 2021
She spoke with the Daily News about these very unusual Olympic Games:
On her role at — and before — Tokyo 2021
I am honoured and thrilled to attend the Games – it is the pinnacle of my sport medicine career, and I feel excited every time: Each Games is special in their own way.
My roles at the Games include six portfolios:
I am a member of the small COVID-19 results advisory expert group
I am responsible for quality control of the medical services at the competition and training venues.
I support the quality of the medical care at the polyclinic.
I am the chair of the committee which evaluates athlete applications for permission to take prohibited substances for legitimate health reasons (Therapeutic Use Exemption Committee).
I lecture in an educational program for visiting team doctors. — I will lecture on athlete mental health, and the team doctor's role in the prevention of harassment and abuse.
I am a member of a small research team evaluating the injury and illness rates of all sports / athletes during the Games. This information is fed back to the sports to assist them in augmenting their rules, or coach education to prevent injuries.
Prior to the Games, I was a member of the Expert Group that advised on "out of competition" surprise testing of athletes for the 18 months leading into the Games. This was particularly challenging as it was more difficult to do testing during the pandemic.
I think that I will be very busy here in Tokyo: never a dull moment!
I have been invited back to Tokyo in November, to give the keynote address at the Japanese Sport Medicine Conference, evaluating the Olympic Games legacy and experience.
What's new at the Games? #COVID testing and isolation facilities in the olympic Village. Strict rules and regulations. Daily testing. Interesting work for me with a cohort of world leading experts in the field….I'm learning tons! #KeepingAthletesSafe pic.twitter.com/98uvtfnpuG

— margo mountjoy (@margomountjoy) July 22, 2021
On what's different — and what isn't
What has changed this Games is the COVID-19 policies and procedures. Hosting over 11,000 athletes + coaches and their entourage from 208 countries poses potential public health risks. While there is always public health involvement at the Games, our PH team is greatly expanded for this Games to help manage (test, trace and isolate) COVID-19.
Needless to say, the uncertainty and added logistics has been very challenging for athletes.
The environment is another change at this Games:  The heat and humidity in Tokyo is extreme, especially for athletes who are in endurance sports outdoors.
What hasn't changed is the excitement, the preparation, the anticipation, the awe and wonder of the abilities of the human body (and mind!)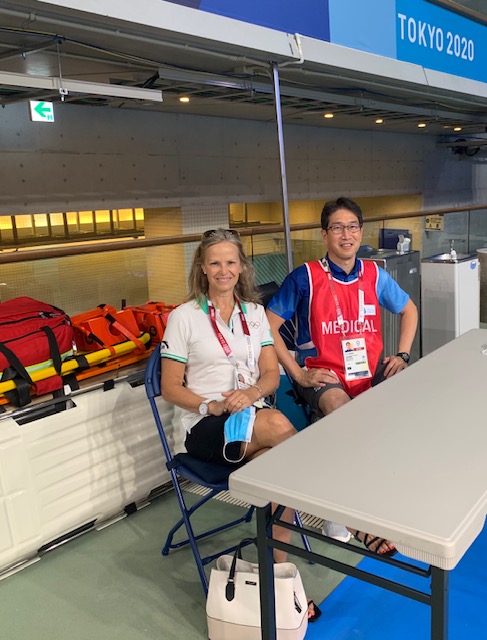 On being part of the team at Tokyo 2021
I was very excited in anticipation. While there are extra challenges anticipated, I was confident in the world-leading experts that are working together (including a member from the WHO pandemic team) to keep the event as safe as possible.
Heat exposure is also a major issue as I mentioned, and we have a scientist from Aspetar sport medicine hospital in Qatar, who has developed heat-stroke mitigation protocols. And heat decks are available at the field of play to prevent potentially life-threatening complications from extreme and prolonged exercise in the heat.
I am super excited to be here. I am confident in the Public Health procedures, and am keen to work hard to keep all participants as safe as possible.
I am privileged to be here, and to work with the best health professionals in the field from around the world. Our team (IOC medical commission Games Group) has experts from around the world in public health, pharmacy, emergency mass event medicine, heat physiologist, physiotherapy, dental, safeguarding, and sport medicine.
I learn a lot from these individuals, and in between Games, we collaborate on research, educational, and knowledge translation projects.
On what stands out about the athletes
Their resilience, strength, focus, determination, and joy at being here: which is their career goal. It is the athletes' stories and experiences that stand out the most for me in my memories of Olympic Games.
On Olympic dreams and family
I would like to encourage any health profession learners and faculty to follow their professional dreams! I hope they too, can attend an event, or accomplish their own version of the "Olympic Games"!
And of course – a heartfelt thank you to my family who support me, and have learned to "manage without mom" around intermittently for the past 21 years!
Clinician scientist and sports medicine expert Margo Mountjoy is an associate professor in the Faculty of Family Medicine in the Michael G. DeGroote School of Medicine, and the Assistant Dean of Waterloo Regional Campus.