Marauder football team begins training camp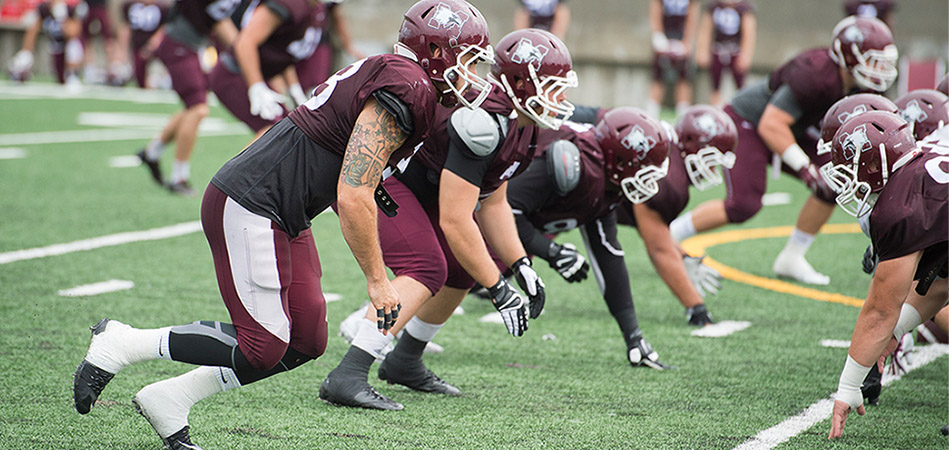 ---
The McMaster Marauders began football training camp on Saturday, August 12th, with rookies reporting for orientation and testing. Returning players underwent testing on Sunday the following day, and the full squad will hit the field for practice on Monday, August 14. 

The Marauders will adopt a different training camp schedule in 2017, with meetings, team activities and player treatment happening earlier in the day and full on-field practice happening from 4-8:00 p.m. Special teams will hold daily-walk through from 12-1 p.m.

On Saturday, August 19, the Marauders will hold a special ticket pickup event for 2017 season seat holders at Ron Joyce Stadium that will include a combined practice and controlled scrimmage with the Windsor Lancers from 2-5:00 p.m.

The Marauders will then prepare for the preseason clash with the Saskatchewan Huskies on Friday, August 25, with kickoff set for 7:00 p.m.

Coach Knox will be available to the media during training camp at team meal times of 10:00 a.m. and 2:30 p.m. at the Dining Hall in the Commons Building. He will also be available for media access during the daily special teams walkthrough from 12 – 1:00 p.m. on the field at Ron Joyce Stadium.

Marauder football single game and season tickets are currently on sale and can be ordered online at maraudertickets.com.

The opening of team training camps is the first step on the journey to the 2017 Vanier Cup game being played at Hamilton's Tim Horton's Field on November 25. Tickets for the 53rd Vanier Cup game are now on sale at VanierCup.com.