Learn to make almost anything better with Mac's first free, online course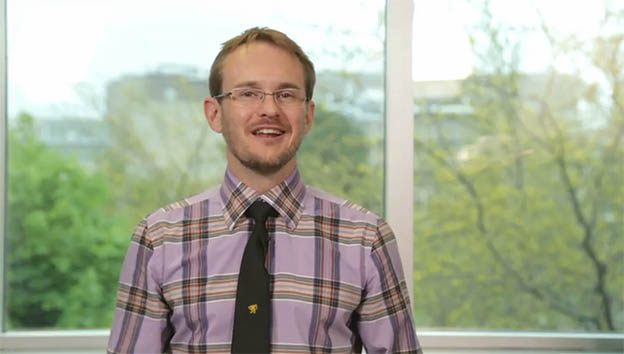 Kevin Dunn, as he appears in McMaster's first MOOC, offered now through online education provider Coursera. The course - Experimentation for Improvement - runs until August 18.
---
With more than 10,000 students enrolled and 10 more signing up each hour, Experimentation for Improvement is easily McMaster's largest class.
It's also the University's first massive open online course, or MOOC – a course available through the internet, free of charge, to anyone in the world.
Offered through popular online education provider Coursera, Experimentation for Improvement will teach students to use basic statistical tools to find solutions to real-world challenges.
According to Kevin Dunn, assistant professor of chemical engineering and the course instructor, that could include everything from improving the quality of drinking water and making a stronger concrete to finding the right combination of settings for your favourite recipe.
"We chose the course precisely because of its generality," says Dunn. "It's typically taught as a fourth year chemical engineering course, but I've always had a variety of engineers in my classes. That indicated the topic was popular more broadly, at least among engineers."
It turns out the course's popularity isn't limited to those trying to earn an iron ring.
Students signing up for the online course have included people from all walks of life. They range from a chemical company retiree who wants to see if he could have been doing things differently throughout his career to a 13-year-old, homeschooled Pakistani girl looking for something extra to add to her studies.
"There are lots of engineers enrolled, but the vast majority of students aren't – which is exactly what we wanted."
With the help of the McMaster Institute for Innovation and Excellence in Teaching and Learning, Dunn has produced slides and videos for the course, which began July 7.
Staff at MIIETL also help manage an online forum where students can engage with each other and discuss course material.
But why provide a free, online version of a course that's already taught at the University?
"This course shows people all around the world what a McMaster education is all about," says Dunn. "We're also able to repurpose the Coursera content for students at McMaster."
This type of "blended" learning, which sees students watch videos outside of class time, frees up time for instructors to talk about other things in lectures. For Dunn, this means things like real-life case studies and more in-depth discussions with students.
Dunn says a MOOC like this one also allows McMaster to help people improve life in their own communities, wherever they are in the world.
"I can't do much for someone trying to, say, improve water quality half-way around the world," says Dunn. "But I can help enable them to do that work themselves. I can give them the tools they need to accomplish their goals through an open course like this."
The formal Coursera course runs until August 18, but the lectures will be archived online for future students (you can watch the first lecture here).
Dunn says he hopes to help launch other, related courses that students could take as part of a package, earning a certificate of completion from Coursera in the process.