Majority of female leaders experience Tall Poppy Syndrome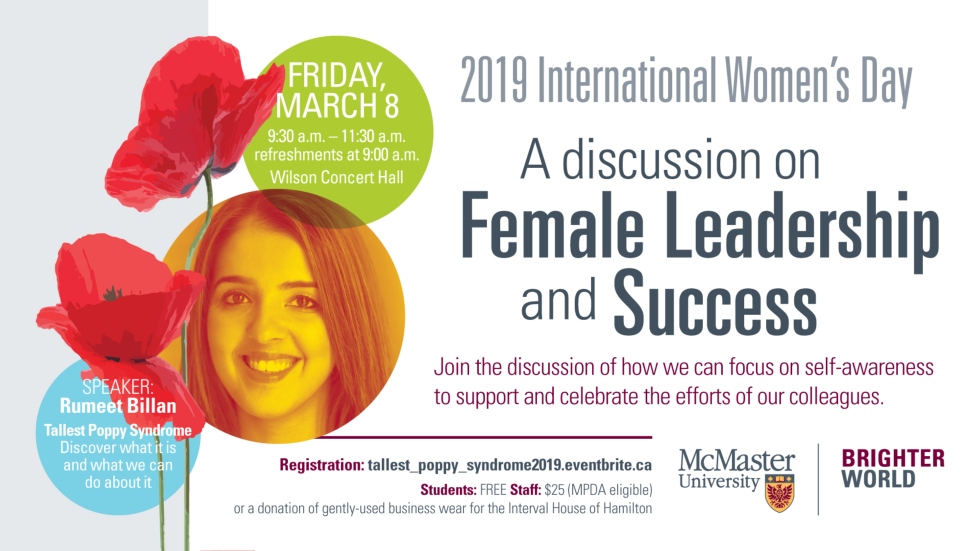 ---
Imagine colleagues no longer speaking to you after a promotion. Or routinely being silenced in meetings after you receive an award. Or even experiencing such hostility from co-workers that you need to seek both medical and psychological services to endure your workplace, where you thought you were developing a successful career.
Those are just a few of the stories collected in the Tall Poppy Syndrome study conducted by Dr. Rumeet Billan, lead facilitator of the McMaster Strategic Leaders program. Billan will be a featured speaker at one of McMaster's International Women's Day events this Friday, March 8.
Based on information gathered in a 2018 survey of professional Canadian women, her study's conclusions are stark.
It states, "The data is troubling. Of the 1,500 respondents, 87.3 per cent felt their achievements at work were undermined by colleagues or superiors. More than 81 per cent said they had experienced hostility, were ostracized or penalized at work because of their success at their job. The study makes for alarming reading and should be a wake-up call for companies and leaders across the country. An immediate change is needed to support women in the workplace, to encourage their accomplishments and, not incidentally, to increase productivity for companies."
At a speaking engagement for business leaders last year, Billan discovered that the audience of about 20 women shared common experiences of being cut down at work for their successes, but no one had a name for the phenomenon. She followed up with research of her own, found some Australian work in the area and conducted the survey for Canadians.
"I've started using it as a verb," says Billan. "When I hear about this happening to a successful woman, I say, 'You've been tall-poppied.' Now, I make sure to speak up and support the person being cut down."
Women experiencing Tall Poppy Syndrome report negative self-talk, loss of self-confidence and increased mental health issues.
At Friday's event, Billan will share insights about the study and suggest pathways forward. The event will also feature a panel discussion with Arig al Shaibah, associate vice-president equity, inclusion, and diversity, and Kristina Epifano, MSU vice-president, administration, facilitated by Dee Henne, assistant vice-president and CFO.
For an event preview, tune in to CityTV's Breakfast Television on Thursday, March 7 to see Billan discuss Tall Poppy Syndrome.
Register online to attend Friday's event at Wilson Hall.