Mahatma Gandhi Lectures on Non-Violence reaches fundraising target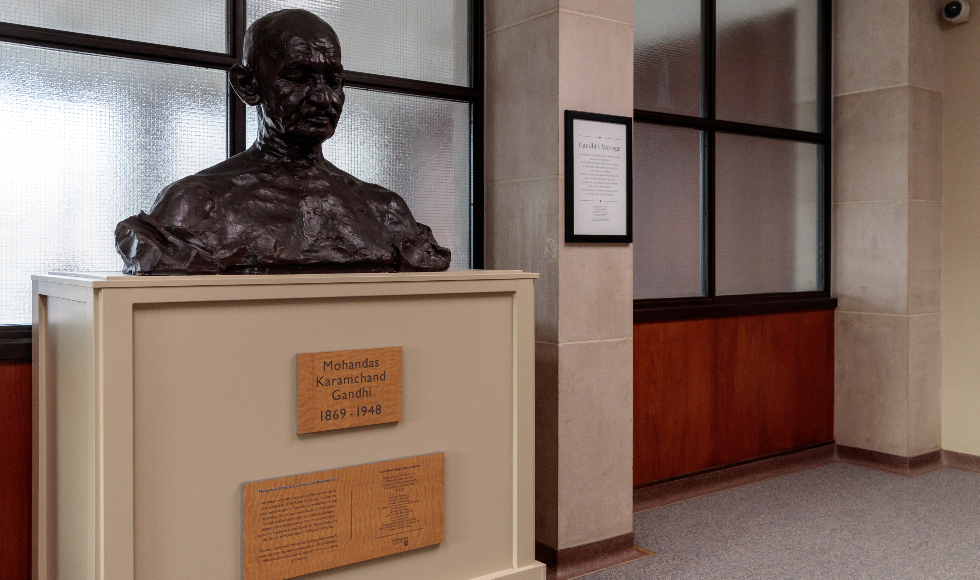 A bust of Gandhi sits on the second floor of Gilmour Hall. (Photo by Sarah Janes.)
---
Twenty-five years after it was first initiated by the India-Canada Society of Hamilton, McMaster's Mahatma Gandhi Lectures on Non-Violence series has raised $100,000 this year to meet a target of $200,000 – with donations largely made up of individual donations from community members.
"McMaster may be the only institution where an eminent lecture series such as this one has been established by many small donations from the community," says Rama Shankar Singh, a professor of biology at McMaster and a long-time driving force behind the lecture series. "Usually these things happen when a single person gives a single gift – but I think this is what Gandhi would have liked."
Donors were recognized earlier this year with a plaque, which was installed beside the bust of Gandhi that sits in the President's Hallway on the second floor of Gilmour Hall.
The lecture series held its first official lecture, delivered by Ovid Mercredi, Chief of the Assembly of First Nations, in 1996 following three years of community-based fundraising.
According to Singh, the series was the result of several ideas coming together at once.
"The India-Canada Society wanted to help strengthen Gandhi studies at McMaster's Centre for Peace Studies," he explains. "We also thought that a lecture on non-violence named for Gandhi would make a good companion to the [Bertrand] Russell Peace Lectures, which were already running."
A lecture at McMaster in 1993 by well-known Indian statesman, scholar and politician Karan Singh celebrating the 125th anniversary of Gandhi's birth provided the final impetus to establish a permanent lecture series.
Held in conjunction with the annual Gandhi Peace Festival, which began in 1993, the lecture series has featured talks by journalists, practitioners, scholars and politicians from around the world. It is held in partnership with McMaster's Centre for Peace Studies.
"This has all become possible with the help of a group of dedicated friends from the Indo-Canadian community," says Singh.