Magic realism meets pop culture in CFMU program director's debut novel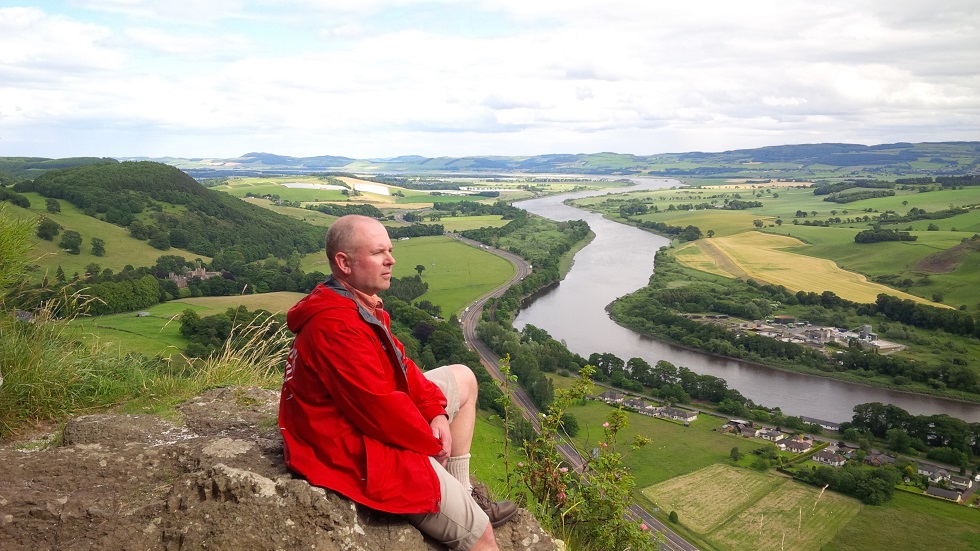 CFMU program director and author Jamie Tennant sits high atop a hill in Scotland. Photo by Teresa Caterini
---
Jamie Tennant had had the title of his debut novel, The Captain of Kinnoull Hill, in his head since he was a teenager – "I just liked it" – but it took an encounter with Haruki Murakami's book Kafka on the Shore at age 35 to get the title out of his head and onto paper.
Well, sort of. Like Murakami's surrealistic fiction, it wasn't quite that straightforward.
"Murakami's book was so out there and so wacky that I did the whole sit-up-in-bed-and-grab-a-pen and started writing down ideas," says Tennant, CFMU's program director and a long-time freelance music writer. "I came up with this crazy, epic, Murakami-esque story, but it was too big, there was too much – my eyes were bigger than my stomach, as the saying goes."
So Tennant teased apart two story strands, reducing his "epic, Shogun-like thousand-page thing" down to a more digestible story about a low-level, widely disliked record exec who winds up in Scotland, encountering strange things an unexpected friend who may or may not be human.
Eventually, The Captain of Kinnoull Hill was published in 2016 by Palimpsest Press – and it's been a good debut. The Captain of Kinnoull Hill was shortlisted for the 2017 Hamilton Literary Award for Fiction and the 2017 ReLit Award. This year, Tennant won the Hamilton Arts Award for Writing based on his 30-plus years of arts and music writing.
Critics have likened the book to The Commitments meets Nick Hornby's High Fidelity meets magic realism – a comparison that leaves Tennant happily flabbergasted.
"It's a goofy, pop-culture-laden redemption story," he says. "The comparisons to people like Nick Hornby and Roddy Doyle leave me shaking my head a little, but hey – I'll take it."
Tennant, a Hamilton native, grew up on the Mountain and went to Hill Park Secondary School. He's written all his life, he says – but it was his experience at Mac, completing a degree in English and Drama, and volunteering for CFMU, that helped lay the foundation for the career that he has now.
"My extra-curricular activities at CFMU just helped me get more and more into music, which became a huge part of what I do – and then I threw it all into a book," he laughs.
After his degree, he moved to Toronto, and then to Japan, but eventually found his way back to Hamilton. He's been CFMU's program director for almost 20 years, and currently hosts a literature program called GET LIT.
He's also working on a second novel, carving out time to write, often emerging from the basement studios of CFMU to work on the second floor of MUSC.
"My first book was a 10-year journey – and now I'm getting older and 10 years is too long," he says. "The key is to plug away at it whether you feel like it or not. Now I'm even more adamant about taking the time when I can."
Listen to Jamie Tennant's show Get Lit on Thursdays from 12:30 to 1.