MacPherson Institute launches new strategic plan and website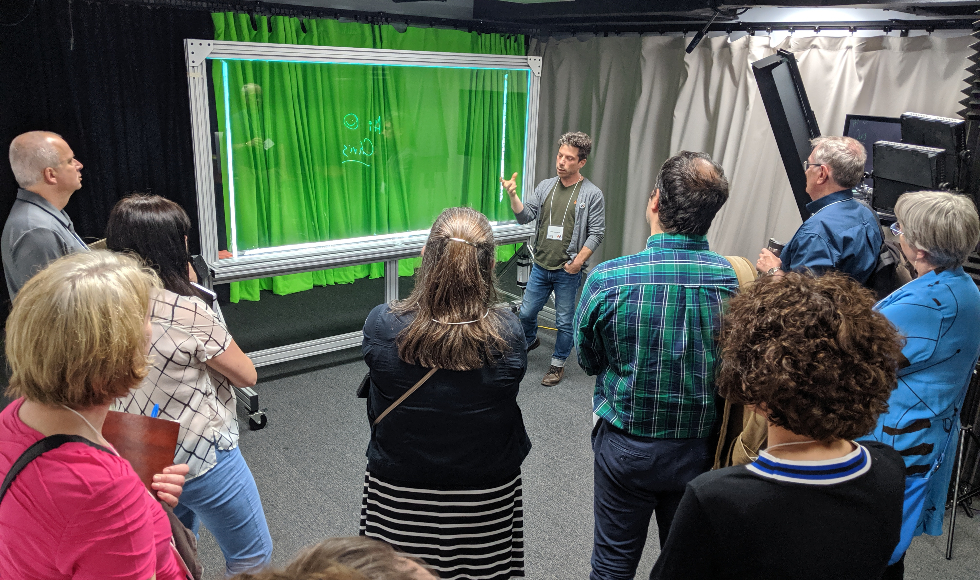 Chris Lombardo, a digital media specialist with the MacPherson Institute, demonstrates a lightboard.
---
The Paul R. MacPherson Institute for Leadership, Innovation and Excellence in Teaching has announced the launch of its new strategic plan. After a detailed external review on teaching and learning that began in April 2018, the strategic plan will act as a roadmap that will guide the delivery of enhanced teaching and learning supports for McMaster students, instructors and staff.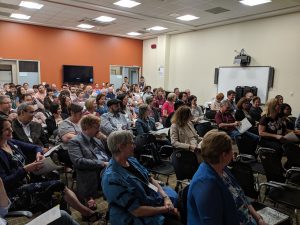 During her remarks at the launch event on June 18, Kim Dej, acting vice- provost, thanked the many individuals who contributed to the initiative over the past year.
"This celebrates a year of hard work, self-assessment and collaboration," said Dej. "More importantly, we're also celebrating teaching and learning in the McMaster University community and all of the educators who have participated in exciting new ventures and partnerships with the MacPherson staff over many years now."
Last summer, the MacPherson Institute staff worked in consultation with the provost, David Farrar, and his teaching and learning review advisory board to collect data from deans, associate deans, instructors, staff and other campus partners in teaching and learning to complete a self-study. The reviewers conducted a site visit in September and subsequently submitted a report with recommendations.
As a result of the self-study and reviewer recommendations, the MacPherson Institute identified and committed to a series of objectives and initiatives for 2019 – 2022 that will help refine and enhance teaching and learning support for the McMaster communities it serves.
Lori Goff, recently appointed director of the MacPherson Institute, believes that refining the mandate and defining a vision will help align with the needs of the community.
"During the self-study we explored who we are and what we do. We also received extensive input and feedback from the McMaster community. We heard their concerns and listened to their needs and with that we built the foundation of our new mission and vision," said Goff, who helped guide the institute through the self-study process. "We feel that our updated mandate will help us more effectively support the needs of our community and better communicate our values to those we serve."
The 2019 – 2022 Strategic Plan outlines three key pillars of focus:
Partnerships: Connecting and collaborating with the McMaster communities.
Programs & Services: Supporting teaching through scholarship, supports and activities in order to foster positive student-centred learning.
Process: Committing to procedures and policies that support the Strategic Plan and the culture of McMaster and the MacPherson Institute.
Kim Dej concluded with enthusiasm for the direction the MacPherson Institute is headed and the importance of how teaching and learning impacts students and educators.
"At each event and workshop, I see that educators are not there because they have to be or because they are told to be there," said Dej. "They love teaching and they want to do so in exciting and innovative ways. Not only do we want our students to be engaged, but we want to be engaged as educators."
To download a copy of the new three-year strategic plan or to learn more about the MacPherson Institute, visit the institute's website, which has recently been re-designed to align with the new strategic priorities and to provide more clarity on the structures, supports and services available for various groups within the McMaster community.