Mac MCM grads hold ground-breaking summit on antiracism in communications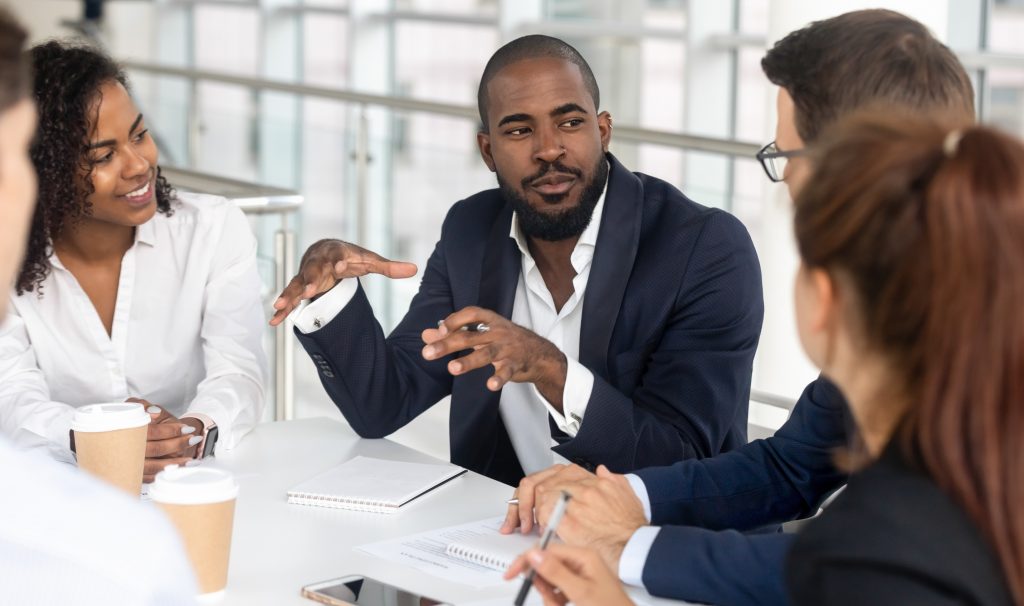 'We are more than just the messenger.' More than 600 communications professionals participated in a conference on antiracism in public relations, organized by a group of McMaster Master of Communications Management graduates. (Shutterstock image)
---
"You hold the pen, you are the voice. Your industry has the power to sway people, move people, make transformative change happen." — Celina Caesar-Chavannes, speaking at the National Summit on Antiracism in Public Relations
From ads to news reports to COVID distancing guidelines, how we communicate is crucial. But too often, the people in charge of communicating — the ones holding the pen — don't understand or reflect the community they serve. Best case: they fall short. Worst case: they can cause a crisis.
Racialized people are immensely underrepresented in communications roles, and it shows, says Sharlyn Carrington, founder and head of Content Strong Communications, and a 2018 graduate of the Master of Communications Management program at McMaster.
This week, more than 600 writers, public relations professionals and communicators participated in a two-day workshop on antiracism in communications, organized by Carrington and fellow McMaster MCM graduates Gail Strachan, Parm Chohan and Sara Goldvine, in partnership with the MCM program.
The National Summit on Antiracism in Public Relations and Communications Management featured sessions with executives, activists and thought leaders who have a track record of applying a lens of equity, diversity, inclusion and belonging (EDIB) in their communications and their organizations; as well as workshops to share ideas and develop guiding practices for more better communication.
The sessions offered practical tactics to make communications — and organizations — more inclusive, intersectional analyses and insights on how to remove barriers preventing racialized people from succeeding in the industry; and a forum for those with lived experience of discrimination and microaggressions to talk openly about finding a way forward.
"Communicators shape the narrative, and they need to understand systemic racism," says Carrington, whose capstone project focused on Black representation in public relations and communications.
"If we continue with the narrative we see in the news, all we're doing is perpetuating the stereotype — the angry black woman, the lazy Indigenous person, the agreeable South Asian woman. We're furthering a problem, not solving it."
The summit also raised more than $12,000 to endow a scholarship for a BIPOC student through the Canadian Public Relations Society Foundation.
'No one was talking about antiracism'
Carrington's capstone project showed the communications industry was not only lacking in diverse individuals, but racialized people faced multiple barriers to entry and to staying in the field.
One of her study participants was Strachan, a former law clerk and recent MCM grad herself, who spoke candidly about her experiences with racism as a professional. The two became friends and frequently spoke about issues of race and EDIB in communications.
At the time, Carrington says, no one was talking about antiracism or how it intersects with communication. "Many educators aren't aware of what it is or what it means, or how it impacts our ability to do our jobs. So much was not talked about," she says. "So let's start talking about it."
When George Floyd's death triggered a massive movement for racial justice last summer, Carrington and Strachan approached MCM director Terry Flynn to talk about focusing Tuesday Talks — a forum for industry experts to share their experiences with students — on issues of racial awareness and justice.
.@ladysharic is highlighting results from a Canadian study. Data is showing that #antiracism is an issue in our profession in Canada. #antiracismpr pic.twitter.com/iKQVz8V7Dh

— antiracismPR (@antiracismPR) March 23, 2021
In November and December, encouraged by the response to Tuesday Talks and the increased interest in EDIB-focused communications, Carrington, Strachan and fellow MCM grads Chohan and Goldvine organized a two-part Call to Action event for communications and public relations leaders, which became the precursor to this week's summit.
"What really spoke to us were the type of questions communicators — specifically non-racialized communicators — were asking," Carrington says. "Some are becoming more awakened to the topic. 'I need to learn more; what do I need to know?' And then that next step for them: 'I see this in my organization and I don't know what to do or what tools are at my disposal. What's the role of communicators to do what's needed?'
"I want, if nothing else, every communicator to finish the conference knowing at least one thing they can do and put into practice immediately: Talk to my CEO about HR practices, do a deep dive into company values, create a safer space to talk about barriers or exclusion."
This is a straightforward way to understand where your organization stands on #DEI and what the journey looks like. Thanks @JeffersnDarrell for walking us through this model #antiracismpr pic.twitter.com/FyssXubmtb

— Merissa King (@MerissaWK) March 23, 2021
It's an ongoing process, Strachan says, and organizations need to look closely at their own practices, not just at their product.
"People are looking for a checklist: Make sure your marketing campaign has a black person, a brown person, a purple person," she says. "But inside your organization you have processes that prevent racialized people from entering the industry. Look at the contradiction in your workplace and do an inventory of your behaviour."
For many organizations, this can be uncomfortable "and I'm okay with that," Strachan says with a laugh.
"For decades now, we've been dealing with code switching and microaggression and being followed in stores and keeping receipts. You dress a certain way to go into a store, you make 1,700 decisions before you leave the house.
On moving anti-racism forward: We need to FIGHT with one hand, and BUILD on the other hand.

We can't only be preoccupied in doing one and not the other, says @Leo_Johnson.#antiracismpr @antiracismPR pic.twitter.com/WlYFxWHE6h

— Alyssa Lai (@alyssaglai) March 23, 2021
So, while it will be uncomfortable for many communicators to hear, "I need you to hear it, and I need you to stop using this language, start using a different one," Strachan says.
"It's time to stop following the rules and start looking at the ones that have prevented individuals from entering the industry. Start making exceptions — that's the only way we're going to catch up."
What an incredible two-day summit. Thank you to all who made this possible:

· Planning team members and volunteers
· Guests, speakers and moderators
· Sponsors
· Participants

What now? We turn that energy, excitement and lessons learned into action!#antiracismPR pic.twitter.com/LqOeUZGnp2

— antiracismPR (@antiracismPR) March 24, 2021