Mac grads claim Olympic silver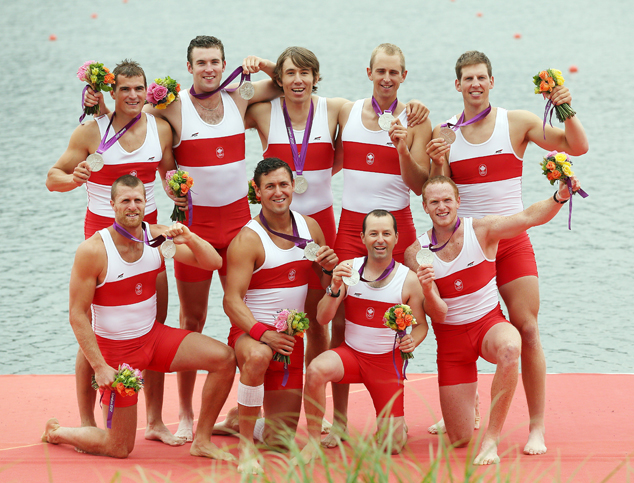 Mac alumni Jeremiah Brown (back row, right) and Doug Csima (back row, left) pose with their brand new Olympic silver medals.
---
McMaster athletes are officially on the podium in London.
Jeremiah Brown '07 and Doug Csima '07 added to Canada's Olympic medal count on Wednesday with a second-place finish in the men's eight rowing event.
Brown, a former lineman with the Marauders football team, spoke to the Globe and Mail following the victory:
"This is the greatest moment on my life," said Brown, who was described as "next to speechless" moments after the race.
Hamilton Spectator columnist Steve Milton is also in London covering the Games, and spoke to the Mac alumnus about his physical and emotional journey:
"I have had unbelievable support," said Brown, as Chariots of Fire played over the venue's loud speakers. "From my son, the mother of my son, my family, Mac, my hometown of Cobourg, everyone. It's so great to do this for Canada."
Both men graduated from McMaster in 2007 – Brown earned a degree in commerce, while Csima graduated from the Faculty of Health Sciences.
As of late Wednesday afternoon (ET), Canada is 26th in the overall standings, with one silver and five bronze medals.