Mac grad spends six months on tiny African island working to save endangered species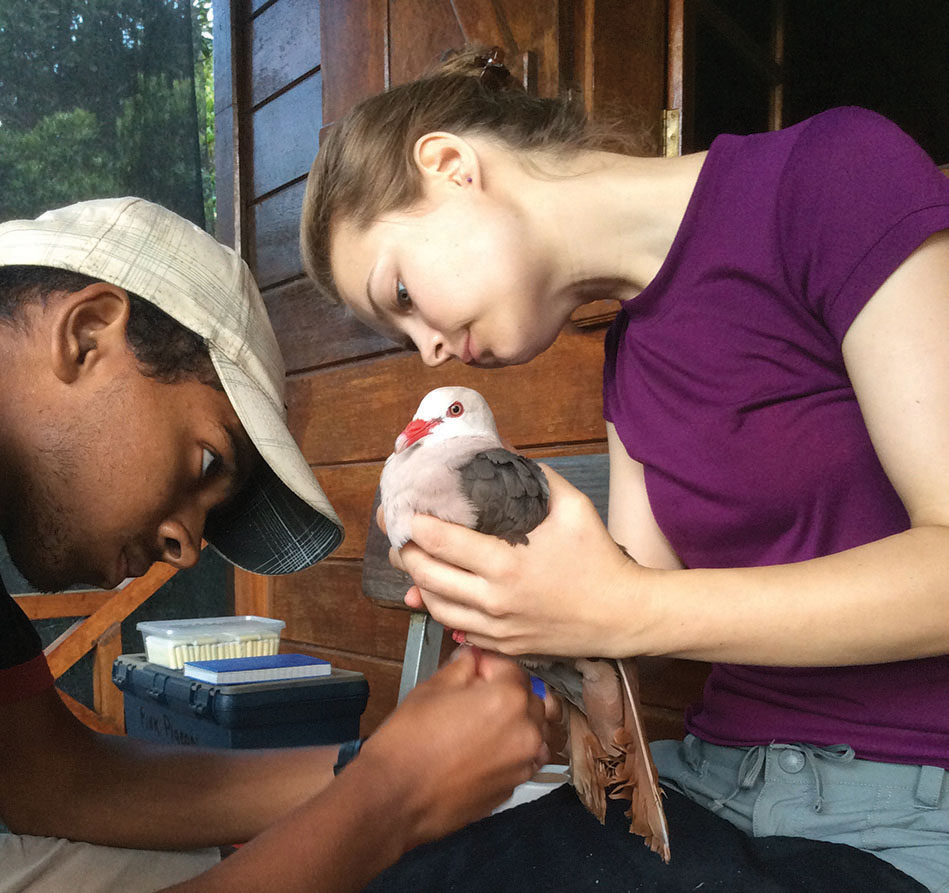 ---
Climbing tall trees, growing rare plants, befriending giant tortoises… and getting bit by a scorpion. All in a day's work for biologist Laura King '12
One evening in May, Laura King found herself camping on an uninhabited islet off a tiny island nation in the Indian Ocean.
Nestled in the rocks, she watched geckos crawling down the vines and listened to seabirds calling overhead. "This," she wrote in her blog. "This is why I work and volunteer in conservation."
The 2016 recipient of the "Canada's New Noah" scholarship, King has been studying endangered species in and around Mauritius since April. Each year, more than 150 candidates apply to Wildlife Preservation Canada for the prestigious scholarship. It covers travel, living and training expenses for the six-month experience that leads to a Durrell Post-Graduate Diploma in Endangered Species Recovery from the University of Kent.
The program is based exclusively in Mauritius and is a mix of field placements with eight weeks of classroom work. Home to some of the world's rarest plants and animals, Mauritius was the only known habitat of the dodo, the flightless bird that went extinct in the 1600s after Europeans discovered the island paradise.

King has joined a team of biologists from six other countries to study how to protect, manage and develop endangered species. "For example, we learn how to grow rare native plants, how to climb very tall trees to reach nesting birds, how to survey for boas, and how to do remote field work," she says.
Besides boas, King has become closely acquainted with fruit bats, geckos, skinks, tortoises, pink pigeons, parakeets, and seabirds. Her experience is hands-on in more ways than one – while working on Île Ronde (Round Island), a nature reserve north of Mauritius, a scorpion stung her left hand, which took about 10 days to fully recover.
"I've been pretty wildlife obsessed as long as I can remember," says King, who was literally out in the field even as a child in Ottawa. "But most of all I wanted to make a difference."
She credits the master's degree she received at McMaster in 2012 with helping her to do just that. Her supervisor, James Quinn, a professor in the Department of Biology, inspired her love of conservation. "He treated me as a biologist, not just a student," says King. "He sent me to conferences, introduced me to scientists, and supported my work throughout."
King was outdoors in Cootes Paradise almost every day during her two-year program. She also worked as a teaching assistant, took part in the McMaster Outdoor Club, guest-lectured for a community health course at Mac, and led Earth Day hikes at the Royal Botanical Gardens. "Yes, I loved McMaster and my years in Hamilton!"
King will be flying out of Mauritius on October 17. Although she has been working in a faraway corner of the globe, the experience has direct relevance to endangered species everywhere.
"I think about what it means to be here," King writes in one of her blogs, "and what I'm going to do when I go back, so that everything I've worked on here and learned along the way gets put into practice to help save places like this."
Follow Laura King on Twitter: @LaurasWildlife
Originally published in the Mac Times alumni magazine.