Mac grad nominated for Canadian Screen Award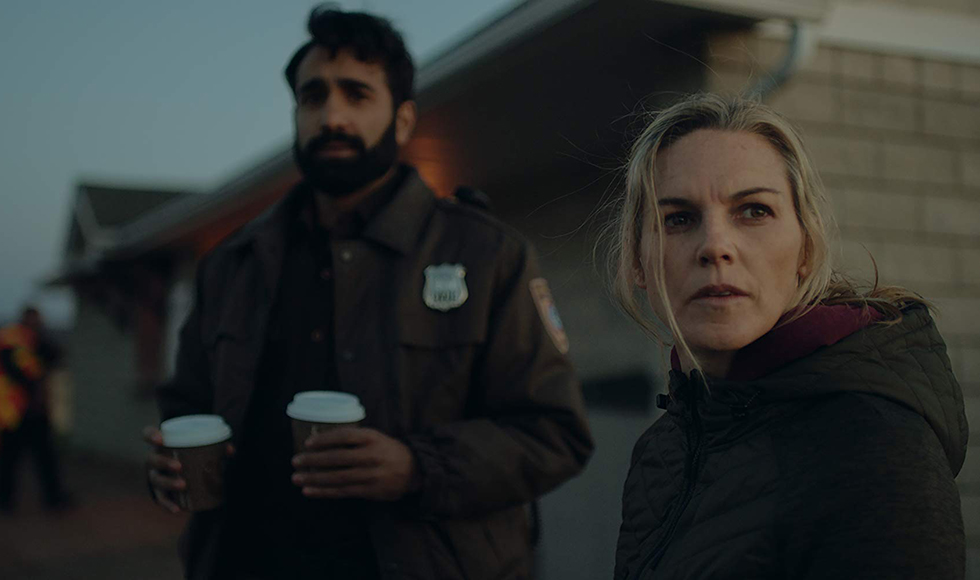 Kate Drummond (right) in Nowhere to be Found
---
Kate Drummond was 35, with a decade of teaching under her belt, when she decided to take a year off to explore her dream of acting. After a year of trying to break into the industry as a late bloomer, she was about to return to teaching when she landed her first major acting gig.
That was a little more than a decade ago. This week, Drummond got some serious recognition that her career shift was worth the effort.
For the first time in her acting career, Drummond has been nominated for a Canadian Screen Award for best lead performance in the TV movie, Nowhere to be Found. The movie is also nominated for Best Movie, Best Writing and Best Photography
"It's truly an incredible honour," says Drummond. "To those who think you may be too old to pursue a dream: It is never too late."
From varsity athlete to med school prospect, to elementary school teacher to film actor, the McMaster grad's career path has been anything but linear.
Drummond grew up with a passion for sports. When she discovered McMaster's kinesiology and sports medicine program, she visited the campus, and says she just knew that's where she wanted to be. She graduated with a kinesiology degree from Mac in 1998.
As a student she played for McMaster's badminton team and planned to go into medicine. During her fourth year, she worked closely with her professor in the cardiac rehab program, Dr. Neil McCartney, who earned his medical degree from McMaster in 1983.
McCartney taught her how to empower students. "He made me want to work harder and dig deeper. As a teacher, that is a special gift."
It wasn't until she was scrubbing in to witness a quadruple bypass surgery and stood mere feet from an exposed beating heart that Drummond realized the medical profession was not for her.
But her drive to help people remained. Drummond's experiences as a camp counsellor and coach for the Special Olympics led her to teaching. She loved it.
Fast forward through 12 years of teaching with the Ottawa Catholic School Board to the day her grade 3 class was talking about Martin Luther King Jr.'s "I Have A Dream" speech. An eight-year-old point-blank asked Drummond what her dream was. When she responded, "I always wanted to be an actress," the child inquired, "Why aren't you doing it?"
"I wanted to be the best role model and mentor to the kids I was teaching," said Drummond. "But I wasn't practising what I was trying to instill in them. That moment changed my life."
She uprooted her life in Ottawa and moved to Toronto, but the breakthrough didn't happen overnight. Every year the school board asked if she would be returning to teaching, but something was keeping her in Toronto to pursue the arts.
Her first major acting opportunity was a lead role doing voice work in the internationally acclaimed video game Splinter Cell: Blacklist. She went on to become known for her work on Wynonna Earp, Secrets in a Small Town and Utopia Falls.
She continued to extend her temporary leave of absence from teaching as more opportunities presented themselves. After three years, she made the hard decision to give up her teaching spot and throw herself into the career of her dreams. That was eight years ago and a long way from that initial meeting with an agent where she was told she was "too old to dream of being a movie star."
Drummond has co-written and directed a feature film on Amazon Prime and her background studying medicine helped when she took a role as a doctor in a television series.
She says her time at university taught her to be prepared, and her experience as an athlete helped her stay focused and connected with others, and to persevere through challenging times.
"I think the biggest advice I have for students is to not be afraid to take the road less travelled, and that they are never too stuck to get unstuck."
Her journey through life, although "zigzaggy," she says make her a better artist.
"Every single one of my experiences in my journey contributed to my success as an artist," says Drummond. "I wouldn't change anything about my life. Everything I learned, every misstep or success has led me to this place. It's the university, the coaches, professors, relationships and friends. I have no regrets."