Mac grad gives $350,000 to the Arts and Science Program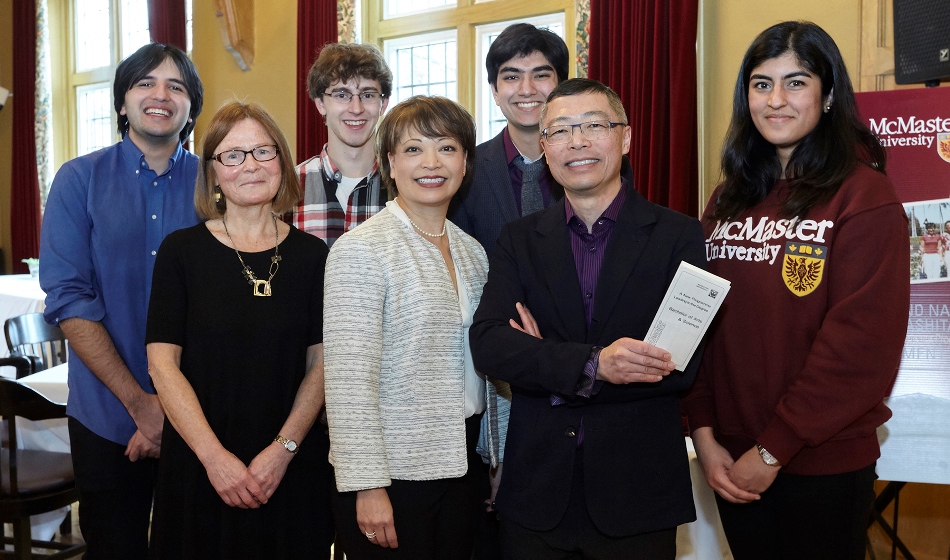 Bruce Miyashita '84 (centre, holding the Arts & Science brochure from 1981), with L to R (front row): Dr. Jean Wilson, Director of the Arts & Science Program, and Grace Nicholson '88, Miyashita's sister. Back row: Arts & Science students Varun Puri, Spencer Williams, Antoine Fougère-Ramsamooj, and Mythili Nair.
---
It all started five years ago at the 30th Arts & Science reunion.
"There was a session where alumni and students participated in a series of roundtables," recalls Bruce Miyashita, the first graduate of the program's first cohort. Each roundtable at the reunion focused on a field of work – for example, health care, education, business.
The sign at his table offered this tongue-in-cheek message: Sold Out and Went into Business. "We kind of sighed and got on with the exercise," Miyashita recalls with a laugh.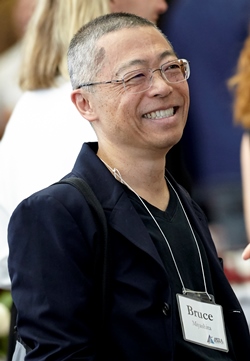 But that got him thinking. He had more than 20 years' experience as a preeminent improvement and change leader at multi-billion-dollar organizations. His career was proof that traditional silos could be bridged to create a unique and rewarding professional life. Why not create a similar cross-fertilization between the world of commerce and McMaster's Arts & Science Program?
Miyashita's $350,000 donation – the largest-ever to the program – will help bring about that cross-fertilization. Named in memory of his parents, the Tom and Nancy Miyashita Arts & Science Program Enrichment Fund will provide resources for initiatives such as a forum that will inspire Artsci students to learn more about the business world, while also introducing business leaders to the talent in the program. Funds will be immediately available, beginning in the 2017/18 academic year.
At the same time, the Arts & Science Program will be relocated to spacious new offices in L.R. Wilson Hall.
"CEOs want to find staff who exhibit initiative," says Miyashita. Most recently, he was Head, Process Centre of Excellence at BMO and Vice President, Six Sigma at Maple Leaf Foods. "There is a deep need in business for the kind of cross-disciplinary thinking that the Arts & Science Program produces."
"Bruce truly embodies what the Arts & Science Program is all about," says Jean Wilson, the program's director and a comparative literature professor. "With his profound understanding of interdisciplinary work, which led to his fascinating career, he is a terrific role model for our students."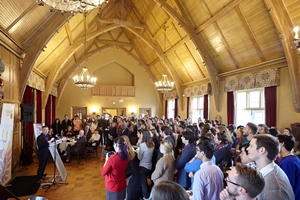 Wilson credits Miyashita with understanding the potential of the program when it was first launched in 1981 – and for seeing its potential now to be developed even further. "We are tremendously grateful for his vision and his generosity," says Wilson. She notes the program's upcoming move to a beautiful new location in L.R. Wilson Hall will provide a dynamic workspace for initiatives funded by Miyashita's gift.
Miyashita (pronounced "Me-Ash-Ta") recalls visiting campus with his mother after he had completed Grade 13. They were introduced to the program's first director, Herb Jenkins, who was launching a revolutionary new undergraduate program that bridged the arts and sciences.
Thirty-five years later, McMaster's Arts & Science Program is still going strong as a premiere example of self-directed, interdisciplinary, collaborative learning. Demand for this unique, limited-enrolment program continues to grow.
"You want your undergraduate degree to set you up for lifelong learning," says Miyashita, "and my Arts & Science degree definitely accomplished that."
McMaster soon became a family affair: Miyashita's sister, Grace Nicholson, and her husband, Brian Nicholson, also graduated from Mac in 1988.
Recently, Miyashita has rekindled his passion for philosophy, originally sparked by his studies in the Arts & Science Program. He notes that most of the books he is currently reading are philosophy titles, from new releases to Plato and Aristotle – "oldies but goodies" he first encountered at Mac.
"It all comes full circle," he says.
For more info on McMaster's Arts & Science Program, visit https://artsci.mcmaster.ca/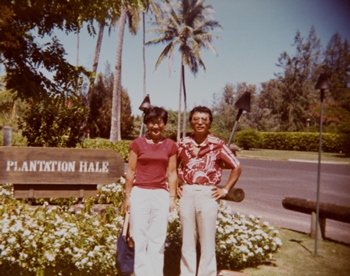 L to R: Bruce Miyashita's parents, Nancy Miyashita (née Ayukawa) and Tom Miyashita, in Hawaii circa 1978. The new fund is named in their memory. Nancy passed away in 1984 and Tom in 2014.