'Look at where you want to be, and step by step, you will reach it'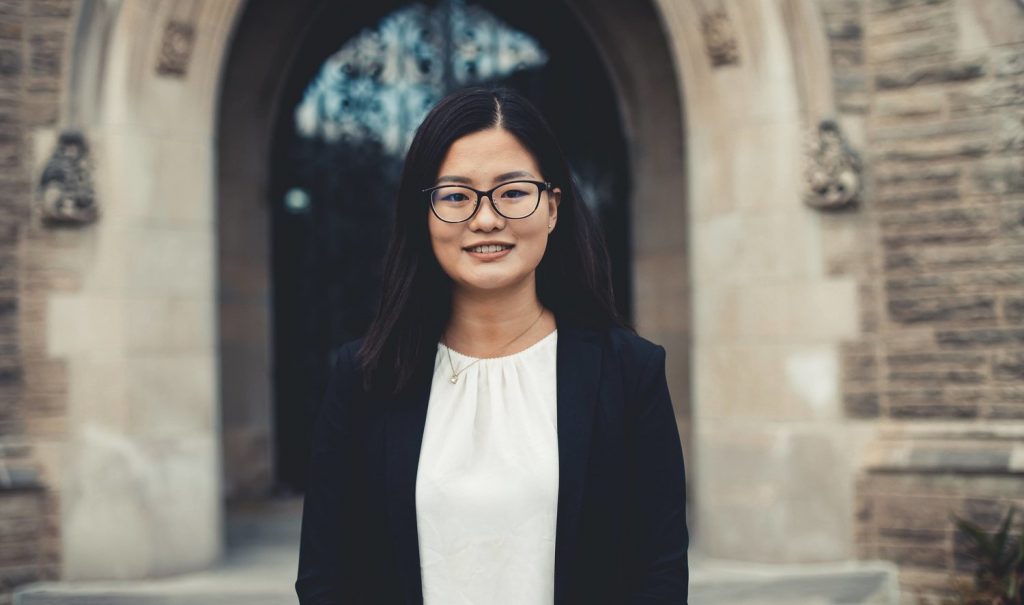 "Just take one step. And then take one more." Angelina Zhao went from being a painfully shy first-year to orgnizing events and mentoring younger students as an executive on several student organizations.
---
When Angelina Zhao started her first year at the DeGroote School of Business, she was almost painfully shy. She was also a new international student and didn't know a soul.
She felt like an outsider.
"I went to a networking night held by the DeGroote Accounting Association and I just stood there watching people chatting and making new friends," she recalls. "I was impressed. Networking is not like math or physics — you can't just study or memorize information."
Zhao could have just left it at that, but she decided to treat it as a personal challenge.
"I looked at them as role models and started trying to improve myself," she says.
"I'd go to those events and try to participate. I'd sit with different people and learn from them. I'd try to see what the difference was between me and them and try to fill that gap."
By her third year, Zhao was on the executive of three student organizations — including the DeGroote Accounting Association and DeGroote Women in Business — and was a member of a few others. She volunteered with the Canadian Association for Girls in Science, and learned to organize events and co-ordinate with high-profile speakers.
She made friends. She formed new interests, and got good at networking. She learned to manage her time and balance academics with all her extracurricular activities.
And she passed along everything she learned to students who were just starting out.
As a member of Mac's Chinese Students' Association, Zhao made a point of telling younger students about her experiences. "I try to encourage them to step out of their comfort zone," she says. "I tell them I was in their situation, and I don't want them to feel like they are the only ones who felt that way."
Now, as she graduates with an honours B.Com and moves on to an accounting job with KPMG, Zhao credits the relationships she formed and the skills she learned at Mac with helping her figure out her path.
"When I look back to myself those four years, I really appreciate it," she says. "I'm an international student. I wasn't familiar with the culture, and I am really shy. But my experience at Mac pushed me a little bit to reach out more, to build relationships."
Any words for other shy, new students?
"It's normal to feel uncertainty. But just take one step. And then take one more. Look at where you want to be, and step by step, you will reach it."