'Living well longer' a key theme at Innovation Showcase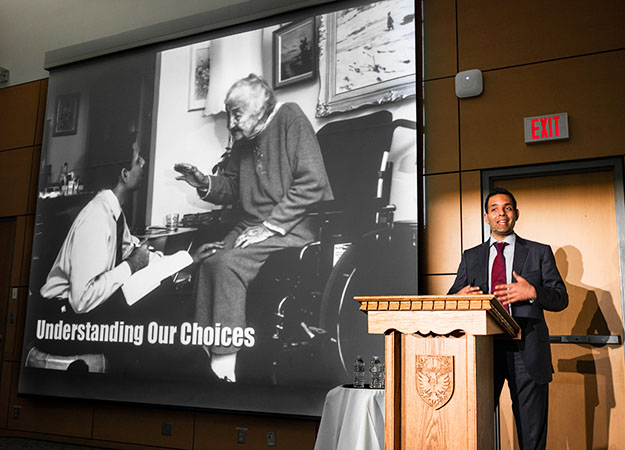 Dr. Samir Sinha, newly appointed expert lead of Ontario's Seniors Strategy, was the keynote speaker on optimal aging at the McMaster Innovation Showcase on May 10.
---
"Aging is not a disease. It is a triumph," said Dr. Samir Sinha, keynote speaker at the recent McMaster Innovation Showcase.
The packed room — a multigenerational audience of 170 students, faculty members, industry representatives and community stakeholders — broke into spontaneous applause at the comment.
Held May 10 in CIBC Hall, the free event was organized by the Office of the Vice-President, Research and International Affairs, and the McMaster Industry Liaison Office (MILO). This year's Innovation Showcase was titled "Innovation for Life: Living Well Longer," and the interdisciplinary affair presented a wide range of McMaster-led research that will help us not only live well, but live longer.
"Optimal aging is a key strategy at McMaster," said Elsie Quaite-Randall, executive director of MILO, and moderator of the showcase. McMaster has a strong culture of innovation and commercialization, as well as numerous interdisciplinary research initiatives related to the study of aging, she explained.
The day's proceedings focused on the many ways in which McMaster researchers and their collaborators are tackling this challenge. Research presentations and panel discussions featured multiple perspectives: medicine, nursing, the social sciences, nutritional sciences, business, engineering and technology.
Dr. Sinha, the newly appointed expert lead of Ontario's Seniors Strategy, said he believed the 20th century's greatest accomplishment was that our life expectancy almost doubled. However, we face a new challenge in the 21st century. Sinha pointed out that when Canada's health care system was first established more than 50 years ago, the average age of Canadians was 27. "The patients have changed, but the system hasn't," he said.
According to Sinha, over the next 20 years Canada's older population is set to double, while the population of those aged 85 and up will quadruple.
In his opening remarks, Mo Elbestawi, vice-president, Research and International Affairs, said the day's event was designed to showcase the social and economic value of McMaster's innovation research agenda, which is working to support a society of "active, healthy and engaged citizens."
The event closed with the presentation of a series of awards. Assistant professor Nathan Magarvey (Biochemistry and Biomedical Sciences) received the McMaster Innovator of the Year Award. Magarvey was recently awarded a Canada Research Chair in natural product drug discovery, which will allow him to use integrated tools and technologies — from genomics to small molecules — to target drugs from nature.
Salim Yusuf, professor of Medicine (Cardiology), was honoured with a Lifetime Innovator Award for his significant body of work as a leader in cardiovascular disease prevention.
McMaster Synergy Awards were presented to John Connolly, professor and chair, Department of Linguistics and Languages; David Earn, professor, Department of Mathematics; and the McMaster Community Poverty Initiative (co-chairs: Sheila Sammon, professor, School of Social Work, and Carol Wood, Ecumenical Chaplain).
The McMaster Industry Partner Award went to Bombardier Inc., while McMaster Patent Awards were given to four teams of McMaster researchers whose work resulted in the issuance of a patent last year.
The Innovation Showcase also featured a "Poster Investment Market" which highlighted the research innovations of 38 groups of graduate and undergraduate students. Audience members were encouraged to invest their "MILO money" (provided with their registration package) into the research that most impressed them. The investments were added up to determine the three winners of the student poster competition:
Best Commercial Prospects (and winner of the popular vote):
NEOTRACE: Neonatal Movement Monitoring System
Authors: Aditi Chemparathy, Akalvizhy Elanko, and Anuja Goyal
Greatest Social Impact:
An Affordable Front-line Tool: Preventing the Devastating Impact of Tuberculosis
Authors: Rachel Gysbers, Kha Tram and Lida Wang
Most Groundbreaking Research:
Intranasally Administered Lectin Functionalized PEG-PLGA Nanoparticles for the Treatment of Schizophrenia
Authors: Justin Piazza, Todd Hoare PhD, and Ram K. Mishra PhD
More details on the award winners can be found at Research@McMaster.