Limited bookable study space now available in Mills Library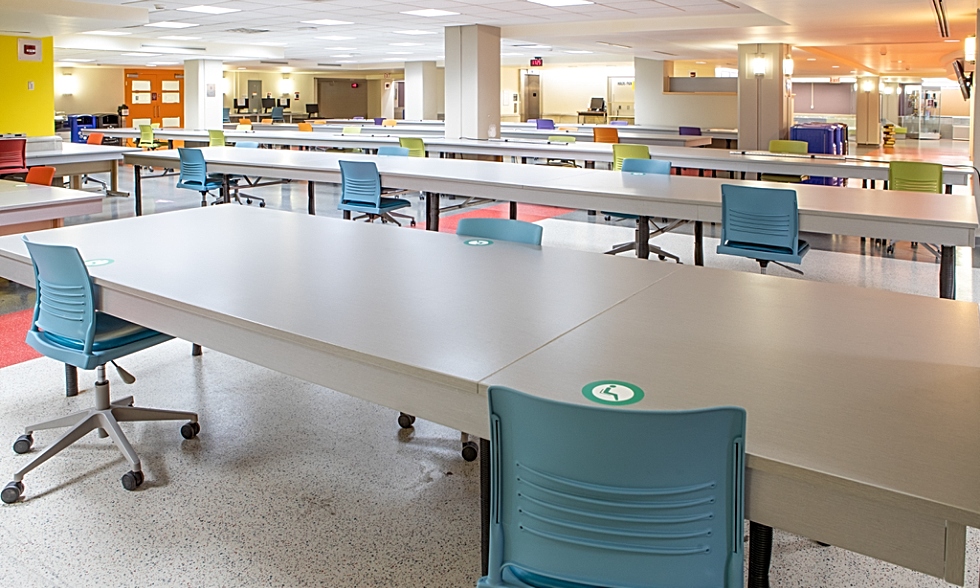 Starting Sept. 14, McMaster students will be able to book physically distanced workspaces on the ground floor of Mills Library.
---
A limited number of bookable study spaces are now available to provide students with physically-distanced workspaces and dependable wi-fi – away from the noise and distractions of their living situations.
Starting Sept. 14, dedicated spaces on the ground floor of Mills Library will be available for quiet study Monday through Friday, from 1pm -5pm.
All visits must be booked in advance. Students must check into their seat by scanning a QR code at their workspace within 30 minutes of the start of their reservation. Otherwise, their reservation will be cancelled.
"We know that many undergraduate students may need a place where they can access the internet and work individually with few distractions," says McMaster University Librarian, Vivian Lewis. "This space will give students the option of studying on campus, while ensuring that the best safety and physical distancing measures are in place."
In accordance with the university's guidelines for those coming to campus, students must wear face masks, complete the COVID-19 Awareness Training in Mosaic in advance, and complete the provincial COVID-19 self-assessment tool one hour before coming to campus.
When they arrive at the study space, students must sit in designated spots. Hand sanitizer and antibacterial wipes will be provided
No access will be provided to the print collection or other parts of the Library. Food will be prohibited.  Drinks will only be allowed in reusable containers.
Learn more about bookable study spaces in Mills Library
Health Sciences Library Study Space
The Health Sciences Library also has bookable study space. More information is posted at https://hsl.mcmaster.ca/individual-study-space. If students decide to visit the HSL, please note not that individuals not approved to use MDCL or Hospital staff entrances must enter through the patient entrance at the front of the hospital.
Graduate Thesis Completion Study Space
The Graduate Thesis Completion Study Space, located in Mills Learning Commons, is already available for use by McMaster graduate students. The space is intended for McMaster graduate students who have unreliable internet connections at home or are in challenging living situations that don't support an effective writing environment.
Graduate students wishing to use this space must apply for access. Students will then be able to use their Working@McMaster ID card, or a white security card to access the Learning Commons.