"Lifelong learning is a journey not a destination" for Continuing Education graduates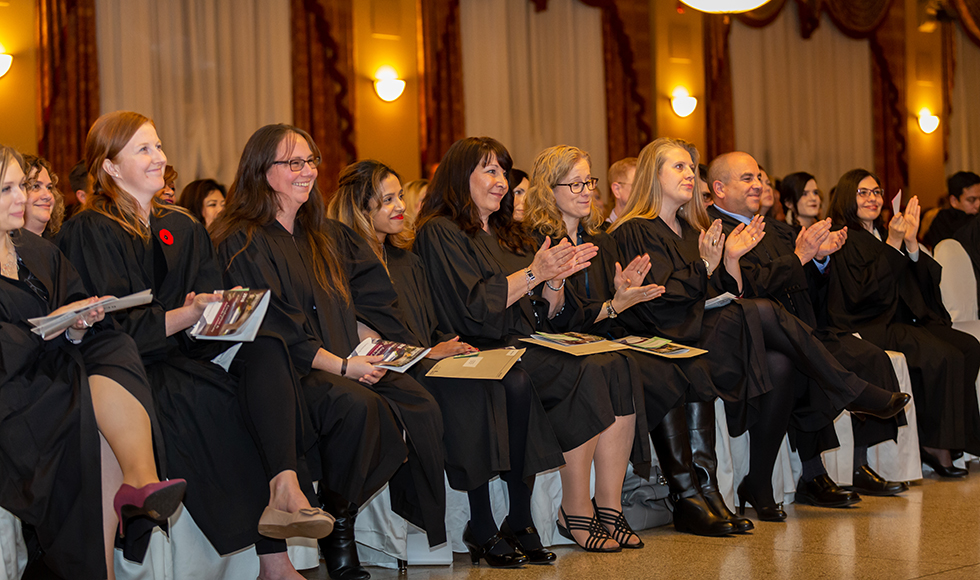 ---
Over 120 graduates and more than 330 guests participated in the McMaster University Continuing Education graduation ceremony on November 8 at LIUNA Station in Hamilton. Lorraine Carter, Director of McMaster University Continuing Education and Master of Ceremonies for the evening, welcomed attendees, congratulated the graduates on their achievements, and offered advice to the graduating class of 2018. 
"Stay curious," she said, "When we stop questioning, wondering, and exploring, the world is a dull place and we run the risk of becoming dull people. Remember the insatiable curiosity of your three-year-old self. Work at re-capturing it. It is a wondrous thing."
Carter also extended her sincere gratitude for the support provided by the families and friends of the graduates.
Suzanne Labarge, McMaster University's Chancellor and a McMaster alumna extended her congratulations and noted the importance of committing to lifelong learning in relation to a changing workplace.
"As technology continues to play an increasing role in work," she said, "you will be better equipped to accept such change, adapt to it, and pursue learning that positions you for success. You know that learning is a journey not a destination."
Labarge also noted that lifelong learning will assist graduates throughout their careers.
"Through a positive disposition and hard work, coupled with a commitment to learn, a person can thrive in work settings touched by new ways of doing things and what have been called 'disruptive technologies.'"
Tavneet Khera, Recruitment Consultant for Recruiting in Motion and graduate of the McMaster Continuing Education Human Resources Management program class of 2017, addressed the class of 2018 with advice for transforming fear into motivation.
"We live so much of our lives in fear. Fear of not being good enough, fear of making a mistake, fear of not being smart enough, fear of not succeeding," she said, "What if we change that belief into 'I am good enough, I am going to do my best, and I am going to succeed. The only thing I'm afraid of is not trying' – let this be your belief."
During the ceremony, various students and instructors received recognition for their accomplishments and significant contributions to McMaster Continuing Education.
Rebecca Moroz, graduating with a Certificate in Metallurgy of Iron and Steel, was the recipient of the ArcelorMittal Dofasco Award for Academic Excellence.
Graduate Allison Leanage was recognized for demonstrating perseverance, commitment and dedication to excellence through exceptionally difficult circumstances while completing her studies to earn her Clinical Research Associate Certificate. She was the recipient of this year's McMaster Association of Part-time Students (MAPS) Centennial Award.
Emily Baillie, a content marketing entrepreneur and McMaster Continuing Education digital marketing instructor, received the MAPS Instructor Award for her expertise in digital strategy and passion for teaching and learning.
Rumeet Bilan, an entrepreneur, learning architect, and humanitarian, also received the MAPS Instructor Award for her contributions to McMaster's award-winning Strategic Leaders program. As the lead curriculum designer and facilitator of this unique leadership program, she received the award for being bold and innovative.
Sandy Hughes, a leader in innovative higher education teaching and learning, has spent the past few years collaborating with McMaster on the development and review of many programs, and recently provided support for the new Caregiving Essentials program, an open no-cost online course for caregivers of older adults. She received the CCE Appreciation Award for her leadership work through collaborative approaches.
Grant Fraser was also the recipient of the CCE Appreciation Award for his hard work as lead instructor in the Business of Golf & Resort Management program and ongoing dedication and advocacy of the program throughout the golf world.
Recipients of Awards of Academic Excellence in diverse Certificate and Diploma programs were also acknowledged:
Diploma in Accounting Amy Honeychurch
Certificate in Business Administration Scott Clark
Diploma in Business Administration Harmony Bertrand
Diploma in Business of Golf and Resort Management Azam Khan Jadoon
Certificate in Digital Marketing Michelle Murphy
Diploma in Marketing Deborah Johnson
Certificate in Web Design Jareth Whitney
Addiction Careworker Diploma Jean Paul Valeriote
Addiction Studies Certificate Aleah Jull
Clinical Research Associate Certificate Allison Leanage
Diploma in Health Informatics Nancy Meyers
Diploma in Health Information Management Ana Lomigoric
Leadership in Community Engagement Catherine Maracle
Troy Hill, Vice President of the McMaster Alumni Association, concluded the evening by welcoming the new graduates to the McMaster Alumni family.
"Over 196,000 McMaster graduates have been granted degrees, certificates, diplomas and recognition for their accomplishments," he said. "Today you join their ranks, having been trained by a great university—one that regularly ranks amongst the top 100 in the world."